On Jan. 7 the world was shocked as two masked gunmen killed 12 people, including eight employees of satirical magazine Charlie Hebdo, in Paris.
It sparked an apparently coordinated three-day spell in which a total of 17 people were murdered and another 21 injured in the French capital by people claiming to represent extreme Islamist organizations.
Paris is no stranger to terrorism, though, and the events of recent days have acted as a reminder of the tensions that have gripped modern French society for decades. It was an incident that woke France out of its stupor and will force the nation to confront its underlying demons.
"As a Muslim, I am completely destroyed," Morocco international forward Youssouf Hadji, now playing with Ligue 2 side Nancy, explained the day following the Charlie Hebdo attack. "These killers have nothing to do with Islam, which prohibits the taking of life. The Quran reads opposite to what happened yesterday.
"Today, when you are a Muslim, you almost have to justify yourself. That's why it's important that known figures speak out. It may reassure and inform some people."
France's history as a colonial power combined with its location in the heart of Western Europe has ensured it is a melting pot of different cultures, religions and ethnicities.
For example, an estimated eight percent of the population is Muslim; a figure higher than in any European nation. Paris, meanwhile, has more Muslims (1.7 million) and Jews (283,000) than any other city in the European Union.
This has brought the nation a rich diversity, but also some troubles.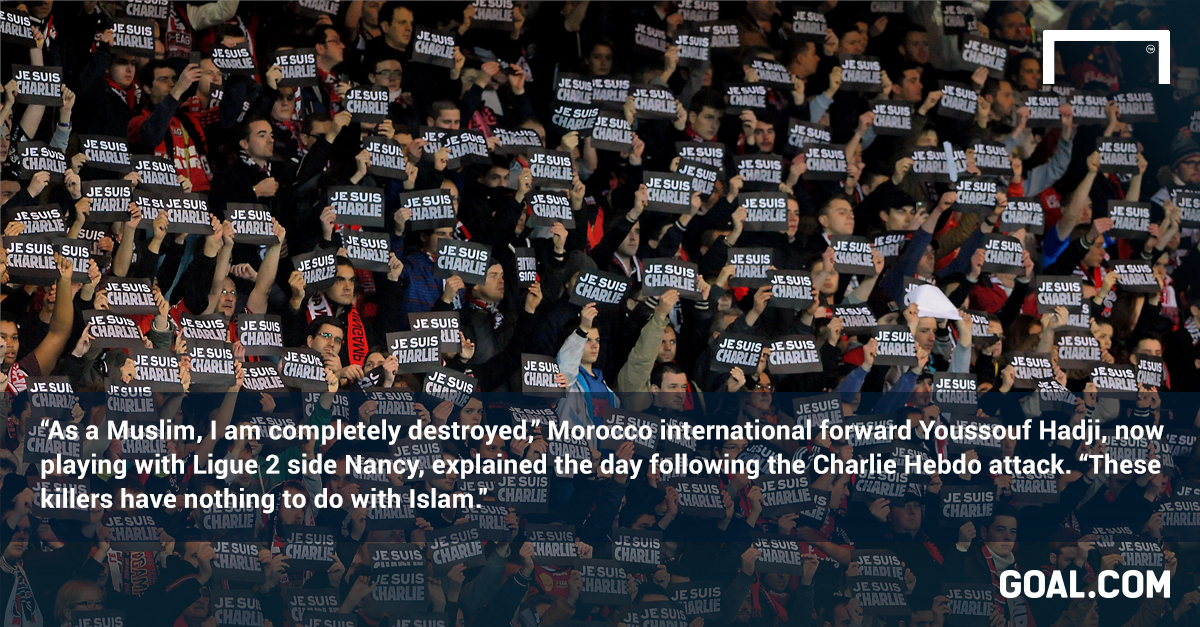 The country's motto of "Freedom, equality, brotherhood" is visible above public buildings and gives the impression of a united society.
Article 1 of the constitution does likewise: "France shall be an indivisible, secular, democratic and social Republic. It shall ensure the equality of all citizens before the law, without distinction of origin, race or religion. It shall respect all beliefs. It shall be organized on a decentralized basis."
But the reality has long been rather different.
Over 50% of the population believes Islam is not compatible with the West, according to a study by
The Economist.
While this figure was smashed in Spain (close to 65%), it is significantly above other European nations, including Germany and the UK, and even the USA, which many believe has waged a war on the religion.
France has a history of trouble.
In 1961, French nationalists demanding Algeria not be granted independence used a bomb to derail a train traveling from Strasbourg to Paris, killing 28 and wounding over 100 more. This was the first major terrorist attack on France in the 20th century and remains the bloodiest.
Often, however, the tension is shown in a subtler fashion.
Indeed, one of the major issues with Article 1 of the constitution is that it is unclear of the exact ethnic numbers in the nation. Politically everyone is considered identical, but in society this is simply not the case and the supposed 'equal' footing of the constitution prevents statistics that could unmask the true nature of equality in the country.
Urban housing projects just outside the city limits – the 'banlieues défavorisée' – have become infamous as poverty traps and contain a high percentage of ethnic minorities, particularly in the north of the city. These areas, which saw significant rioting in 1981 and 2005, are portrayed as hives of criminality and no-go areas to outsiders.
They are urban ghettos in which poor immigrants, frequently from North or sub-Saharan Africa, often feel forever trapped.
Social division in France can even be found acutely in football.
Earlier this season there was a particularly startling example of the banality of ethnic stereotyping in the country.
Willy Sagnol, a winner of Euro 2000 with the national team and current Bordeaux coach, claimed a "typical African player" is "cheap, ready to fight and is powerful" in an interview with Sud Ouest, sparking a blistering media outcry.
The former Bayern Munich right back was not involved in the 'Black-Blanc-Beur' side that won World Cup '98 on home soil, yet he helped expose the myth of a football team that had helped forge a rainbow nation.
"It lasted only one summer," Ludovic Lestrelin, a lecturer in sports studies, lamented to Eurosport in 2008. "It was a summer of beautiful unanimous momentum that saluted the victory of a nation state's model of integration, not just a team. That feeling came from all sides; in sport and in politics.
"This team was seen as a reflection of diversity, but it was totally artificial. The big sports, especially football, can generate very strong collective movements but these are inevitably temporary."
In 2015, it is tragedy and not triumph that has brought a nation together. It is estimated that nearly 3.5 million French took to the streets on Sunday to march for unity and peace.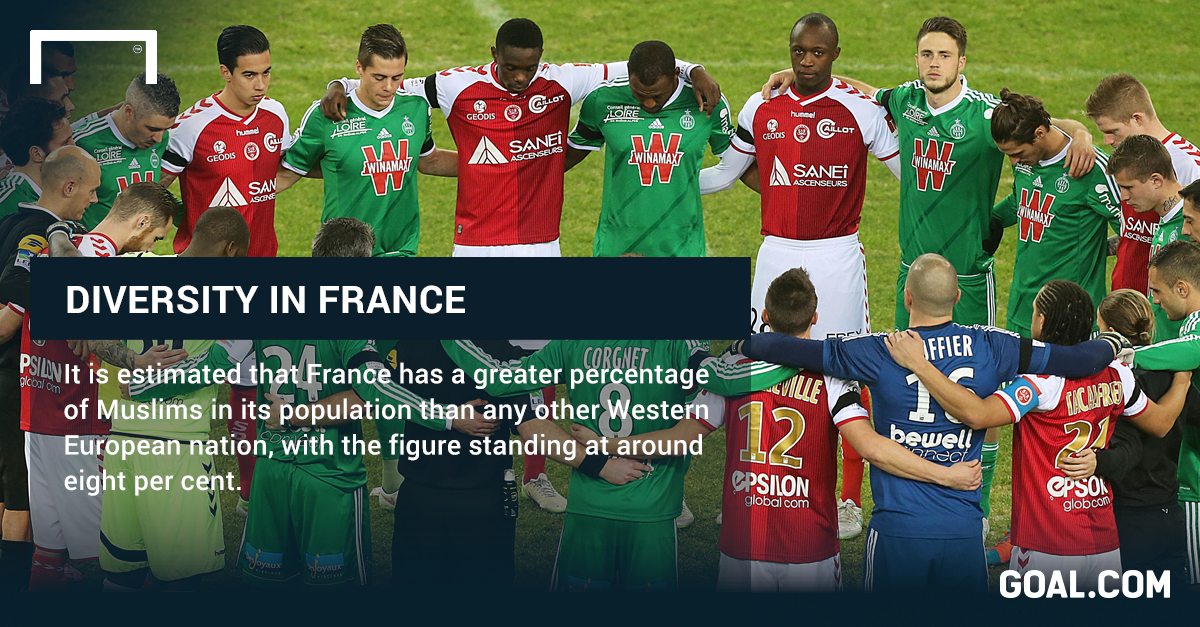 On the football field, too, there has been room for reflection. At every Ligue 1 and 2 ground over the course of the weekend there were respects paid to the victims of an act that has touched France more acutely than any other in generations.
Olympique Lyonnais' fixture against Toulouse was even moved to allow spectators to gather at an afternoon rally. For once the television companies, so often unyielding in their demands, assented.
While the ubiquitous 'Je Suis Charlie' slogan appeared at grounds all round the country, an allowance was made for those who felt their political opinions were not accurately represented by wearing it emblazoned on their kit.
Montpellier defender Abdelhamid El Kaoutari caused something of a polemic as he did not sport a T-shirt prior to the fixture against Olympique de Marseille on Friday evening and claimed he did not want to "mix politics and sport."
On Monday evening, meanwhile, three Valenciennes players taped over the 'Je Suis' part of the phrase as their side went down 2-1 at home to Sochaux in Ligue 2. It was a subtle and apt way to show support for the victims and the right to free speech, while protesting the politics of the magazine and the state of the nation.
"We'll defend the freedom of speech of them all," Valenciennes president Eddy Zdziech told
20 Minutes
. "We can't promote freedom of expression and then force them into actions..."
The period of reflection is drawing to a close. Now solutions must be found, not simply to rid the nation of its extreme Islamist element, but to regain the equality that is meant to define the state. Only then can France foster genuine social integration in such a complex society.
Follow Robin Bairner on