Olympique de Marseille
became French champions for the first time since 1991-92 when they
defeated Stade Rennais on Wednesday evening
, picking up the
Ligue 1
crown for the first time since league reconstruction earlier in the millennium and for ninth time overall.
For the nation's best supported club to go so long without a title is a real quirk of history, but the man who has brought the glory days back to Stade Velodrome has been Didier Deschamps, who has helped les Phoceens beat off a clutch of teams for the crown, though ultimately it was Auxerre who pushed OM closest.
The club from Burgundy needed to beat Olympique Lyonnais at Stade Gerland to take the title to the penultimate weekend, but despite taking the lead they would slip to a 2-1 defeat, presenting OM with the chance of glory in front of their own fans.
Deschamps' men grabbed it, opening the scoring after four minutes through Gabriel Heinze. Jimmy Briand's leveler threatened to spoil the party, but goals deep in the second half from Mamadou Niang and Lucho Gonzalez kicked off a jubilant night in the port city.
Uncertain Beginnings

Head-to-Head with Olympique Lyonnais


8 Nov 09
OL 5-5 OM
Pjanic 3', Govou 14', Lopez 80' & 83', Bastos 90' - Diawara 11', Cheyrou 44', Kone 47', Brandao 75', Toulalan (og) 92'
21 Mar 10
OM 2-1 OL
Kabore 68', Taiwo 81' - Gomis 80'
With the arrival of Deschamps, a whole new era began with les Phoceens. The squad was flushed out to a remarkable degree, with as many as ten new faces in the first team squad introduced from other clubs. Signs came in the form of grand additions, such as record acquisition Lucho Gonzalez from Porto, but also by way of the bargain basement, with former Lorient midfielder Fabrice Abriel a terrific example of a valuable squad player picked up relatively cheaply.
Initially, it would be the bargains who shone through, with Abriel the team leader in the early weeks of the campaign. While the Parisian midfield was pulling the strings in the OM offence, Lucho was having a harder time of it, struggling to adjust to the French life due to the language barrier and also because of injury problems that made it impossible for him to feature in the early weeks of the campaign.
Marseille were handed a tough start to the league campaign, but they coped impressively, hinting better was to come. Having tiptoed by Grenoble on the season's opening day, Lille were defeated 1-0 at Stade Velodrome before commendable draws against Stade Rennais and Girondins de Bordeaux.
Late September brought with it the first truly testing period of the campaign as les Phoceens would suffer back-to-back defeats against Valenciennes and Monaco. As fortune would have it, OM would not suffer such ignominy over the remainder of the season – to this point, at least.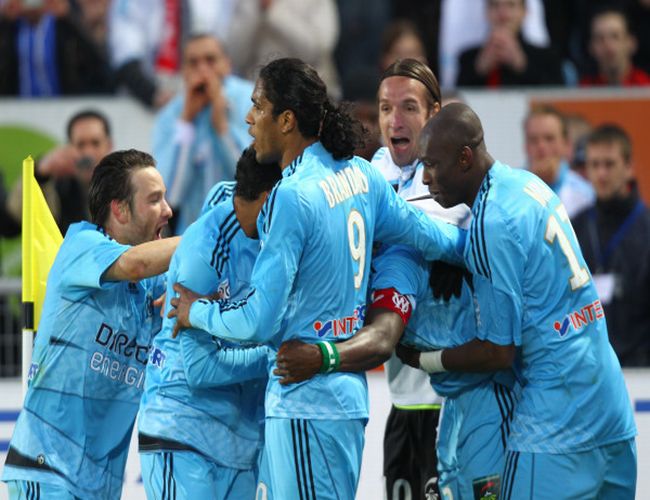 Champions' Spirit | Late goals in April were vital for OM

Distracted by a Champions League campaign that included glamor ties against Real Madrid and Milan, OM were starting to tread water a little domestically. Seeking a huge effort to achieve qualification to the knockout stages of Europe's elite competition, les Phoceens' Ligue 1 form was indifferent at best , with a defeat against Racing Club de Lens in late November another heavy blow.
But there had been some success over this period too. Marseille had defeated fierce rivals Paris Saint-Germain in the first Classique of the season, and Deschamps' men had also participated in a remarkable 5-5 draw away to Olympique Lyonnais in a fixture that will not be forgotten by anyone who witnessed it.
Even with the Champions League out of the way – OM finished third in their group – les Phoceens toiled a little before Christmas. An away draw against Saint-Etienne was less than impressive given that their lowly hosts would play around 80 minutes with ten men, and a 2-0 home loss to Auxerre a few days later meant that les Phoceens concluded 2009 a massive 11 points behind rampant league leaders Bordeaux.
Coming On Strong
Intense fighting on four fronts in January and February brought with it great success for OM, who recorded 11 wins from 14 fixtures and started scoring freely in the process. A 3-0 success over PSG away from home was arguably the highlight, carrying Deschamps men top of the league, though it also proved the end of that terrific run.
Draws against Toulouse and Lorient amidst an unsuccessful Europa League fixture against Benfica weren't punished by the pack of teams clustered around the summit of Le Championnat, and Marseille, taking advantage of the collapsing form for Bordeaux, were ready to mount their decisive assault on the title.
OM responded to crashing out of Europe in quite superb fashion. April was a congested month for Marseille, but it also proved to be decisive in their push for the title as they picked up seven successive victories on the back of a crucial 2-1 success at home over Lyon. It was during this month that OM truly started to show the characteristics of champions, scoring late winners in back-to-back road games against Sochaux and Boulogne, as well as tightening their defense up significantly.
Arguably the rearguard had been les Phoceens' real worry before, but the move to switch Stephane Mbia from a holding midfield role to a central defensive berth was now starting to pay dividends, despite the misgivings for the young Cameroonian, who made his negative feelings about his new position public.
With only two goals lost in seven games, les Phoceens had finally married their terrific attacking potential with a sturdy rearguard, and it was that factor that allowed them to sprint clear and win the title with two rounds of matches remaining.
Didier Deschamps must now ensure that this is the beginning of a bright new era for OM. The coach has already spoken of the future, indicating that his place will be at Stade Velodrome so long as the board back him with funds, and already the French papers are full of an offensive revamp in the south of France this summer.
Of course, Deschamps' ultimate goal is to lift the Champions League trophy with les Phoceens once again, but that is yet a long way off.
Become a fan of Goal.com USA's Facebook fan page for all the latest news and insight into everything related to the beautiful game