Pachuca
Oscar Perez sets eyes on Oswaldo Sanchez's appearance record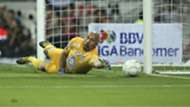 Oscar Perez seems eternal, but the Pachuca goalkeeper's career is nearing its end - just maybe not as soon as expected.
The 43-year-old shot-stopper is closing in on Oswaldo Sanchez's all-time first-division appearances record of 725 matches played, something Perez said is a motivating factor, as is Pachuca's potential run at a Club World Cup.
Takeaways from Liga MX Jornada 2
"Yes, I'd like to (break the record), of course. Obviously there are other players who had big achievements or won more titles, but without doubt I'd like to be among the best of Mexico, I don't know if it will be the best, but among the best," Perez told Record.
Perez could break Sanchez's mark this season if he starts the rest of Pachuca's 15 remaining matches and plays in one postseason contest. Even so, he's not entirely sure he'll be ready for retirement when it's time to hang up the gloves.
"I don't think anybody can be prepared for it, you have to go through it, taking in the situations, adapting to the circumstances," he said. "I don't know how it might be. I've got this goal in mind and I hope everything might go like I have it planned. You can have an idea, but to go into it ready is going to be very tough."
One thing that could alter the plans of the man nicknamed El Conejo, or the rabbit, would be a CONCACAF Champions League title and a berth in the Club World Cup. Pachuca faces Costa Rican side Saprissa in the quarterfinals of the CCL this spring.
"It would be really lovely to participate in a Club World Cup, of course," Perez said. "We're fighting in the tournament to be able to clinch passage there. Obviously everything is step by step, we've got to do things as well as possible against Saprissa."
Perez won the league title with Pachuca in the 2016 Clausura, nearly a decade after he won his first championship in 1997 with Cruz Azul. He turns 44 in February.