Hey everyone, my name is Amobi Okugo and I'll be blogging for Goal.com for the next few weeks.
Hope you guys enjoy as I give you a taste of my life as a young soccer player in Major League Soccer. I am a midfielder/defender (depending on who you ask) for the Philadelphia Union. I was drafted in Philadelphia's first year with the sixth pick in the 2010 draft from UCLA and have been a part of the franchise ever since.
I'm sure you're wondering how I got to Philadelphia in the first place, so let me give you a little background. I was born in Hayward, Calif., to Nigerian parents. My family moved to Sacramento when I was three years old. Nigeria's biggest sport is soccer, so naturally being a Nigerian-American my family was very passionate about the sport.
My dad used to take me to the park and play soccer with me from the time I was barely old enough to walk. I remember watching Nigeria play in the 1994 World Cup and 1996 Olympics when they won the gold medal, and that inspired me. Once I joined my first organized soccer team in kindergarten, I've been playing ever since.
I also played other sports growing up like basketball but after I was invited to the U.S. residency program in Bradenton, Fla., I knew soccer was the sport that I wanted to pursue. Soccer has given me a great opportunity to play the sport I love, meet new friends, and see different cultures while doing it.
This is my third year with the Union and it's been eventful to say the least. After going through an expansion year in the first year to having a strong team and making the playoffs in the second, I've already experienced the ups and downs with the Union. This year I've dealt with coaching changes, losing teammates and my best friend/roommate, and playing a new position.
Follow AMOBI OKUGO on

As you may know, we didn't get off to the best of starts this season.
Our new coach John Hackworth has done a great job of bringing stability to the club and giving us more freedom to express ourselves on the field. Coach Hackworth was the residency coach to a lot of the players on the Union, which is why I feel he has a great relationship with the players on the team.
Our record under Coach Hack has shown signs of improvement but we still aren't where we want to be. As a team, we are confident with Coach Hack's philosophy that we can make strides in this league.
Our team has a good group of guys. I don't know much about other locker rooms around the league but I feel our group of guys really get along and mesh well together. There aren't cliques within the team that seclude themselves from everyone else. My teammates are all fun people who like to have a good time.
Whether it's Sheanon Williams and Zac MacMath dumping water on someone after practice. It could be Gabe Farfan showing the team a funny picture or video on twitter or Mike Farfan changing the language on someone's phone, our team knows how to keep the locker room light-hearted and fun.
Danny Mwanga was a former teammate of mine. We both got drafted the same year and he was the Union's pick before me. Danny and I were roommates and best friends so naturally we spent a lot of time hanging out together. I remember the day that Danny told me he got traded and I thought he was joking. Dealing with trades is a tough aspect in sports. One day we're hanging out, playing video games and the next day I'm helping him pack his stuff to leave. It was crazy seeing Danny leave but dealing with trades puts everything in perspective for me. You never know what can happen.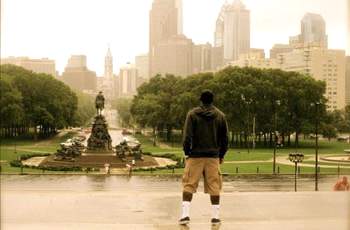 I can't even imagine having to move your whole family while being traded.
I must admit I've come to appreciate and love the city of Philadelphia living here for about three years now. At first it was a little difficult being away from my family and the enjoyable perks of California. Philadelphia is a very historic city that has a lot of nice restaurants and easy to get around.
When I'm not practicing or at home relaxing, I like to enjoy the different parts of the city. I live in the Old City section of the city so it's easy to walk around downtown. One of my favorite parts of the city is South Street. South Street is a busy street with lots of small shops and good places to eat. Jim's Steakhouse is located there and, in my opinion, it's the best Philly cheesesteak place in the city over Pat's and Geno's.
Thank you for reading the first edition of my blog. I'll check in with you guys again soon!