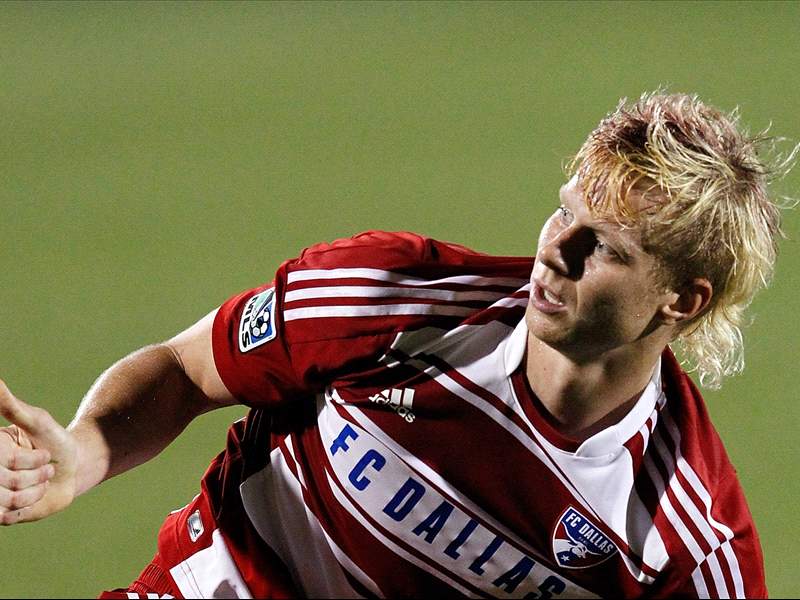 Hey everyone,

First of all, I want to apologize to all FC Dallas and Major League Soccer fans for my actions that resulted in a three-game suspension.

I regret what I did and I've learned from it. It sucks to be suspended for three games. It's not just missing the games, it's letting your teammates and the organization down.

In the meanwhile, as I promised, I have answers to some of the questions posted on my blog and on Twitter. Here we go...

What do you think U.S. Soccer has to do to win a World Cup? (@jozy_tunes)

Wow, that's a hard question. But I think it's a tough question not only for the U.S. but for any country, even the best countries. You could ask Brazil and that would be difficult for them to answer as well. I know it sounds simple but it all comes down to playing good and being consistent. Beat the other teams.

I really don't know what it's going to take for the U.S. to get to the level of Spain or Brazil. We just have to get better and beat good teams regularly. I think its too big of a jump to expect us to win in 2014. But we can work to build something that will eventually take us there.

What is the biggest difference between training under Jurgen Klinsmann versus Bob Bradley? (Grant)

I didn't have much experience with Bob but I think he was a very tactical coach. Everything with him was about reasoning and he was very specific and structured with everything.

Jurgen is more positive and wants to allow you to let your game flow. His mentality is that as a soccer player. We know what to do out there so just play the game. He'll make us focus on things but ultimately he wants us to have fun.

What are your thoughts on the rumors of Alessandro Nesta and Michael Ballack joining MLS? Are you worried the league is becoming a retirement league? (thomaner)

I don't view MLS as a retirement league and I think it's good for those players to come. It definitely helps for the exposure of the league and it helps MLS grow. So any big-time players like that who want to come, it's great.

Would I like to see a big-name DP at FC Dallas?

Yeah, I think it would be good. I also think that our DP, David Ferreria, does a good enough job. Hopefully, he can bounce back from those injuries.

What do you think of your rating in FIFA 12? (maximo)

Shoot to be honest, I don't play FIFA 12. OK, maybe I've played it once or twice but I've never looked at my rating or anything like that. I don't even know what the digital verison of myself looks like. If I had to rate myself in a video game? Haha, I have no idea on that one.

Brek! I've got a class with your pops this summer, and you're one of my absolute favorite players... You coming home to College Station at all this summer? (Zack)

Ha, that's great. I dont know. It depends on my schedule, but don't have a date in mind yet. But that's pretty cool, Zack.

Do you really think you can debate? I'm not 100 percent sold. (Texas Dan)

Get me on First Take and we'll find out. Remember #BrekonFirstTake.

What's your favorite goal you've scored in your career? BTW you're my favorite player and role model! (Jacob Pennington)

Thanks, Jacob. I think the first goal I scored in MLS is my favorite. I scored it with my right foot and I scored it on Chris Seitz, who's a goalie now at FC Dallas.

Where do you see yourself in the next five years both in your career and personally? (Bria)

It's hard to say. I'm not really focused on the future right now. I'm trying to take things day by day and game by game. Sorry I don't have more to say.

If given the chance of a move to a major league (EPL, La Liga, Budesliga, Serie A) which one would you prefer to go to and why (playing style? climate? language barriers?) (Robby)

I haven't really thought of a league that I'd specifically want to be in. I think all of those are great leagues. I think if I ever had a chance to play in one of those, it'd be pretty awesome.

Do you think that MLS needs to scrap its draft system? Should the salary cap be expanded and the roster rules changed? (@CGT3194)

I think the draft is good for MLS and a lot of good players have come from the system. I think it helps along with the academies that we have in the league. It's tremendous for the young homegrown talents. It's a big part of bringing American talent to the league.

Remembering my experience of getting drafted, it was an awesome experience becoming a pro. I really enjoyed it.

Obviously increasing the salary cap would help the league but I'll admit I don't know much about the intricate parts of the roster rules this season. I'm sure there are adjustments that can always be made.

What is the outcome when you eat Indian food? (@IndiaS----)

Honestly, I've never had Indian food.

How do you get into soccer? (Fonz)

As a kid, I enjoyed playing sports. One day, I saw a soccer ball and I asked my mom if I could play. That's how it started.