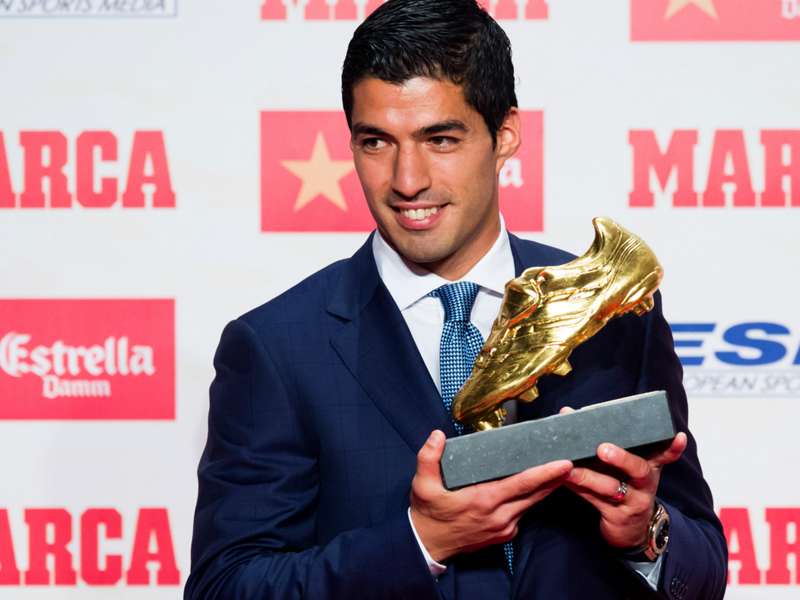 Barcelona star Luis Suarez has claimed he has no chance of winning the Ballon d'Or because the award is more about "marketing and press" than performances.
The Uruguayan was presented with the European Golden Shoe on Thursday after scoring 40 goals in La Liga during the 2015-16 season.
Neymar signs new Barcelona contract
Suarez does not fancy his chances of wrestling the world player of the year gong off Lionel Messi or Cristiano Ronaldo, however, and took a shot at the award's credibility.
"The Ballon d'Or is more to do with marketing and press than for achievements on the pitch," he told reporters. "I've earned all the awards I've been given. The Golden Shoe is for scoring the most goals and there's no option for people to take that away from me.
"I don't have a chance with the Ballon d'Or because it works around marketing and I don't have that. My ambition is to win another Champions League, that would be great."
Suarez went on to admit that the continued excellence of his team-mate Messi made him deserving of his recent dominance of the accolade.
"Of course," he said when asked if it was difficult to top Messi. "But I was referring to getting on the podium.
"To win it is impossible because I have the privilege of playing with the best in the world and an excellent person. He's the best in history."
The 29-year-old insists it does not bother him, however, whether or not people talk about him in the same breath as Messi and Ronaldo.
"I don't compare myself with anyone," he said. "I have my way of playing and being, which is different. My way is to help the team.
"If individual awards come they're welcome because I'm a goal scorer and, sometimes, egotistic. But your teammates don't let you [get carried away] and that's something you're most grateful about."