Pepe believes it would be "a scandal" if Cristiano Ronaldo does not win the Ballon d'Or. Xavi says the Portuguese should not even be in the top three. Dino Zoff claims Manuel Neuer deserves the accolade but has no chance of winning. Jose Mourinho simply does not care about the trophy, saying it's "bad for football."
When it comes to the Ballon d'Or, everyone in football has an opinion — and an agenda. Consequently, when it comes to such a subjective issue, it is often best to turn to numbers in the search for truth.
Therefore, Goal has decided to lay out all of the facts and figures relating to our three nominees for the duration of the Ballon d'Or voting period (Nov. 30, 2013, to Nov. 21, 2014) in the hope of trying to establish the most worthy recipient of the most prestigious individual honor in the game.
The closing date does Messi no favors whatsoever, as he became the leading scorer in both the Champions League and La Liga after the voting ceased. However, as the statistics below underline, Messi still had a remarkable year with both Barcelona and Argentina.
But does the four-time winner deserve to reclaim the Ballon d'Or from Ronaldo, who, after a staggeringly prolific start to the season, now boasts a Liga-record average of 1.13 goals per game?
And what of Neuer and his heroics during Germany's triumphant World Cup campaign? Should he not be recognized for the greatest demonstration to date of the way in which this 'sweeper-keeper' has revolutionized the role of a No. 1?
Why not let the numbers help you decide?
Then again, it's worth remembering the words of Fatih Terim, who once said, "Statistics are like mini-skirts: They don't reveal everything."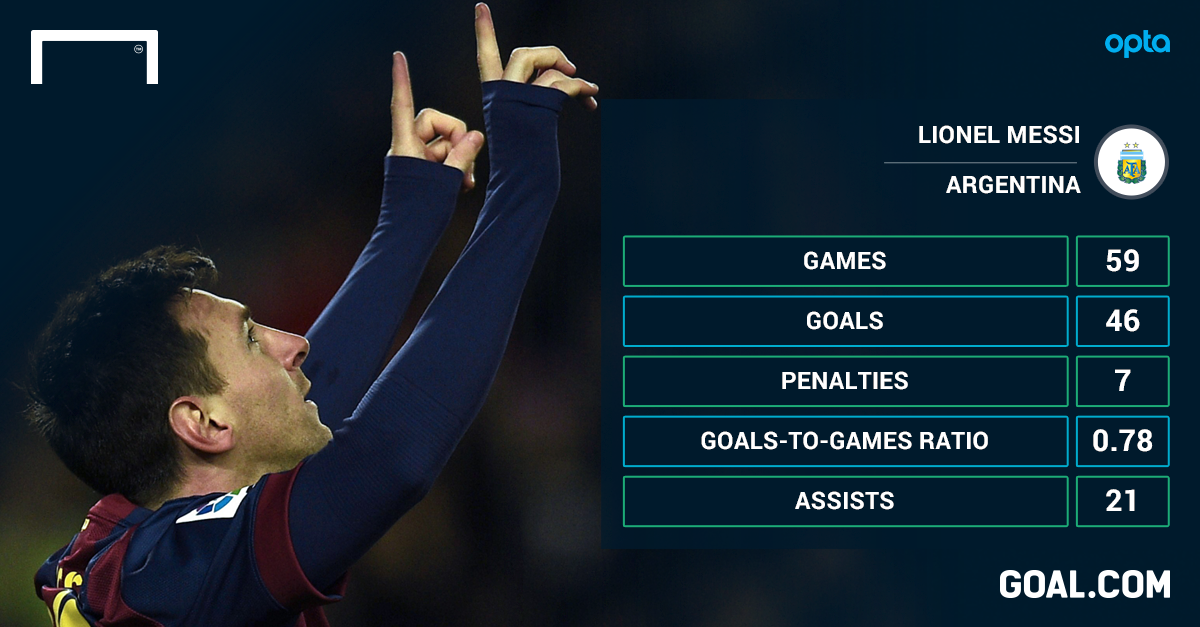 71 - Messi equaled Raul's all-time Champions League goal record with a double at Ajax on Nov. 5. The Barca ace took outright possession of the record with a hat trick against APOEL in his next outing before taking his tally to 75 with a goal against PSG on matchday 6.

54 - Ronaldo netted 54 times in just 60 appearances, including international friendlies, for club and country between Nov. 30, 2013 and Nov. 21, 2014.
34 -
After his eight strikes in the knockout stage of the 2013-14 Champions League, Ronaldo has now scored more goals in the tournament's elimination rounds than any other player.

24 -
On March 23, Messi netted a hat trick in Barcelona's 4-3 win at Real Madrid to become the all-time leading goalscorer in El Clasico, with his treble taking his tally to 24, three more than another Argentine legend, Di Stefano.
23 -
Ronaldo equaled the record for Liga hat tricks held by Telmo Zarra and Alfredo Di Stefano with his treble against Athletic Bilbao on Oct. 5. The Portuguese subsequently broke the record by bagging all of his club's goals in a 3-0 win over Celta on Dec. 6. It was his 23rd hat trick in La Liga.
21 -
Messi racked up a grand total of 21 assists for club and country across the Ballon d'Or voting period — three more than Ronaldo.
17 -
Ronaldo smashed Messi's record for goals in a single Champions League season (14) by striking 17 times during Madrid's triumphant 2013-14 campaign.
17 -
Ronaldo also struck 17 times during the opening 10 rounds of the current Liga season — a record. Even more impressively, the 29-year-old sat out one of those games. Ronaldo reached 20 goals just two matchdays later, which was also a Primera Division record.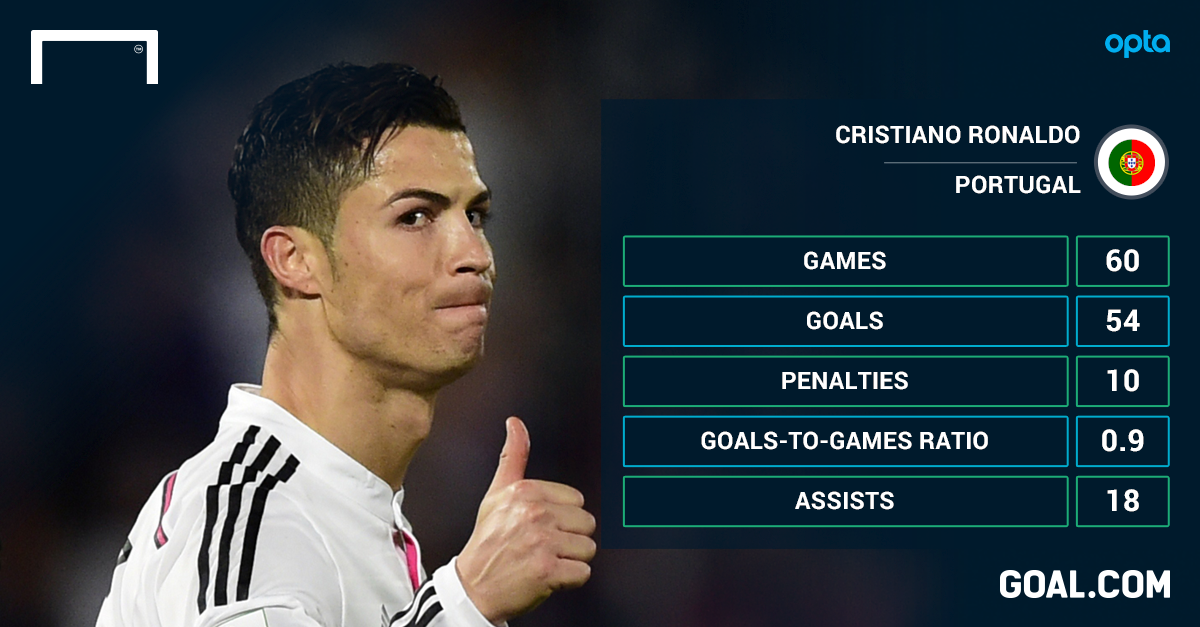 15 -
With his goal in Madrid's win at Copenhagen on Dec. 10, 2013, Ronaldo broke the record for most goals scored by any player in the Champions League over a calendar year.
14 -
Messi's aforementioned hat trick at the Santiago Bernabeu in March also saw him draw level with Di Stefano on Clasico goals scored exclusively in Liga encounters.
12 -
Messi became the leading assist maker in Clasico history in March by setting up Andres Iniesta for the opening goal.
10 -
Ten of Ronaldo's 54 goals came from penalties, which works out at 19 percent. Some 15 percent of Messi's tally were spot kicks.
9 -
Neuer kept nine clean sheets in the Bundesliga before the closing date for Ballon d'Or votes. The 28-year-old racked up another four before the winter break to set a new record for the first half of a Bundesliga campaign. The German was beaten just four times in total, which was also a new milestone mark for the German top flight.
9 -
Ronaldo's strike in Copenhagen in December of last year also saw him claim the goals record for a solitary Champions League group stage campaign. However, his tally was this season matched by Luiz Adriano of Shakhtar Donetsk.
9 -
With his goal against Eibar on Nov. 22, 2014, Ronaldo became the first player to score against every single side he has faced in La Liga.
8 -
Messi has made the Ballon d'Or top three for an eighth time. What's even more remarkable about this world-record feat is that he has pulled it off in consecutive seasons, with the Argentine having made the shortlist every year since 2007.
7 -
Ronaldo and Messi have both featured in the FIFPro World XI a record seven times in a row, dating back to 2007.
5 -
Ronaldo and Messi became the first men to score 25 goals or more in five consecutive Liga seasons during the 2013-14 campaign.
4 -
Neuer shipped just four goals during the second half of the 2013-14 Bundesliga season, which was a new record for the German top flight.
3 -
Ronaldo was awarded the LFP trophies for best goal, best forward and best player at the end of the 2013-14 season - a feat never before achieved by any player.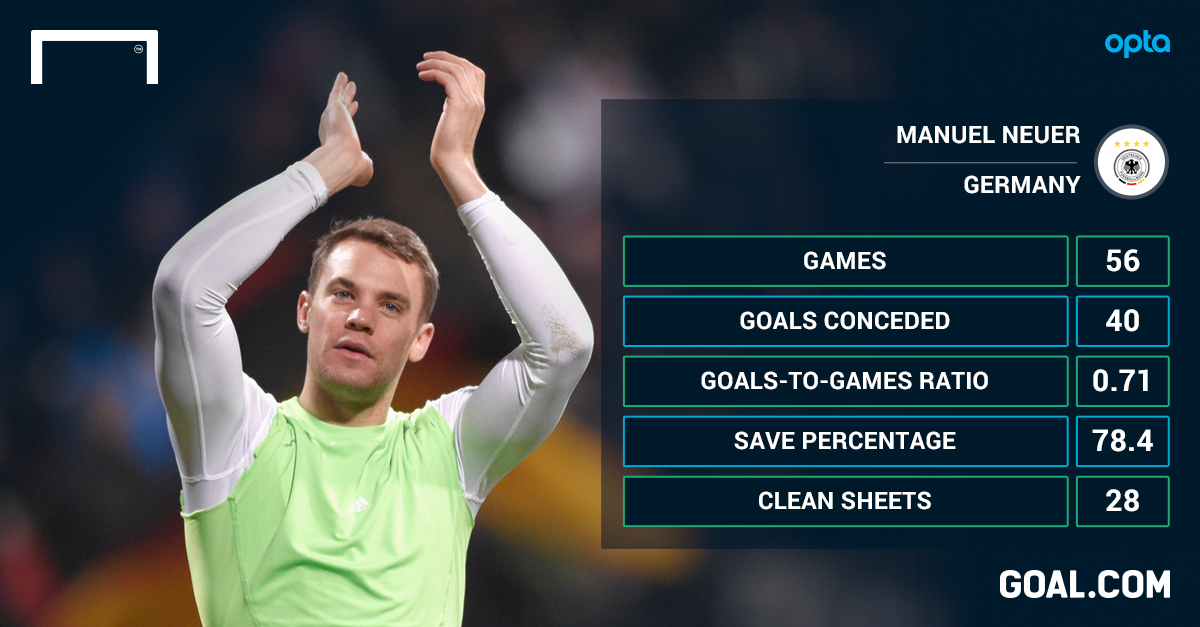 3 -
Neuer claimed three winners' medals in 2014, winning the Bundesliga and the DFB-Pokal in May with Bayern Munich before lifting the biggest prize in football, the World Cup, with Germany in July.
3 -
Ronaldo also collected three trophies during the Ballon d'Or "year," claiming the Copa del Rey with Real Madrid in April (though he did not play in the final), the Champions League just over a month later and the UEFA Super Cup in August.
3 -
Ronaldo equaled Messi's record of three European Golden Shoe wins by sharing this year's award with Barca striker Luis Suarez. Both the Portuguese and the former Liverpool striker hit 31 goals during the 2013-14 season.
3 -
Ronaldo's 52nd-minute strike in Madrid's Champions League last 16, second-leg win at Schalke in February saw him become the first player to reach double figures in the competition in three successive campaigns.
2 -
With his last-gasp penalty in Madrid's 4-1 victory over city rival Atletico in the 2014 Champions League final, Ronaldo became the first player to net in the tournament decider for two European Cup-winning teams, having previously scored in Manchester United's triumph over Chelsea in 2008.
2 -
Neuer conceded only twice in 2014-15 Bundesliga fixtures at the Allianz Arena before the Ballon d'Or polls closed and wasn't beaten again before the winter break — a record low for the first half of a season.
2 -
Messi's previously mentioned treble against Madrid in March saw the Argentine become the first player to score two Clasico hat tricks. Interestingly, the No. 10 also became the first man to score three times in one game against a side coached by Carlo Ancelotti.
1 -
Neuer was awarded the Golden Glove after being voted the best goalkeeper at the 2014 World Cup.
1 -
The Gelsenkirchen native is the first goalkeeper to feature in the Ballon d'Or top three since Gianluigi Buffon finished as runner-up to Italy teammate Fabio Cannavaro in 2006.
Follow Mark Doyle on