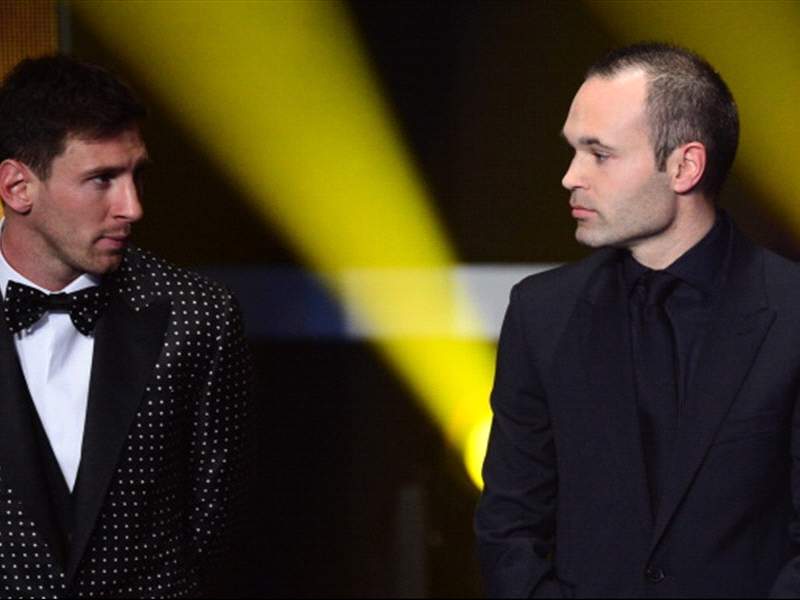 Andres Iniesta
believes that his
Barcelona
teammate
Lionel Messi
should win a fifth Ballon d'Or award.
The Argentine won his fourth consecutive World Player of the Year in a row after he scored 91 goals in 2012, surpassing Gerd Muller's record of 85, but the player who finished third in the 2012 voting believes that there will be more to come.
"I dedicate it to Barca, [and to] the work we do. If he continues, then Leo will get a fifth [Ballon d'Or]," Iniesta told
Esport3
. "I congratulate Leo again for his fourth Golden Boot, which makes it unique. It is not a matter of giving it to others, it is a matter of recognizing the best there is - that is what has happened."
Iniesta also said he hoped to continue playing at the highest level for as long as possible amid another standout year at age 28 during which he helped Spain to its second straight European championship and finished behind Messi and Real Madrid start Cristiano Ronaldo for the Ballon d'Or.
"In this game you have to enjoy the time you have playing at the top," Iniesta said. "And, hopefully, I can do that for a long time and win more trophies. My personal achievements have been very good so far and that is what I aim for, you work to get them. The truth is that being where I am right now makes me incredibly happy."