Hey Goal.com readers,
So I've heard that the New York Red Bulls are interested in bringing in a physical defender.
I would be interested in playing for New York.
The door has never closed in my mind for that opportunity. If they approached me, I would definitely look into it and consider it especially if it was a situation where my contract was guaranteed.
A lot has changed with the club since when I was drafted in 2009. Honestly speaking, I didn't know much about the organization when I was picked by the club. The person I spoke most with was Jeff Agoos.
Jide Ogunbiyi's Bio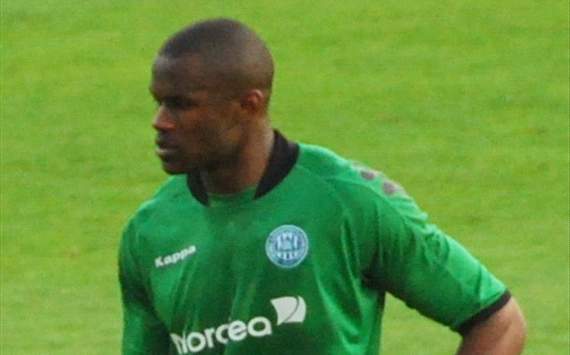 Age: 25
Height: 6'4
Current Team: Viborg FF


-Drafted 18th overall by the New York Red Bulls in 2009
-Trialist for Leeds, Birmingham and Oldham.
-One of the final three players cut from Nigeria's 2008 Olympics team.
Obviously now, it seems like a nice place to play.
They've got a new nice stadium in a good location not far from New York. They are capable of attracting high-profile stars like Thierry Henry and Rafa Marquez and they have some promising national team players like Tim Ream and Juan Agudelo.
I admit it's hard for me to follow the club when I'm in Europe but I have been following them since I've returned to the U.S. for rehab. In Denmark, Major League Soccer games are almost impossible to watch.
I think they have a good group of players. Definitely a group that you would think could challenge for the MLS Cup, even if they didn't make it this year. It would be an interesting situation should things develop.
Moving on...

Five bucks goes to the first Viborg FF fan I meet in the U.S.
I think I have a better chance of winning the lottery. People from Viborg don't travel often. However, don't get me wrong, Viborg FF fans are very passionate.
You have the fans that are loud and make each game exciting. You have your rowdy fans and of course, there are the groupies and stalkers that come along with every professional club.
Our club is smaller, so it's not on the level of say FC Copenhagen but we have it to a degree definitely. Players are well known in the club's small city and it isn't uncommon to be stopped on the street or in restaurants.
I'll admit that I don't get bothered as much, only because it's a well known fact that I can't speak in Danish. Say I am in a store alone in downtown Viborg, people will stare at me but won't say anything unless I'm around a teammate that can speak the language. Then the locals get pretty chatty.
I will say it is also gratifying when you see a fan wearing your jersey,
especially considering that I'm a foreign Nigerian-American.
I'll never forget a time where a 6-year-old kid tugged at me from behind in a store wanting to chat. Of course, he couldn't speak to me in English as Danish children don't learn the language till they are in school but he was wearing my jersey and his parents explained that I was favorite player. Certainly a moment I appreciate.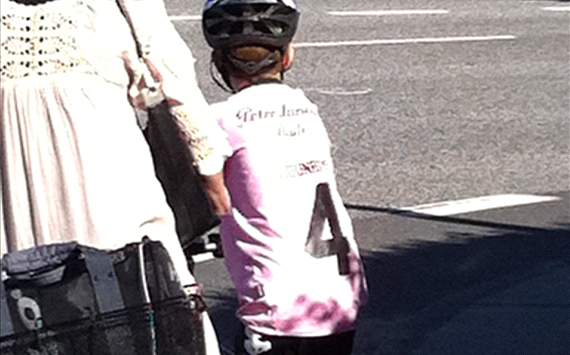 A young fan showing love with my jersey

Then, there are the moments that are uncomfortable.
Battling relegation toward the end of the season, our team lost a match after leading throughout the game. Our fans were furious and let us have it.
As we one by one exited our stadium towards the team bus, they swarmed us circling around each player and hurling insults. Well, not so much me because I'm 6-foot-4 and bigger than most people from Denmark. But anyone that was on their level physically heard it.
"You suck!" is a nice, PG-rated way of sharing what they would say to some players.
Then, a similar result happened where we couldn't hold a lead against AGF. Repeat irritating post game phase.

I would never, ever date a fan of Viborg FF.
I don't think any of us on the team has (I hope not). Especially considering that Viborg is a small town and people would know about it, it's not really a good idea.
Then again, I don't really date much since I've moved out to Denmark. When your future as a player isn't certain, it's hard to commit to someone when your circumstances can change in a instant. For example, when I first signed with Viborg, I had a girlfriend that I dated throughout college but we eventually decided to end things. Between the distance and the possibility that I could be moving from place to place, we decided that we were too young to expect that level of commitment from each other.
I do go on dates from time to time but I wouldn't necessarily call it dating.

My favorite soccer player is Chelsea's Didier Drogba.
I think he exemplifies what a dangerous center striker should be. Big, powerful and able to score from anywhere, I love his game.
I've read that in reports that the Red Bulls might be interested in signing him. Hmmm.
Be sure to check back next week for my latest blog post. Have any questions for me? Feel free to send a question in the comments section below. If I have a chance, I will try to answer.
Follow Jide Ogunbiyi on

As told to Alex Labidou