TEL AVIV -- I love it when I have an idea for this column and that idea is then inadvertently given all the credence in the world by the man who is supposed to be the guardian of the game at the global level.
Sepp Blatter's comments last week that there is no racism in football are the type of comments that if they were made by anyone in a similar position in an organization not rife with deceit and corruption would lead to a resignation and the destruction of careers. But with FIFA existing in its own little fiefdom, it knows no such reaction and no such consequence will take place.
If there is no racism in football, then why do they display the patch and flags "kick out racism" at every game?
I am finishing up a three-week vacation in Israel and recently had coffee with a guy who I have spoken with but had never met.
He is a quality guy; he works in football here in Israel and he is well connected. As we were wrapping up our coffee at a roadside café in the heart of Tel Aviv he asked me a stunning question. "Have you heard the term 'Jew Goal?'"
The answer I gave him was as honest as I could give. "No," I said. "What on earth is a 'Jew Goal.'" I seriously considered that it must be something that is instilled in Israeli kids as the goals they set for themselves in life. I was wrong.
He continued by asking me if I had seen Arsenal's impressive 5-3 win over Chelsea at Stamford Bridge a few weeks back. I said that I had and he replied that Arsenal's first two goals are what is considered a "Jew Goal." If you are not aware, let me fill you in. A player is charging towards goal and the only player to beat is the keeper. The player with the ball sees one of his teammates either to his left or right and instead of taking the keeper one on one, he makes a small diagonal pass to his teammate for a tap-in goal. That, ladies and gentleman, is called a Jew Goal.
Now maybe having been in Israel for three weeks has made me a bit sensitive, but I was horrified. Yes, insulted, demeaned and generally disgusted.
I am interested in looking at the culture of football as much as what happens on the field and in the boardrooms. I wonder in what universe football and its fans think this is a cultural step forward by virtue of the fact that nobody seems to have anything to say about it.
Can you imagine the same derogatory term being used for any other ethnic community without outrage and horror?
The inference of the term – no, sorry, the outright suggestion of the term - is that it is a cheap goal and that Jews in some ridiculous and grotesque stereotype have been labeled as cheap.
I decided that I needed to look further into this so I searched Google as one does these days and saw the term defined and found many different examples of a "Jew Goal," especially on YouTube. I read various outraged Jewish sites and blogs that were less than pleased with this development in the world's biggest sport, and rightly so.
And finally I went to TweetDeck and added a column with #Jewgoal and was horrified to find a lively steaming column where football fans were using the term in every single tweet. Some with amusement, some simply to say it and some I suspect to be as offensive as possible. And when someone actually complained about this they were shouted down by the masses. In fact, the latest is a discussion that Chelsea's goal vs. Liverpool on Sunday was a "Jew Goal." Go to TweetDeck and see for yourselves.
We are such hypocrites in this game in the manner that we follow it. We cannot scream from the mountaintop loudly enough when fans boo and make monkey chants at players of color and we are right to do so.
We stand up in horror and cannot believe the Spanish fans that racially abused English players in past friendlies in Spain, including Ashley Cole, and we are quite right to object and complain. FIFA and UEFA continue to do nothing or at best very little to stop this and as recently as last week had initially flat out denied that such an element exists in the game.
We are outraged about Luis Suarez having recently racially abused Patrice Evra, which has now resulted in a FA charge, and we are right to be outraged.
There are calls for John Terry to be punished, sanctioned and banned for very clearly doing the same to Anton Ferdinand and we are right to demand such action but we seem to be having no issues or problems with a term that is finding more and more commonality with football fans such as "Jew Goal." I have heard not a single complaint from anyone within football at this term.
It is time for the fans to stop looking to the players for guidance and for players to stop looking to fans for any sort of moral compass. Players are not role models however much we might demand they be, and the fans are generally sheep that will do whatever anyone else is doing. As for leadership within the game, well, there just isn't any.
The term "Jew Goal" to describe a type of goal scored is an outrageous disgrace and it was even more troubling when I looked into where the folks using this term on Twitter were from and saw all but one were from England, the country of my birth. This is why I am grateful to live in the United States.
Of course this is not new at all. Chelsea fans have long had a history of making a hissing sound when playing Tottenham to simulate the gas chambers of the Second World War on the basis that Tottenham is a club that is largely supported by the Jewish community in London, or at least it was at one time. The hatred and the racism continue to this day.
Chelsea, as a club makes half-hearted claims that if it finds these people they will be banned. But do they look? The answer is it does not, and as such is as complicit as UEFA and FIFA in throwing their hands up at the problem and hoping it will magically just go away.
What is football becoming and what does football want to be beyond just a game?
A few weeks ago, Arsenal fans sang songs wishing that Emmanuel Adebayor had been killed in the attack on the Togo bus at the 2010 African Cup of Nations, which caused Togo to withdraw from the tournament after three people were killed. Who are these people and how on earth do they think that this is OK?
Do we really believe that because we buy a ticket, follow a team in or out of the stadium that it allows us to act like animals and lose and forget any sense of civility or human dignity because of a football match? Where does such thinking come from?
For quite some time and in a manner that is utterly cringe-worthy, the game in England has held itself up as the standard that all should aspire. There has been the sense that in England the game has been as pure as the driven snow and fingers have been pointed at Eastern Europe, South America, Spain and Italy as the culprits of all that is wrong with racism in the game. In the last few weeks we have found out that the truth lies far from that and those who live in glass houses…
Franklin Foer wrote a brilliant book about 10 years ago called "How Soccer Explains The World," but I have always thought that it doesn't have to. It could be better if it wanted to. But what I am seeing is that it simply does not want to be better and for that the game overall suffers
The problem with it is that it is done under the banner "loyalty to my club" and so anything goes and I mean anything. Racism, anti-Semitism, accusations of pedophilia, etc. I remember David Beckham having to put up with the abuse of fans wishing that his wife and children all die of AIDS, and the mocking of anyone and wishing anyone dead for their support of their club that is not your club. Does anyone call anyone on it? No they do not because the behavior is done as a collective group.
It is just plain wrong.
THE ABBREVIATION
"Comeback Player of the Year"
I read with shock and awe and wonder at some of the MLS awards that have been handed out over the past couple weeks and of course the one that made me laugh the hardest was David Beckham getting the Comeback Player of the Year Award.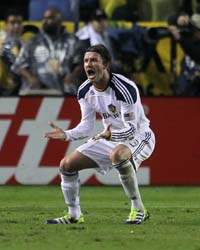 I was forced to consider exactly what he was coming back from. I suppose injuries, which of course took a lot of his time from playing any active part while in the U.S. with MLS from the very start, are the answer.
But I thought of many other reasons why he received this award. Perhaps his comeback from the royal wedding, his comeback from his meaningless ambassadorial coaching role at last year's World Cup? How about his comeback from the countless appearances on the Ellen DeGeneres show? The awesome comeback he made from Gary Neville's testimonial, or perhaps the comeback he made from Milan, where he went on loan that cost him almost an entire season with LA Galaxy. In the end I concluded it was just for coming back from any excuse he could find to get on a plane and not play football for the team he has been contracted to for the last five years.
The man played in 75 regular season games out of a possible 154 in his five years and we are giving him awards. Wow, we really have set the bar sky high. The best part of Beckham in MLS was that Galaxy fans caught on to him pretty quick and only when he saw that his time in America was becoming a bit of a PR disaster did he start to come correct. That's because the one and only thing that Becks can't have is bad PR.
MLS can wrap this up anyway it'd like but I am not buying it. He has been a disaster since he got here and caused the Galaxy and the league untold embarrassment with his lack of interest in playing in MLS. Rudd Gullit, anyone? Terry Bryne, anyone? David must be captain, anyone?
A model professional? I don't think so and I hope he goes back to Europe and does not darken the MLS doorstep again as he will no doubt try by every means necessary to eek out five or six more 2-3 minute appearances for England so he can lay claim to the most capped English player ever
The Comeback Player of the Year award only further highlights what an abject failure his previous four years in both attendance and attitude had been. This award really is for Beckham having had the good manners to actually play a full season with limited distractions, but you know what they say about players in the last year of their contracts.
And while I am at it, I am a big fan of Kasey Keller's but he was not the best goalkeeper in MLS this season and I am not sure he merited that award. What he did deserve is a lifetime achievement for his contributions to all levels of U.S. football in America and abroad. Now, there is a model professional and an ambassador.
Kasey, you will be missed.
Until then...