Real Madrid star Cristiano Ronaldo has hailed the impact of new Los Blancos boss Jose Mourinho and is confident the Liga leaders can end their losing streak in next week's Clasico.
"Jose Mourinho's record is fantastic everywhere he has been and for me he is the best coach in the world," Ronaldo told
Goal.com
after earning the
Castrol
EDGE Performance of the Month award for his feats against Racing Santander in October.
He added: "I have never worked with him before this year but I have really enjoyed my time playing under him so far this season."
Only a point separates the Clasico rivals ahead of Monday's showdown in Camp Nou with Mourinho's outfit having the slight advantage. Real Madrid have lost the last four matches against their great rivals but Ronaldo expects that poor run to change.
"El Clasico will be very interesting this year because Real Madrid are completely different to last season. We are unbeaten in La Liga and the Champions League so we are in good form going into the game.
"Belief in the team is also really high at the moment and for these reasons I think we can win the match.
"We have been playing really well recently and I am confident we can get a good result at the Camp Nou next week," said the world's most expensive player who scored a brace against Ajax in midweek.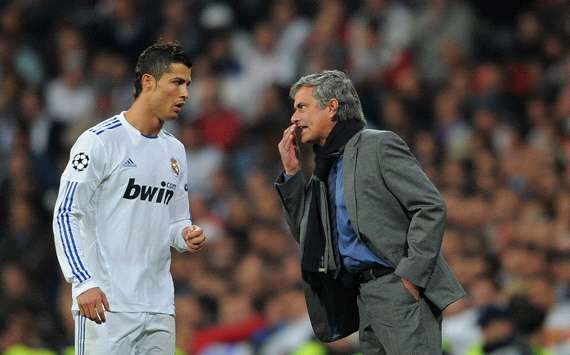 Much of the hype ahead of the Clasico has centred on the personal duel between Ronaldo and Barcelona's Lionel Messi. Barca's number 10 is currently ahead of Ronaldo in the
Castrol Rankings
but Ronaldo doesn't think the Clasico will boil down to just one player.
"I don't think there is one key player we need to look out for because Barcelona has many great players who together make a great team. We know playing at the Camp Nou will be difficult but we believe in our ability so it's going to be an interesting game."
Ronaldo was speaking to the world's number one football website after receiving the Castrol EDGE Performance of the Month Award for October. He inspired Real Madrid to a 6-1 victory over Racing Santander earning a remarkable 2,279 points for his performance!
The Castrol ambassador scored four goals from just six shots, with five of those attempts on target, as his clinical finishing display left Racing Santander reeling.
The Portuguese forward created three other scoring opportunities for his team-mates, a higher tally than any other Madrid player on the night. He completed 74% of his passes and contested more aerial challenges than any other player in the match as Los Blancos consolidated their position at the top of the table.
On receiving his award, Ronaldo said: "It's a real honour for me to win the Castrol EDGE Performance of the Month award for October. I am confident in my own ability and always want to be at the top of my game so winning this award and beating so many other great players is great for me because it proves that I am playing well."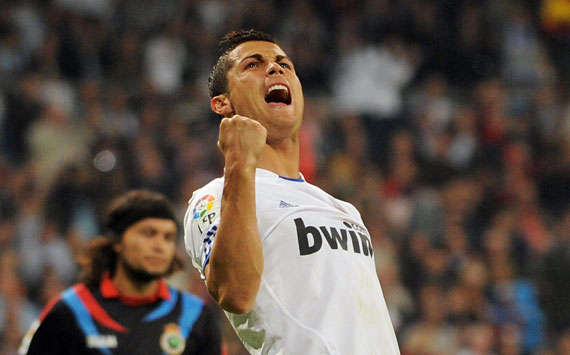 Ronaldo is closing in on Lionel Messi at the top of the Castrol Rankings, which accurately tracks the effectiveness of all of the players in Europe's top five leagues, and he has scored more points than Messi in five of his last six games.
"Firstly I will need to make sure I play well on a consistent basis because if you relax for one moment then other players will overtake you. I am confident in my own ability and I believe that if I stay in good shape I can stay near the top and hopefully overtake Messi."
Barcelona play Real Madrid next Monday.
Click here to follow the Goal.com Twitter feed and join Goal.com USA's Facebook fan page!