A big part of the attraction of international tournaments is that they seemingly render a very complicated game into an "open source code": millions of casual viewers feel that they can confidently talk about a team by conflating it with the country it represents ("I like Denmark") and/or attaching neat, stereotypical labels to them.
The mainstream media reinforce this fake familiarity by trotting out the tired old cliches, in the mistaken and deeply patronizing belief that their audience prefers catch-phrases to more serious analysis.
Thus, it didn't come as too much of a surprise when BBC expert Martin Keown was telling his viewers that Germany were "arrogant" against Italy. Just how changing their own set-up to deal with the specific threat from the Azzurri and bringing back two (Gomez, Podolski) out of the three players whose very absence against Greece had also been decried as "arrogant" in similar circles signified irrational over-confidence was never quite explained by the former Arsenal defender, however. It took Gianluca Vialli to make the painfully obvious point that Low, if anything, had made the mistake of adapting too much to the opposition by going for a narrow midfield.
Tactics, individual errors and other important details
were the real reasons Low's men lost against a less-gifted Italy side in Warsaw on Thursday, not a perceived superiority complex by (all) Germans. And one bad game doesn't make a good side "over-rated" or "found out" - Germany's progress over the course of the last few years cannot be denied.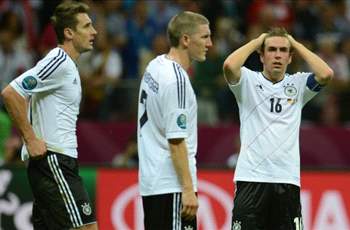 One bad game doesn't make a good side "over-rated" or "found out" - Germany's progress over the course of the last few years cannot be denied
But a fourth near-miss at a tournament in succession does indeed pose slightly bigger, unsettling questions about Low and his team. Disappointed reporters and supporters back home are starting to wonder: Is there something fundamentally wrong with this XI, something that transcends mere tactics and lineup quarrels? Why can't it win any trophies?
Three main areas of inquiries are emerging in the public discourse in Germany. Some are more pertinent than others but all of them are worth exploring, even if they mostly contradict all the tried and trusted Nationalmannschaft truisms of yesteryear.
The first concerns Löw's tactical flexibility. German sides used to always play 3-5-2 with a sweeper until 2000 and thus missed out on modern soccer by about a decade. But since then, the improvement has been immeasurable. Klinsmann's and Low's initial, direct 4-4-2 has evolved into a 4-2-3-1 that can be played in many different ways - on the counter, possession-based, with a target striker or without, wide or narrow.
The changes Low made against Greece showed that there's nothing wrong with adapting to the opposition, but it becomes a problem when you adapt so much that you cease being yourself in the process.
Twice now, Low has made that mistake in key semifinals. Against Spain in 2010, the team lined up in an incredibly deep, almost Hodgsonesque 4-4-1-1. It was counterattacking taken to an illogical extreme. Without the ball, Germany stopped attacking altogether.
Despite plenty of robust statements to the contrary - "we won't change our style" - Low repeated the error against Italy, by essentially going for like-for-like in midfield. You can call it over-thinking or fear, but the upshot is the same.
Low needs to trust his own game more in the future. The confusion that reigned in midfield after Balotelli's two goals were symptomatic of the muddled thinking on the bench. Or, to put it in a different way that's perhaps more readily understood by the Keown's of this world: Low needs to become a lot more arrogant, in a tactical sense - convinced that his way is the only way.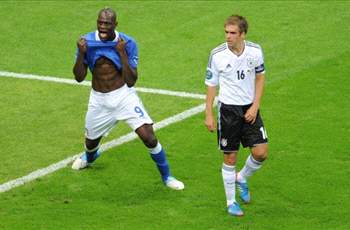 Unlike the ultra-driven egotists from the Matthaus generation, Lahm and Co. seem as if they can never quite convince themselves that soccer is "do or die"

A distinct lack of winning mentality is a second charge leveled at this side. The genesis of this theory goes back to the final loss against Spain in 2008, after which Jens Lehmann said that he'd felt some players had been "too pleased to have made the final to win it."
Bayern Munich's two Champions League final losses have naturally reinforced that view. But does it hold up? It's obviously a tautological argument: those who win are said to have a winning mentality, those who don't, don't.
But that's not to say there isn't possibly an issue. One could make the point that after the disasters of 2000 and 2004, this team has enjoyed an incredibly charmed life, wooing the public at home and abroad with entertaining near-misses one tournament after another.
Maybe one or two have indeed become too comfortable in that spot? Toni Kroos, to name perhaps the most extreme example, always seems strangely unperturbed by the actual results in the games he features in.
Conversely, there can be little doubt that players like Lahm and Schweinsteiger do want it enough. But on the whole, one fears that these intelligent, well-rounded and mostly likeable bunch of young men are held back by exactly these qualities.
Unlike the ultra-driven egotists from the Matthaus generation, Lahm and Co. seem as if they can never quite convince themselves that soccer is "do or die", that "winning is more important than anything else." Because it's simply not true, and they know it.
The third point is related. Low, like his team, needs to become a lot more ruthless. He's a man who shuns open conflict and values harmony. Podolski, you sense, was placated for the Greece game with a start against Italy whereas Reus would have been the much better option. Schweinsteiger's form, too, should have been evaluated more objectively. If Low makes good on his threat to leave his post after the 2014 World Cup, he must leave "The Nice Mr Jogi" behind and become a lot more cool and calculated in his dealings with the players. Otherwise, his grand project is in acute danger of remaining unfulfilled.
Raphael Honigstein is The Guardian's German football correspondent and is talkSPORT's expert on all matters concerning Germany. Honigstein also writes for the BBC and Sports Illustrated, as well as Suddeutsche Zeitung. Before getting involved with journalism Honigstein studied law and has also written books including 'Harder, Better, Faster, Stronger' and Englischer Fussball: A German View of Our Beautiful Game.