The ninth European Championship was staged in Sweden, which had to bid against Spain to host the event. The Spanish case was weakened because the country was already hosting EXPO 1992 and that year's Summer Olympics.
So Sweden was awarded a major football tournament for the first time since the 1958 World Cup 34 years earlier. Venues chosen were Gothenburg (Ullevi Stadium), Solna (Rasunda Stadium), Malmo (Malmo Stadium) and Norrkoping (Idrottsparken). Unusually, the country's capital and largest city, Stockholm, did not host any matches.
By qualifying automatically as host, Sweden played in its first finals – which saw the introduction of players' names on the back of every teams' shirts.
IN THE NEWS IN 1992...

* With the signing of the Maastricht Treaty, the European Union is founded

* Singer Paul Simon becomes the first major artist to tour South Africa after the cultural boycott was lifted

* The Euro Disney Resort officially opens with its theme park Euro Disneyland (now Disneyland Paris)

* At the Barcelona Summer Olympics, Gail Devers (USA) wins the women's 100 meter final - one of the closest races in history as five women finish within 0.06 seconds of each other

* Sweden wins the Ice Hockey World Championships in Prague

* The Russian Federation is officially formed, and president Boris Yeltsin says Russia will stop targeting US cities with nuclear weapons
Europe's shifting political landscape had an impact on the Championship. Unbeaten USSR had already qualified, winning Group 3 ahead of Italy, before breaking up. So the former Soviet Union competed in Sweden as the Commonwealth of Independent States (CIS), representing Russia, Ukraine, Belarus, Kazakhstan, Uzbekistan, Turkmenistan, Kyrgyzstan, Armenia, Azerbaijan, Moldova and Tajikistan.
Yugoslavia's feat in winning Group 4 was nullified by the outbreak of civil war. Less than two weeks before the finals were due to start, Yugoslavia was placed under sanctions by UN Security Council Resolution 757. FIFA immediately suspended the team from competitive football, and UEFA invited group runner-up Denmark to replace it.
Germany competed for the first time as a reunited country, taking over West Germany's Group 5 fixtures, while East Germany's, in the same group, were scrapped. Reunified Germany won the group by a point from Wales.
France qualified from Group 1 with a perfect record of played eight, won eight, leaving it six points clear of Czechoslovakia and 10 ahead of Spain. Group 2 was tighter, only two points separating the first four. Scotland topped the section to reach the finals for the first time.
Defending champion the Netherlands finished two points ahead of Portugal in Group 6, Marco van Basten scoring eight of the team's 17 goals. But England made hard work of winning Group 7, drawing half its games. The team needed a point in Poland from its final match and was only 13 minutes from defeat – and elimination – when Gary Lineker equalized to send it through at the expense of Jack Charlton's Republic of Ireland.
TOP SCORERS


Dennis Bergkamp
Tomas Brolin
Henrik Larsen
Karl-Heinz Riedle

Nation
N'lands
Sweden
Denmark
Germany

Goals
3
3
3
3

As in 1988, England's Three Lions approached the finals with a roar and soon left with a whimper, but the real story of Group A was Denmark. Given only 11 days to prepare, the hastily assembled squad outshone England's in a goalless opener but lost 1-0 to Sweden before facing France, which had already drawn twice. Les Bleus' complacency was exposed as Lars Elstrup settled the game 2-1 in Denmark's favor.
The Danes had qualified along with host Sweden, 2-1 conquerors of England. Needing a win, England had gone ahead early through David Platt, but succumbed to goals from Jan Eriksson and Tomas Brolin. Manager Graham Taylor had shuffled his pack ineffectually, then noted that Sweden "came at us playing direct football. They were more English than the English."
Defending Euro champion the Netherlands and reigning world champion Germany progressed from Group B, the latter somewhat luckily. It had drawn with CIS, beaten Scotland 2-0 despite being outplayed, then lost 3-1 to the Netherlands. But Andy Roxburgh's Scots, who had earlier lost 1-0 to the Netherlands, did Germany a favor by thumping CIS 3-0.
At that stage, another Netherlands-Germany final seemed likely. Denmark, however, thought otherwise. Twice Henrik Larsen put it ahead against the Netherlands in the semifinal. Twice the Dutch equalized through Dennis Bergkamp and Frank Rijkaard. A goalless extra time meant penalties. Peter Schmeichel saved Marco van Basten's kick and all others were made, so Denmark was into the final.
There the team would meet Germany, which beat Sweden 3-2. A Brolin penalty cancelled out Thomas Hassler's opener, but Karl-Heinz Riedle's brace saw the Germans home despite Kennet Andersson's late strike.
THE FINAL
Denmark 2-0 Germany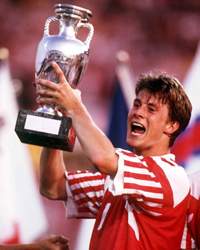 Tournament-hardened Germany had won the World Cup two years earlier and appeared in four previous European finals. Denmark, only involved as late substitutes for Yugoslavia, was the Championship's shock finalists and clear underdog.
Berti Vogts' side began with ominous intent with Peter Schmeichel being forced into early saves from Karl-Heinz Riedle, Stefan Reuter and Guido Buchwald.
Then Denmark rewrote the script. The team's 19th-minute goal was from the unlikeliest source. John Jensen had previously scored just once in 47 internationals and it would later take him 98 games to open his account for Arsenal. But he made no mistake when Flemming Poulsen laid the ball back to him on the edge of the area.
The Danes, managed by Richard Moller Nielsen, defended coolly under pressure, counter-attacking when they could. Kim Vilfort – fresh from visiting his daughter, who was suffering from leukemia – beat Bodo Illgner to make it 2-0 with 12 minutes left.
As Denmark was crowned champion of Europe, Schmeichel admitted: "We still don't understand what we have done."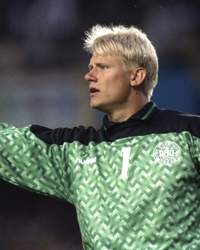 Voted 'The World's Best Goalkeeper 1992', Schmeichel showed why with a string of vital saves during the tournament, in particular from the prolific Dutchman Van Basten in the penalty shootout that decided the semifinal. In the final he held one German cross with one hand, underlining the confidence and presence he brought to his role between the posts.
Named the world's best keeper again in 1993, by which time his 22 clean sheets had helped Manchester United win its first league title for 26 years, Schmeichel collected five Premier League crowns, three FA Cups, the 1991 League Cup and 1999 Champions League. Having joined United for 530,000 pounds in 1991 from Brondby, where he'd won four Danish championships, Schmeichel later played for Sporting Lisbon (winning the Portuguese Liga), Aston Villa and Manchester City.
Since retiring he has worked in British and Danish TV as a presenter, a game show host and contestant, and (primarily) a football pundit.
Few had expected Denmark to beat the Netherlands in the semifinal, even when it went to penalties. Star player Brian Laudrup and Henrik Andersen were both off injured, and John Sivebaek was limping. But when Peter Schmeichel saved Oranje's second kick – from the normally deadly Van Basten – a fairy tale unfolded.
MATCH OF THE TOURNAMENT




Netherlands 3-1 Germany

3

This classic Group B clash was a rematch of the 1988 semifinal and once again the Dutch emerged triumphant. Admittedly German coach Berti Vogts had seen his plans disrupted by injuries, but the defending champion was skilled and mobile, and quickly two-up through Frank Rijkaard and Rob Witschge. Van Basten hit the bar with a superb overhead kick, and the effervescent Jurgen Klinsmann pulled one back for Germany, but Dennis Bergkamp settled it for Oranje with a deft low header.
Visit our Euro 2012 microsite for all you need to know ahead of Friday's draw and beyond - team profiles, stadium guides, even which hotels are best to stay in!