SANTIAGO, Chile -- The long wait is over for Chile. Ever since the first Copa America in 1916, La Roja have been trying to win South America's prestigious continental competition. Now they have and the celebrations have kicked off in earnest in Santiago. For Argentina's golden generation, though, this was another chance missed.
Chile took the game to Argentina in this one and even though it played very much on the edge with some cynical fouls in the first half that left its three centrer backs booked before the interval, few could argue that the locals did not deserve this triumph - both for their performance on the night and also throughout this tournament.
A sterile second half concluded as substitute Gonzalo Higuain hit wide at the far post, failing to find the net from an acute angle. The miss evoked memories of how he squandered a glorious chance in last year's World Cup final and to make matters worse, the Napoli forward blasted his penalty over the crossbar in the subsequent shootout.
The man he replaced on the pitch, Sergio Aguero, said before the Copa that if this golden generation of Argentine players fails to win a trophy, they will regret it for the rest of their lives. Lionel Messi, Angel Di Maria and others all echoed those words later on - but it was beyond them again on Saturday.
The Under-20 World Cup claimed by the Albiceleste in 2005 and the Olympic gold medal in 2008 were special for these players at the time, but they have been unable to replicate those successes with the full national side - even though their generation of players has been described by many as their greatest ever.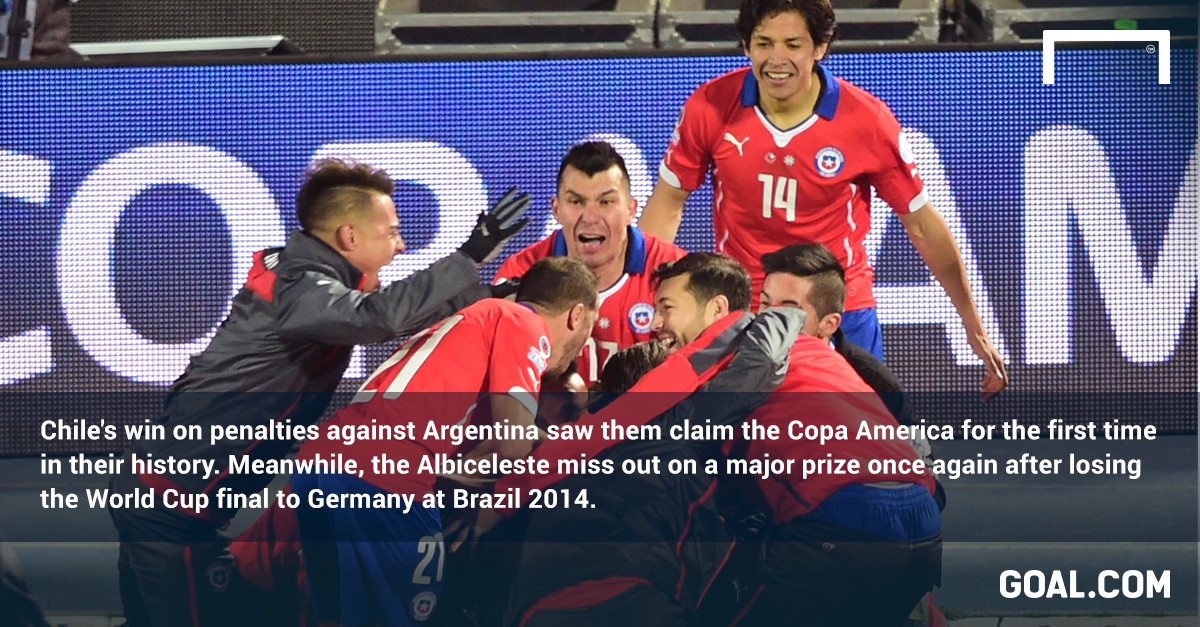 Last year's World Cup in Brazil was a wonderful opportunity. With Messi at a peak age (27) and the stadiums filled with Argentine fans, it looked like it may be their moment. Ultimately, however, they missed out and the current Copa was supposed to bring some sort of redemption.
It hasn't happened. Messi impressed, but was squeezed into spaces where he has less influence and he lacked support from his teammates on Saturday. Javier Pastore, superb in the 6-1 thrashing of Paraguay in the semifinals on Tuesday, was a shadow of that player in this game. And Angel Di Maria, who missed last year's World Cup final through injury, limped off with little more than half an hour gone.
By the end of the night, Javier Mascherano was playing on one leg and Ezequiel Lavezzi limping around as well. Once again, Argentina resembled a walking wounded when it mattered most - its players perhaps paying the price for the sheer amount of games they played in a long European season.
But the same could be said for Chile and Alexis Sanchez, in particular, has struggled for fitness in this competition. The Arsenal forward struck the winning penalty in this with an outrageous penalty and the noise erupted in the Estadio Nacional.
Having never previously one anything on a football field at this level, Chile changed its history with a wonderful win on Saturday for what will now be considered the country's best team ever.
For Argentina, though, it is another chance wasted for this seemingly doomed generation of players. And with many of the players pushing 30 or already older than that, the opportunities are running out for this talented team.
Follow Ben Hayward on