Antonio Roma, goalkeeper (1960-72):
Perhaps the most idolized number one in the history of Boca Juniors, Roma joined the Xeneixes from Ferro in 1960, and along with such legendary figures as Antonio Rattin and Silvio Marzolini was a fixture in one of the greatest sides ever to wear the blue and gold shirt. Roma won five titles with Boca through the decade, and also represented a Boca dominated Argentina in the 1962 and 1966 World Cups.
Silvio Marzolini, left back (1960-72):
A true icon in Boca history, Marzolini joined the club from Ferro at the age of just 20 and would spend the rest of his career at the club, wowing domestic and international crowds alike with his talents down the left flank. Contemporary of the legendary Antonio Rattin, the player lifted five leagues in Boca and is considered one of the best left backs of all time.
Roberto Mouzo, center back (1971-84):
Mouzo holds the record for most appearances for Boca, playing a total of 426 games in a 13-year career as the Xeneixe defensive linchpin. The highlight of Mouzo's long career was lifting the club's first ever Copa Libertadores in 1977, followed by the club being crowned world champions in the same year beating Borussia Moenchengladbach.
Walter Samuel, center back (1997-2000):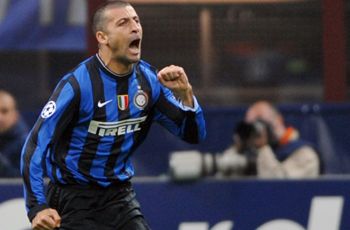 'El Muro' (The wall)'s spell at Boca was short but sweet, earning wide plaudits for his uncompromising play in the center of defense and playing a major part in the all-conquering Xeneixe team of the turn of the century. In just three years Samuel appeared in over 100 games, and lifted two domestic championships and a Copa Libertadores as Carlos Bianchi's men proved to be almost unbeatable.
Hugo Ibarra, right back (1998-2001, 2002-03, 2005-10):
'El Negro' is a true icon in the Bombonera, in which he played three separate spells between jaunts to Europe and racked up over 200 games. In his time at Boca Ibarra helped them to win every single major trophy possible, at domestic, continental and international before finally retiring earlier this year with a total of 15 championships earned in the Xeneixe colors.
Antonio Rattin, midfielder (1956-70):
An infamous name for English football fans after the controversial 1966 World Cup quarter-final match, Rattin was also a towering midfield presence and a talisman for Boca in the glory years of the 1960s. Now a politician, the veteran of over 350 games led Boca to four national championships in the decade and also represented Argentina 34 times.
Ruben Sone, midfielder (1967-72, 1976-80):
In two trophy-filled spells with Boca Juniors, Sone managed to bridge the gap between a pair of memorable Xeneixe generations: that of Rattin and Marzolini in the 1960s and the team of the late 1970s and early 80s which brought home back to back Copa Libertadores trophies- the first of which being Boca's first ever continental success. He is best remembered however for scoring the winning goal against River Plate in the final of the 1976 National Championship, which turned him into a true Bombonera icon.
Diego Maradona, number 10 (1981-82, 1995-97):
Try as I might, it was just impossible to overlook the little genius Maradona in a list of Boca idols. His time at the club may have been limited but it electrified fans who packed the Bombonera to see him, and it was at Boca where he picked up his first club honor. The 1981 national championship would prove to be one of many honors the controversial number 10 won in a sparkling career. Diego finished his career at his boyhood idols, and a tearful 1997 farewell to his fans and his "La pelota no se mancha" speech will go down in club folklore forever.
Juan Roman Riquelme, number 10 (1995-02, 2007-):
Only in Boca, and only for this remarkable playmaker, could Diego Maradona be relegated to second fiddle. In the Bombonera however it is Roman who rules the roost over the best player ever to step on a football pitch. Blessed with incredible control and vision and a right foot that seems trained to find a teammate no matter how unlikely the pass, Riquelme was voted the greatest player of Boca's history in a recent poll.
Martin Palermo, centre forward (1997-2000, 2004-10):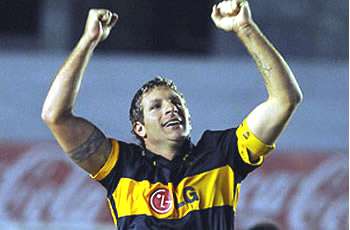 There are more elegant center forwards, more consistent players and a lot more talented players who have worn the Boca strip; but not one typifies the sacrifice and loyalty that leads one to become a true club legend. Recently crowned the club's highest ever scorer (and with a band of loyal fans which count every strike on a giant banner in the Bombonera), 'El Titan's' incredible career shows no sign of ending even though the lumbering striker recently turned 37.
Francisco Varallo, centre forward (1931-40):
A native of La Plata just like that other iconic number nine 'El Titan', Varallo passed away two months ago aged 100 and was treated to a moving remembrance amongst Boca fans, who despite the majority being to young to have ever seen him play nevertheless honored a man who has gained legendary status in La Boca. 'El Canoncito' helped the Xeneixes to three league titles, and with 180 goals was the club's highest scorer in the professional era until Palermo broke the record in 2008.

Boca Juniors Greatest XI (4-2-2-2):

Roma

Ibarra - Mouze - Samuel - Marzolini

Rattin - Sone

Maradona - Riquelme

Palermo - Varallo


Listen to Daniel, Dan and Sam on the

Hand of Pod, a new Argentine football podcast that starts on Monday with a Superclasico special...
Become a fan of Goal.com USA's Facebook fan page for all the latest news and insight into everything related to the beautiful game