"He is like a chick with three breasts, that is how unique he is," proclaimed Boca Juniors coach Claudio Borghi on Friday night, visibly delighted at the prospect of his idol's long-awaited return.
And so too was the rest of the football world, it seemed. While Argentina held its breath the following evening,
Riquelmistas
from across the globe tuned in to witness what would surely be their hero's triumphant return.
They had been waiting all season, but the time had finally come: Juan Roman Riquelme was returning to La Bombonera to make his first appearance of the campaign. The wait was over, He had returned to save his beloved club from the misery of another season of mediocrity.
The script had been written; the final chapter of which took up the majority of column inches of Friday's
Ole
and filled endless slots on the nation's countless live football debates. The scene was set but it was to end in misery. An all too predictable one, really, as two late goals saw Boca suffer their fourth home defeat of the season – one that leaves them a lowly 11th place in the Apertura with just six games remaining.
The anticipation had been building for months. Ever since the 32-year-old playmaker - out of action since the summer after undergoing knee surgery - finally did us all a favor and put pen to paper on a new four-year deal that tore the club's boardroom in half, Boca fans had awaited their savior.
As had under fire coach, Claudio Borghi. "This team is made for Riquelme," said the 46-year-old former Milan midfielder shortly after his appointment in May. Unable to contain his excitement on the eve of Roman's return, he told a pre-match press conference of how he was looking forward to "managing someone who I truly admire, a player of whom you can really say: 'he is a true star.'"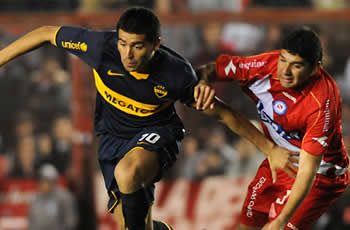 Borghi's biggest headache so far this season had been filling the '1' in his preferred 3-4-1-2 formation. Damian Escudero, Cristian Chavez, Matias Gimenez, and young Marcelo Canete had all tried, but failed to fill Roman's sizable boots. His return last night finally solved that problem, but ultimately served only to highlight the many shortcomings that plague his team. He was hoping to "take refuge in Riquelme's return," but there was nowhere left for the coach to hide last night as Ciro Ruis tapped home to seal all three points for Argentinos.
Yet the evening had begun rather well. It took Riquelme just 58 seconds to outfox Nestor Ortigoza and win a free-kick. Less then ten to spray His first trademark cross-field pass. By half-time He was really finding his grove: first stroking a delightful through ball with the outside His of his right foot only for Martin Palermo to fire wide, then playing a short free-kick and slaloming through the Argentinos backline to almost open the scoring with a devilish low pass across goal.
His steady improvement continued into the second half too. As Roman began to find space between the lines, He seamlessly slotted back into his familiar role of La Bombonera's chief protagonist. Everything went through Him. He took every set piece. Everyone passed to Him. He passed to everyone else. He slid a pass wide for Giminez to misfire from inside the box. Then He hit the bar – straight from a corner. Then He waltzed past three red shirts to release Lucas Viatri, who would become the latest to provide a finish unworthy of the approach play.
But if you want something done - do it yourself. So with the game still goalless, and having sporadically wet our appetites with minor allusions to his genius, Boca's '10' did just that. With just seven minutes remaining, a quick break, with 'you know who' at the center of the slick passing, ended with Him staring into the whites of the goalkeeper's eyes from 18 yards. He took aim, opened up his body, 'Roman' screamed Canal Diez, in preparation for the what would inevitably be the most elongated
gol
of the year – only the net didn't ripple, the ground didn't shake; he had fluffed his lines, he sent the ball flying over the bar with the aide of Nicolas Navarro's fingertip.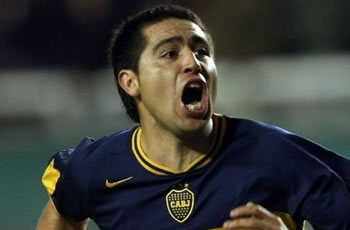 There would be precious little to shout about on Saturday
And so came the misery. Borghi's side have struggled at the back all season and with just four minutes remaining, a catalog of errors allowed Santiago Gentiletti to shoot through Cristian Lucchetti and silence La Bombonera. A dejected Borghi sighed and headed for the dugout; the coach had barely made it by the time Lucchetti gifted the Ruis the second, inexplicably spilling a feeble shot right into the striker's path. The cameras shot straight to Riquelme, he had his hands on his hips, glancing to the heavens, looking somewhat lost amongst the familiarity of yet another Boca implosion.
So the king is back, but his return served only to beg a more pertinent question: where are all his horses and men?

For the latest news and updates from Goal.com, follow our Twitter account and join Goal.com USA's Facebook fan page!