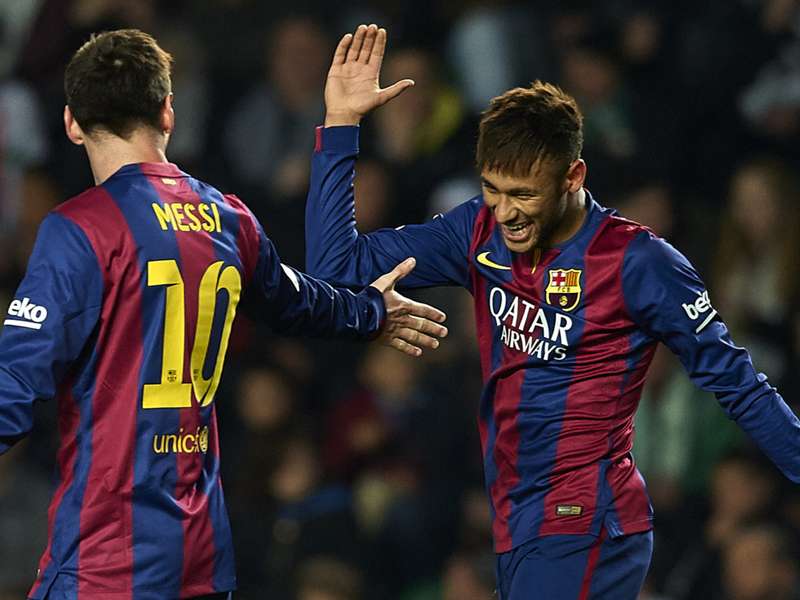 Brazil captain Neymar is a born leader, according to the Barcelona star's former futsal coach.
The 23-year-old was handed his country's captaincy by coach Dunga following last year's World Cup and has since led the Selecao to eight consecutive victories, scoring eight goals in the process.
The decision to pass him the armband previously held by Thiago Silva raised some eyebrows due to the forward's lack of experience, but his former youth team coach, Darlan Santana da Silva, says Neymar showed leadership qualities from a very young age.
"Since he was a kid, Neymar was a leader," Da Silva told Goal. "He is respected by his friends and has a great sense of humor. I've never seen him be questioned for trying to do something different and it was very rare that it didn't come off. And on the few occasions it happened, he simply apologized."
Set to lead his country into next month's Copa America, Neymar has been playing top level football without a break for a number of years now, having participated in Copa America 2011, the London Olympics in 2012, Confederations Cup 2013 and World Cup 2014.
Photo: Arquivo Pessoal
But his insistence that he is ready to lead Brazil's quest for its first gold medal at the Rio 2016 Olympics comes as no surprise to Da Silva, who says he always had an insatiable appetite for the game.
"Once, we were in a final in a youth tournament. Besides him, there were two players who were training at Santos and I had to make a decision on if we could play by 12 p.m. Those players were playing for Santos against Palmeiras in the Paulista Championship at 10:30 a.m. I told the director 'the boys will not play the final, I will have to send the reserve team as they will not arrive in time'.
"Then, Neymar's father appeared with the three players, and said about Neymar 'this kid is crazy about football. He plays all the time and wants to come here but I'll tell you that they are all tired'. Well, they went ahead and played and the only one who was not replaced was Neymar. And we were champions. That shows just how crazy the kid is about football."
Neymar will miss Brazil's Chevrolet Brasil Global Tour friendly with Mexico on June 7 as he will be with club side Barcelona for the Champions League final.
He is expected to join the rest of the squad shortly after the June 6 final in Berlin and make himself available for the clash with Honduras on June 10.