Bob Paisley's legendary
Liverpool
team flew to Tokyo in 1981 as the favorite to win the newly invigorated, Toyota-sponsored Club World Cup.
Unfortunately for the Reds, who had beaten Real Madrid in the European Cup final in Paris, they faced Flamengo, the Brazilian winner of the Copa Libertadores, and were 3-0 down by halftime.
As a result of his long association with the game in Japan after that Club World Cup match, Zico has a square named after him in Kashima and a bronze statue outside the city's stadium. He returned to Japan 10 years later to play, manage and earn the title 'the founder of Japanese football' and 'the god of soccer'.
Zico made Alan Hansen and Graeme Souness, two of Liverpool's finest players, look positively ordinary. His brilliant lofted pass over Hansen's head left the defender flat footed and sent Nunes through to score Flamengo's first goal.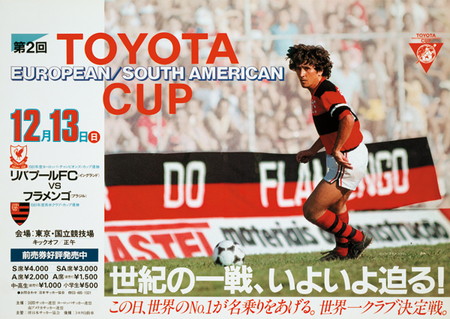 Zico began a long relationship with Japanese football through the Toyota Cup. Photo: K.K.Kyodonews
He repeated the feat for Nunes' second and Flamengo's third in the 41st minute. Zico also created the other goal, when his free kick on a hard, bumpy pitch was too fierce for goalkeeper Bruce Grobbelaar to hold. Adilio scored from the rebound.
Zico was on another level despite Souness' best attempts to stop him. "I wanted to see how he would react to a physical challenge," the combative Scot said later, "but I couldn't get close enough to him to find out."
He said his teammates had been wary of getting involved in a physical game, given the brutal history of this competition in the late 1960s. That was a mistake. "We let them do what they wanted," he said.
Bob Paisley, the downcast Liverpool manager, said his team had needed three touches for every one by the Brazilians. "We were beaten by a better side with superior technique." Kenny Dalglish barely had a touch.
Zico had been top scorer in the 1981 Copa Libertadores with 11. He scored all four of Flamengo's goals in the three-match final against Cobreloa of Chile. A year later he would star in the flamboyant Brazilian team that somehow lost 3-2 to Italy in the 1982 World Cup – 'the day football died', he said.
In 1991, Zico returned to Japan as a player, and was instantly a hero again. He signed for for Sumitomo, which later changed its name to Kashima Antlers. He scored 45 goals in 65 appearances and on one goal-crazy run in the old Japan Soccer League he scored in 10 straight games.
He finished as a player in 1994 and returned for a testimonial match in October, 1995 – Kashima against Flamengo. He managed Kashima when it won the first of its seven titles in 1996. From 2002 to 2006, he coached Japan's national team.
Now Zico is acting as a pathfinder in another new league, India's ISL. He is the most high-profile coach, as manager of Goa, and his comments on how to develop Indian football have been well received. He often gives examples of how Japan evolved and asks the Indian FA to follow the same path.
Tom Byer, a household name in Japan for his football TV show and comic strip, knew Zico well. Byer, now the head technical advisor in Chinese schools football, told
Goal
: "Zico was probably the biggest overseas signing in Japanese football.
"He played in Japan in that game against Liverpool, and when he came here to play club football he was a huge star. He helped other top overseas players come to Japan."
Japanese prime minister Shinzo Abe, on a visit to Brasilia in August, met Zico and other Brazilian football stars who had played in Japan and thanked them for helping to develop the sport in his country. For Zico, the man who led the way, it all started at that amazing Club World Cup match in 1981.