Goal.com
, in association with Coca-Cola, are counting down the Top 50 most memorable World Cup celebrations of all time. Coming in at number three is the celebration which inspired the Coca-Cola campaign. You guessed it, step forward and start dancing Mr Roger Milla.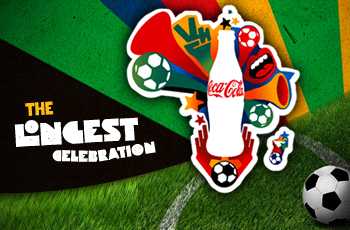 3) Roger Milla – Cameroon (Italia 1990)
Forward to 2.30 to see Milla's goals and celebrations against Colombia

Personal Story
Massaer Ndiaye, Cameroon Expert Goal.com Africa
"Roger Milla's rise to international icon status was not supposed to happen. The man dubbed "The Old Lion" was already a revered 37-year-old retired player by the time Cameroon qualified for the 1990 World Cup in Italy. As a matter of fact, at the end of the 1988-89 season, the Yaounde native had decided to join the coaching staff of Montpelier, his last French club in the First division.
But then he didn't, arriving in the squad prior to the World Cup as a glorified back-up amongst polemics of unpaid bonuses and political meddling in the team. In the first round of the tournament, Milla was seminal in the second match against Romania. He scored twice from the bench, that feat alone made him the oldest player to ever score in a World Cup. He would later go and crush that record four years later during USA 1994. It was during the second round, in the match against Colombia, that the veteran made the world root for the Cameroonians.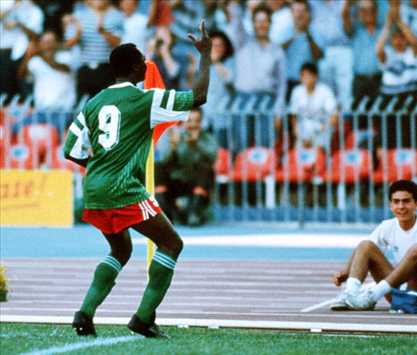 Coming on around the hour-mark, Milla sent the continent and the world into a frenzy when he scored twice in three minutes. His second goal being the most iconic of them all, when he dispossessed Rene Higuita and went on to score the goal that would qualify the Indomitable Lions for the first quarter-final in African history. Finishing off the goal was his celebratory Makossa around the corner flag. That dance and the amazing performances of Cameroon were enough to set Milla's legacy in stone.
His celebrations were mimicked all around Africa during the following decade. And to this day, most people in Africa have a soft spot for Cameroon thanks to the Old Lion."


You can win an all expenses paid trip to the finals in South Africa by creating your own celebration video. Log onto www.youtube.com/cocacola to post your contender for glory. The crazier the better! The best ones will win a dream trip to the World Cup and there are thousands of runner up prizes of EA FIFA 10 and EA FIFA WC computer games to give away too.


Tomorrow
: 2
Missed a goal? Catch up with the Top 50 here.