College soccer is often ridiculed for being a bastardization of the world's game. From the clock counting down to the modified unlimited substitution, there is a certain quirk that sets the collegiate game apart from anywhere else in the world.
However, the oddity of those subtle rule changes is not stopping youth prospects from some of the most heralded academies across the world from trying their fortune on college soccer fields across the country.
From Real Madrid to Ajax, European players who spent the majority of their youth in some of the finest training environments in the world are now showing up on various rosters across all levels of college soccer.
"There is a time when you have to decide if you want to try and play professionally in England or try and do something different," University of South Florida forward and England native Dom Dwyer told Goal.com in September about his path to college soccer.
Dwyer spent his youth with King's Lynn Community Football, an elite program affiliated with a few professional clubs in less densely populated areas of England. From there, he was given an opportunity by scout Joe McLaughlin to continue his soccer career in America.
McLaughlin, who runs Soccer Icon USA, is a former professional player and has spent time in America as a club soccer coach. He has ties with various college coaches across the country and used that relationship to help foster an environment for talented English players to cross the Atlantic.
Soccer Icon USA is one of many agencies that helps arrange this portal for players looking to continue their soccer careers before going to the professional level. United Sports USA, a similar organization in England, helped defender Shaun Foster land a scholarship with Hofstra where he went on to claim CAA Defensive Player of the Year as a freshman last season.
College of Charleston established a relationship with Ajax, and now rosters two players from the storied Dutch academy. Iona has a pipeline to Spain and has welcomed players from Real Madrid, Getafe, Real Valladolid, and many of the other esteemed youth programs.
UNC-Greensboro, George Mason, and UCSB all have players from top-level German youth programs now on the roster. The list goes on and on and includes many other European nations and many other universities.
So why do coaches turn to this avenue of recruiting, besides any perceived advantage in terms of player development?
Akron head coach Caleb Porter says it offers another talent pool when the American one has run dry.
"It makes it a little difficult when you lose guys late because you have to go overseas because all the top Americans are gone," Porter told Goal.com in September about recruiting.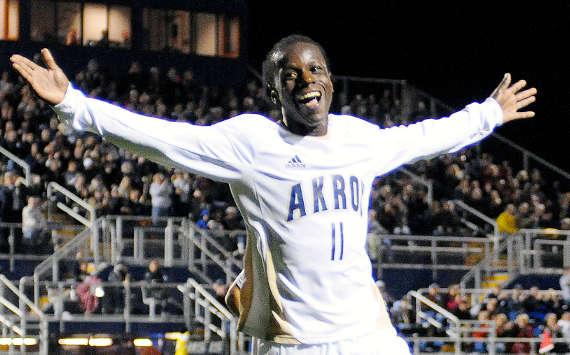 Akron currently has seven international players on the roster including star forward Darren Mattocks from Jamaica. The Zips also lost a couple international players in the off-season in Jamaican McKauly Tulloch and Chilean Diego Navarrete, both of whom landed at other collegiate programs and have enjoyed successful seasons.
If the reigning NCAA champion has to turn to international players to fill the roster, how are developing programs supposed to compete without following the same path? Does this mean that the American talent pool is now failing college soccer?
There are only three teams [Notre Dame, Georgetown, and Virginia – all outside the top 10] in the coaches' most recent top 25 poll that have no players with an international hometown listed on the roster.
At the junior college level, the administration has already grown weary of this foreign influx and teams using predominantly foreign-heavy rosters to dominate opposition.
In May, the National Junior College Athletic Association's board of directors passed a rule that would limit the amount of international players on the roster to four players.
"I think it is wrong," Tyler Junior College head coach Steve Clements told
Goal.com
about the rule. "And I don't know if that is what it will finally come down to either. We have had some form of that rule passed about three times in the years I have been coaching junior college and it has never come out like that."
Tyler Junior College has been incredibly successful under Clements, as the coach has accumulated a 148-22-8 record over the last nine seasons. This year's team includes players from England, France, Germany, Scotland, and South Africa.
"I think the principle is a kid is paying his own way to go to college, and most do at this level, they should at least have the opportunity to go out and play sports," Clements continued. "We want to treat everybody the same like normal students but when it comes to sports a lot of times we don't."
"I think it is a really bad decision," Clements' former player, Dwyer, said. "I don't get their logic on it, what are they trying to accomplish?"
Joe Tubb, the NJCAA president, justified the rule to
USA Today
in May by suggesting they are just trying to get "a handle on older" professional athletes competing at that level.
"We're looking for some way we can control this with simple rules," Tubb said.
While suggesting this rule would make its way to the Division I level would be unjust, it could influence the transfer of non-USA players from the junior college level to D-I teams. Players like Dwyer, Andre Grandt, and Ashton Bennett followed that path and are now enjoying fruitful seasons at the D-I level.
The amount of foreign athletes at the top collegiate level has multiplied in recent years in other sports as well.
USA Today
stated that non-USA athletes at the D-I have increased from 3,600 to 11,000 over a ten-year period that ended in 2010.
For soccer, these non-USA athletes have enjoyed success fairly consistently across the board. Dwyer, Mattocks, Tulloch, and Bennett all lead their teams in scoring.
This potential of adding more quality recruits to the college soccer game may help in the grand scheme of player development. Fringe players that relied on physical, aggressive play are slowly diminishing, and being replaced by a more technical, accomplished player.
College coaches now have increased selection as new recruits notice players like Santiago Solari, Clint Dempsey, and Ryan Nelson who used college experience as a stepping-stone to much bigger careers in Europe.
Despite being the ugly stepchild of the more refined international game, college soccer is making itself the home for those like Dwyer who may need another year or two before making the jump to the professional level.
"They want to improve the game of soccer," Dwyer said about the direction college soccer is heading. "And I feel like to do that you need to play against everyone."
Follow J.R. ESKILSON on