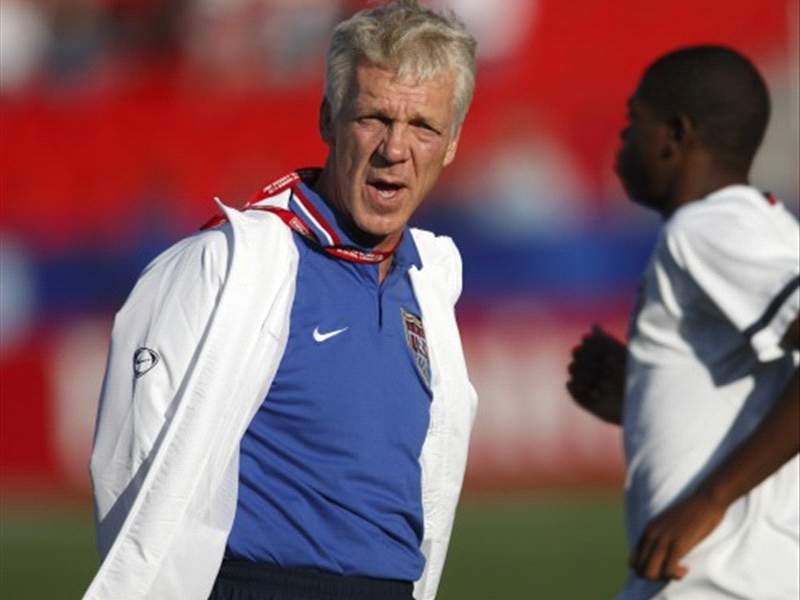 By Greg Lalas
Mikkel Diskerud's nickname couldn't be more fitting. The 18-year-old attacking midfielder was christened "Mix" because his behavior reminded others of a mixmaster. But perhaps more relevant is the fact that the tall, creative starlet is a mix of nationalities: Norwegian and American.
The son of an American mother and a Norwegian father who met an Arizona State University, Mix spent his early childhood in the United States and then most of his formative years in Norway. His dual citizenship has allowed him to represent both Norway and the USA at the youth level.
His situation brings to mind several other mixed-heritage players involved in recent tugs-of-war between the U.S. federation and another country. In recent months, Mexican-American Edgar Castillo and German-American Jermaine Jones have pledged themselves to the U.S., despite representing their second countries in friendly matches; previously New Jersey-born Giuseppe Rossi and former U.S. youth international Neven Subotic chose Italy and Serbia, respectively.
Diskerud has had a good season with Norwegian Tippeligaen side Stabæk, including making several Champions League appearances.
Earlier this month, he was called into the U.S. Under-20 team for the U-20 World Cup, which kicks off this week in Egypt. The teenager, who has been decisive in previous appearances for head coach Thomas Rongen's side, should be in the starting XI. Before joining up with his teammates, Diskerud answered some questions from Goal.com.
Goal.com: How did you come to play for the US?
Diskerud:
We [Rongen and I] met at the Chivas Tournament in Mexico. The US team wanted to play Stabæk's juniors for a friendly after we exited the tourney. Rongen spotted me, came over, and asked for my nationality as I was about to take a corner kick for Stabæk against the USA. It was the weirdest corner preparation I have had. We didn't score on that corner. Maybe he did.

Goal.com: Did you follow the US national team at all when you were younger? Do you follow it now?
Diskerud:
Of course. The two first US national team matches I attended were as far back as in 93 and 94. My father took me, and probably wanted me to get hooked as early as possible. From then on I have followed the teams.


Goal.com: You have now switched back and forth between the US and Norway. With which team do you feel most comfortable and why?

Diskerud:
When asked about "what I am" in Norway, I answer "American," and when in the US, I usually answer "Norwegian." I love the two countries and especially what unites them. Their history is strong and intertwined. However, when it comes to their teams, I feel much more at ease with the US squad and their determination. The only thing that makes me uncomfortable is that they label our sport soccer and not football. It is ridiculous.
Goal.com: Are there any other Norwegian-Americans the U.S. federation should look at?

Diskerud: I have one other American in my club. He is also a dual citizen. He is young, plays for the B-team, and is yet without a professional contract. He has suited up for Norway in youth play a couple of times. Together with two other friends, he and I will be spending our [off-season] vacation traveling between Arizona and San Francisco, with a little skiing in Tahoe this X-mas and New Year. We'll visit the greatest American-Norwegian of them all, Jerry Nelson, the famous UCLA Phi Psi, the most inspiring 80-year old in the world. Maybe Jerry will convince Eric Benjaminsen to also choose America.

Goal.com: The U.S. kicks off group play at the U-20 World Cup with a big match against Germany on Saturday in Suez. What would you say are the strengths and weaknesses of the US team?
Diskerud:
Strengths—confident players, and a very supportive and positive professional staff. Weaknesses—I wouldn't tell you if I knew.
Goal.com: What has Coach Rongen said he expects from you in Egypt?
Diskerud:
He expects us to fight hard, and preferably to win, I guess. We will expect the same from him.
Goal.com: You are in a tough group with Germany, Cameroon, and South Korea. What will it take to advance?
Diskerud:
Four points.

Goal.com: The U-20 World Cup caps a big season for you with Stabæk, including regular playing time. What has manager Jan Jönsson told you about your future with the club?
Diskerud:
"Janne J" is a great coach, and the reason I chose to sign professionally, and not this fall going to either Boston College or University of San Diego. Maybe later, for an education. But now in Stabæk, as long as "Janne J" stays, I develop. There is only one big problem with him...he is Swedish. :)
Goal.com: Well, that didn't keep him from starting you against Valencia at the Mestalla in the Champions League. What were you thinking just before kick off?
Diskerud: I think it is best to offer quotes from music that flew through my head: Queen, "Bohemian Rhapsody":
Too late, my time has come, sends shivers down my spine.
And Travolta's "Grease":
I've got chills, they're multiplying.

Give and Go is a regular feature of Goal.com


For more news on the U.S. Youth Teams visit Goal.com's U.S. National Team page.
For a full preview of the U-20 World Cup, check out a sneak peak at Goal.com Magazine.