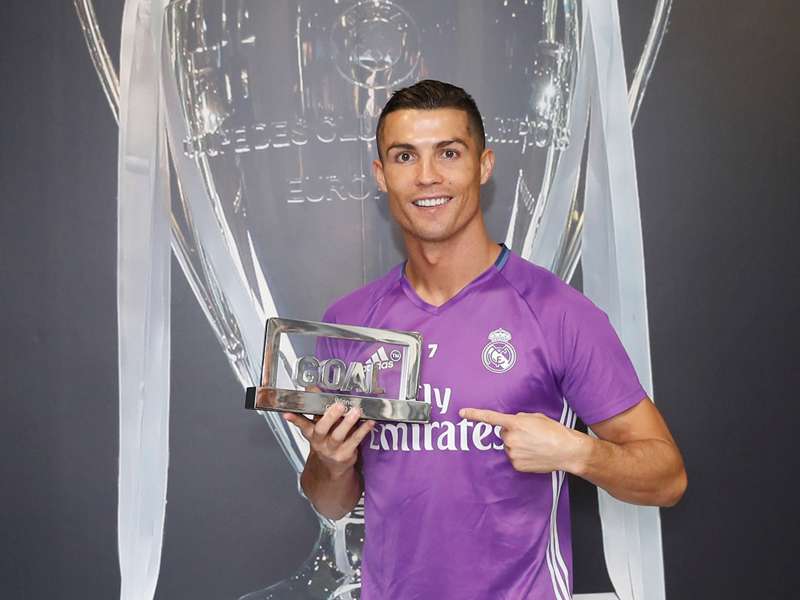 ---
EXCLUSIVE
---
Cristiano Ronaldo has humbly hailed his team-mates for the part they played in his Goal 50 victory, insisting that he would never have made it to No.1 had it not been for the support of others.
The Real Madrid forward finished first in Goal's annual list of the 50 best players in the world, with Barcelona's Luis Suarez coming second and Atletico Madrid's Antoine Griezmann third. Lionel Messi could only manage fourth.
Messi, Ronaldo, Suarez? Click here to see the countdown of the 50 best players in the world in the 2016 Goal 50
Many pundits claimed at the turn of the year that Ronaldo was in decline but he has enjoyed a sensational 2016, firing Madrid to a second Champions League win in three seasons before then leading his country to European Championship glory in France.
Ronaldo's remarkable success earned him top spot in our prestigious but the 31-year-old insists that he could not have claimed a fourth Goal 50 award on his own.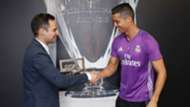 "For me it's an honour to receive this recognition again," the Madeira native told Goal.
"It's not mine, but for all my team-mates at Madrid and in the national team. I feel very happy and very proud.
Ronaldo crowned Goal 50 winner
"My interpretation of this award is the same as throughout my career: that nothing is achieved without ambition, personal effort and without a team of colleagues and workers who support you day in, day out. That, day to day, is the most important thing."
With Ronaldo having ended his wait for a major international honour during the summer, many pundits believe that Real's record goalscorer has cemented his status as one of the game's greatest players.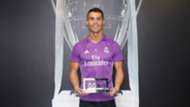 However, the three-time Champions League winner says that he is unconcerned with history and where he ranks among the top talents of all time, saying that his sole concern has already been team triumphs rather than individual accolades.
Messi fails to make Goal 50 top three
"Well, it is not for me to say how I should be remembered," he mused.
"I just consider myself a football player, a sportsman who ever since childhood has given his all to be good at football, to enjoy playing and be competitive and useful for my team. Nothing more.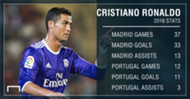 "I believe in effort, in sacrifice and in being a good professional. My objectives are to always be at my best physically and emotionally in order to give everything I can for the team.
"My goal is to keep giving my very best to my coach and my team-mates."
The Goal 50 is an annual award that both recognises and ranks the world's 50 best footballers of the past 12 months.
Chief editors and correspondents from Goal's 38 editions around the world all cast their votes, with candidates judged on their level of consistency over the previous year of action, their big-game performances, footballing legacy and the success of their teams at both club and international level.
This was Ronaldo's fourth Goal 50 victory since the award's inception in 2008 - equalling the number of successes by Messi.