Welcome to the Goal.com 50! In this special series, Goal.com editors worldwide vote for the top 50 players of 2010-11. We count down to the announcement of the winner on August 22 with profiles of each and every player who made it into the top 50...

Pace. Power. Precision. The attributes that many consider to be integral to the formation of the consummate modern-day footballer, Cristiano Ronaldo has them all. He is built to play this game, constructed to score, and his exploits in front of goal last season established his standing as one of La Liga's most potent marksmen ever.
"There are two options - Cristiano, and Messi. If you consider Cristiano to be one, then Messi is two. But for me it is clear - Cristiano is number one."





- Jose Mourinho

It wasn't a memorable campaign in every aspect for Ronaldo, indeed far from it. Barcelona once again set the benchmark, and Madrid grappled with its greatness but ultimately fell short in the league and also in the Champions League. In addition to the unsavory antics from both teams during their Clasico battles, it led to an anti-climactic conclusion to Jose Mourinho's debut season.
MOMENT OF THE SEASON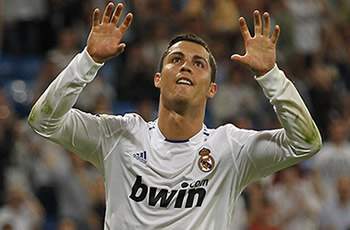 COPA DEL REY FINAL
REAL MADRID 1-0 BARCELONA

After suffering criticism for not performing sufficiently well against Barcelona, he leaped in extra-time of the final to power home a stunning header that allowed him to collect his first silverware in Madrid.
But Ronaldo, who has become adept at maintaining an impressive goal-to-game ratio in the recent years of his career, continued to lash the ball into the net long after the silverware had been decided, and in doing so shattered long-held league records in the process.
Whether it is the
Marca
-endorsed 41 goals thanks to his dubious strike at Real Sociedad last September, or just 40, he is still the only player to net as many times in a single Primera Division campaign, surpassing the record previously set by Telmo Zarra and Madrid legend Hugo Sanchez.
His exploits were enough to ensure that he collected the European Golden Shoe for the second time, and in turn become the only player ever to receive the accolade with two different clubs. Ronaldo struck an incredible 11 times in the last four matches of the season to ensure that he held off the advances of Barca's Lionel Messi. Across the season Racing Santander and Sevilla both were on the wrong end of quadruples, while Getafe, Athletic Bilbao and Malaga suffered hat tricks against them. At the final reckoning, he had tallied 53 in 54 appearances - an astonishing rate of return for a man who continues to drift in from the left flank rather than ply his trade as a poacher inside the penalty area.
Ronaldo may feel ultimately that his exploits were in vain, his efforts lessened by the lack of success versus Barca. And so his moment to cherish arrived in the Copa del Rey final. With elements of the Madrid support demanding more from their world-record signing against the enemy from Catalunya, he provided them with an iconic goal, as he rose to thump home a stunning extra-time header and ensure that the trophy returned to the capital, and thwarted Barca's bid for a second treble in three years.
It was not the medal that Ronaldo truly wanted, but he could have done little else to push his team to success. He knows that in order to ensure that the Santiago Bernabeu club is in a position to challenge Barca once more in 2011-12, he will need to produce a season of similar quality. A tall order, you might say, but if anyone is capable of coping with the pressure of expectancy, it is the Portuguese.
"At the final reckoning, he had tallied 53 in 54 appearances - an astonishing rate of return for a player who continues to drift in from the left flank rather than ply his trade as a poacher inside the penalty area."
That will remain his target next year: to continue to score the goals that allow Real Madrid to collect points and worry Barcelona. The recent Supercopa tie between the two suggests that the gap may well be closing, and that the title race could be closer than ever.
But one thing is absolutely certain. When Ronaldo is missing for Madrid, the club is a different prospect, one that is significantly weakened. Yes, he often threatens to dominate the ball and be rather single-minded in his approach, but it simply highlights how much he craves success, and how he dearly wants to provide the Madridistas with major trophies in the best years of his career.