The 2014 Goal Rich List sees 10 of world soccer's biggest names revealed as the wealthiest players in the game, but there is a notable list of men who fell short of the final cut despite having earned impressive personal fortunes.
Just as a huge transfer for Neymar has seen his family's worth grow by a phenomenal amount and a business boost for Gianluigi Buffon has taken him into the top 10, there have been other top players who have made a pretty penny from deals of a soccer and non-soccer nature over the course of the year, yet still missed out on our list.
The first great consideration must be Gareth Bale, whose 100 million euro transfer from Tottenham to Real Madrid smashed all sorts of records in 2013. The Welshman signed a six-year contract worth around 10 million euros annually upon his arrival at the Santiago Bernabeu, with a substantial signing-on fee also being handed over.
2014 GOAL RICH LIST

1. Cristiano Ronaldo

2. Lionel Messi

3. Samuel Eto'o

4. Wayne Rooney

5. Kaka

6. The Neymar family

7. Ronaldinho

8. Zlatan Ibrahimovic

9. Gianluigi Buffon

10. Thierry Henry

€148m

€146m

€85m

€84m

€82m

€80m

€78m

€69m

€63m

€57m
Add in the increased commercial exposure that Bale will naturally be party to in Madrid and the 24-year-old could well find himself joining teammate Cristiano Ronaldo in next year's top 10. But while he already boasts sponsorship deals with the likes of Adidas, EA Sports and BT Sport, as well as having made the decision to trademark his "Eleven of Hearts" celebration, the overall impact of his new-found superstardom has yet to be reflected in his bank balance. That, though, should be put right over the coming months and years.
Radamel Falcao may not have the same attraction in a commercial sense as Bale, but the Colombian is another big-name absentee following his own mega-money transfer last summer.
His phenomenal 14 million euro a year contract at Monaco is set to make him a very wealthy man between now and 2018, with sponsorship deals with sportswear giants Puma and Hublot watches topping up his pay packet still further. Yet his accumulated earnings from his spells with River Plate, Porto and Atletico Madrid in no way resemble the kinds of figures that our top 10 have been earning over a number of years.
Edinson Cavani's arrival at Paris Saint-Germain has catapulted the Uruguayan into the sporting world's consciousness in a whole new way, but — like Falcao — he misses out due to historical factors.
One thing that has ensured his absence this time around was his salary during his spell at Napoli, with the striker never earning more than around 2.5 million euros net during his three years at the San Paolo. However, his huge 50 million euro five-year deal at the Parc des Princes could well see him edge toward our esteemed chart in the future. Addding in his hefty sponsorship agreement with Adidas and other smaller sideline deals, the 27-year-old will see his coffers receive a huge boost in 2014.
Mesut Ozil's 154,700 euro a week mega-deal at Arsenal means the Germany international is another key name that could be in the running in years to come, but his relatively modest previous deals mean he is also playing catch-up with this year's selection. Like Bale, Ozil also unveiled his own logo in 2013, marked by an O encasing a German umlaut, which could see him rake in extra cash from merchandising sales to add to the deal he signed with adidas last summer after ending his previous agreement with Nike.
Bayern Munich had a splendid 2013 on the pitch, but the club's lesser star appeal compared to the likes of Barcelona, Manchester United and Real Madrid means that some of their top talents continue to fall short of the figures boasted by the world's better-paid players.
Franck Ribery's excellent 2013, which saw him nominated for the Ballon d'Or award, was not enough to see him into the Rich List. He does have profitable deals with Nike and EA Sports, but he remains on the periphery when it comes to the star list that many big-money companies target when looking to tie up commercial deals with top footballers. A successful run with France at the World Cup and another UEFA Champions League success with Bayern may yet help to change that.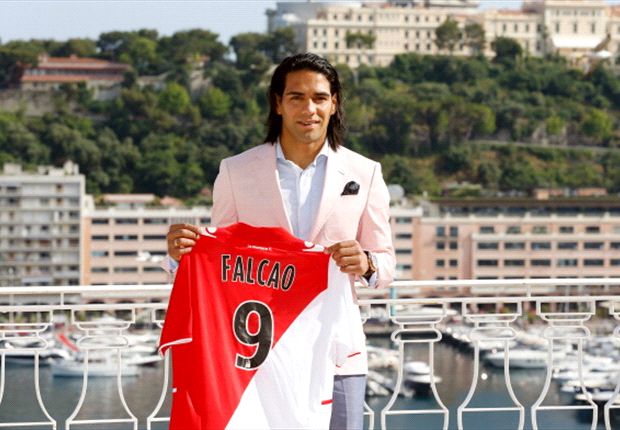 Falcao | One of a number pushing for inclusion in the 2015 Goal Rich List
The same might be said of his club colleague Arjen Robben, who scored the winning goal in last year's European showpiece final against Borussia Dortmund. Should the influential wide man help the Netherlands go one better than its World Cup runner-up spot in 2010, Robben might well be able to cash in on being one of the faces of soccer in 2014. However, for now he remains one of the lesser lights when it comes to the truly commercial stars of the game despite a seven-figure deal with Adidas.
Elsewhere, there are some striking absentees beyond last year's No. 1 David Beckham. The former England captain's retirement opened up one spot in the Rich List, while Rivaldo also slipped out of the top 10. Despite recently playing alongside his son Rivaldinho for Mogi Mirim and continuing to ply his trade well into his 40s, the Brazilian legend has seen better days in terms of marketability.
With his most successful days at Barcelona having happened more than a decade ago, the true extent of his commercial value has been diluted by the continued rise in soccer's boom of recent years, meaning the new faces of the game are outstripping their former contemporaries in terms of pulling power.
That also explains the absence of Raul, the all-time leading scorer for Real Madrid. The Spaniard finished outside of the top 10 once more this year because of his inability to pull in the advertising deals of years past, meaning his near 250,000 euro a week tax-free contract with Al Sadd now counts for a far larger percentage of his year-on-year earnings than is true of younger, more marketable players.
There are other big names not to make this year's list too, but competition for the top 10 spots is becoming hotter with every shoe deal, each new contract and every advert for a shower gel or savvy business move. The Rich List just keeps getting richer.