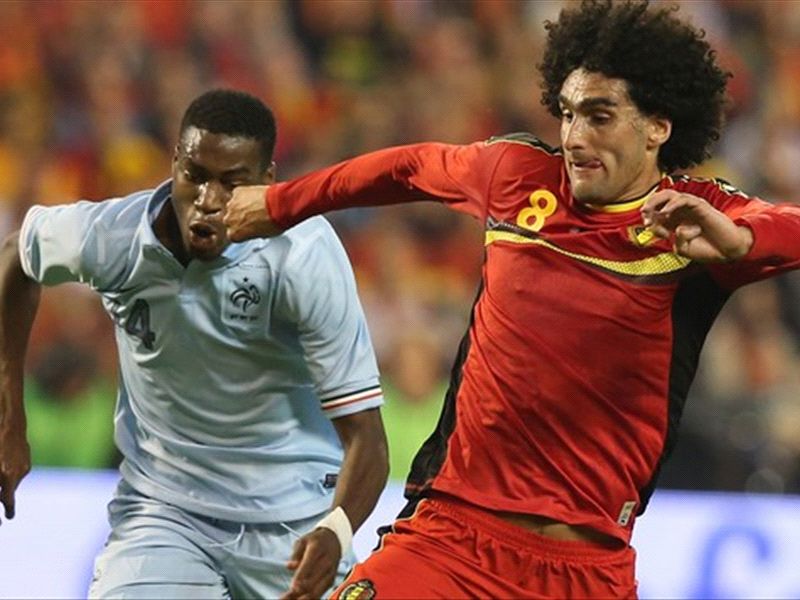 The hipsters' choice. Belgium has emerged from the shadows of traditionally more glamorous neighbor Netherlands and is now the fifth favorite to win the World Cup in Brazil next summer. Along with the hip has come the hype - but will the Belgian waffle be backed up by success and swagger in 2014?
Much like Borussia Dortmund at the club level, it has become cool and hip to like Belgium. Years ago, most soccer fans would have struggled to name a single footballer from the western European nation. In fact, for a time, perhaps the country's most famous footballer was a man who gained recognition when his career was already over: revolutionary rule-changer Jean-Marc Bosman. Now, though, many of the continent's top teams proudly boast a Belgian on their books.
Goalkeeper Thibaut Courtois, owned by Chelsea but on loan at Atletico Madrid for a third successive season, is considered to be among the world's finest shot-stoppers; Manchester City's Vincent Kompany is one the greatest center backs around; Jan Vertonghen's reputation as a fine defender is growing at Tottenham and saw him scouted as a possible signing by Barcelona in the summer; Romelu Lukaku's fantastic form at Everton has made Jose Mourinho look foolish for allowing the striker to leave Stamford Bridge on loan this season; Eden Hazard was short-listed for the PFA Player of the Year and Young Player of the Year awards after his debut season in the Premier League with the Blues; Daniel Van Buyten, at 35, is entering his seventh campaign at Bayern Munich; Aston Villa's Christian Benteke is one of the finest young forwards around; midfielder Marouane Fellaini was Manchester United's big summer signing; and Thomas Vermaelen is the captain of Arsenal.
BELGIUM'S WORLD CUP RECORD


1st round

1930, 1934, 1938,
1954, 1970, 1998


2nd round

1982, 1990, 1994, 2002

QF

-

SF

1986

Withdrew

1950

DNQ

1958, 1962, 1966, 1974, 1978, 2006, 2010



And that's just the start. Mousa Dembele and Nacer Chadli have impressed for Spurs, Alex Witsel is a hero at Zenit, Steven Defour is building his reputation at Porto, Dries Mertens is finding his feet at Napoli, Kevin De Bruyne another exciting talent at Chelsea. Cagliari midfielder Radja Nainggolan - desired by a host of Europe's best teams and tipped to join Juventus - can't even get into the national squad. The list goes on - and suddenly Belgium boasts a conveyor belt of talent to match almost any other side in Europe, while it has also become the hipsters' choice due to its small-nation status, attractive football and cult features such as Fellaini's afro hairstyle. Famous for beer, chocolate, female tennis stars, Jean-Claude Van Damme, Tintin and the Smurfs, Belgium now proudly presents a new group of heroes: international soccer players.
Nevertheless, this young team remains inexperienced at the highest level. Friday's 2-1 victory over Croatia punched Belgium's ticket to the World Cup, sealing the nation's place in a major tournament for the first time since 2002.
Then, under Robert Waseige, the squad featured 15 Belgium-based players, with only eight playing their football abroad (Van Buyten at Marseille, goalkeeper Geert De Vlieger at Netherlands side Willem II, midfielder Bart Goor at Hertha Berlin, fullback Eric Deflandre at Lyon, striker Branko Strupar at Derby County, with trio Nico Van Kerckhoven, captain Marc Wilmots - now the coach - and Sven Vermant all at Schalke in Germany). Hardly household names and, with the exception of Marseille and Lyon, not exactly elite teams either. Schalke, by the way, only managed fifth place in the Bundesliga in the season before that World Cup.
In 2002, Belgium's hopes ended with a 2-0 defeat and second-round exit to eventual winner Brazil. But in the South American country next summer, more will be expected. The Group A leaders have recently seen the odds slashed on them winning the World Cup from 100/1 to 12/1, making them the fifth favorite (behind Brazil, Spain, Argentina and Germany) to walk off with the trophy next summer.
Such talk, however, seems premature. Belgium has won eight and drawn one of its nine group games in qualification but failed to beat France in a goalless friendly in Brussels back in August and lost 1-0 to England last year. Belgium's only big scalp in that time, in fact, was a 4-2 win at home over the Netherlands in what was Louis van Gaal's first game in charge. So hardly the stuff of champions just yet.
Time will tell if this Belgian generation goes down as one of the greats. Certainly Wilmots' side possesses the players to make big waves at the international level, but before it can be considered a genuine World Cup contender, this team must take on and beat the very best sides around. To live up to its new-found box-office billing, Belgium's hip must match the hype.