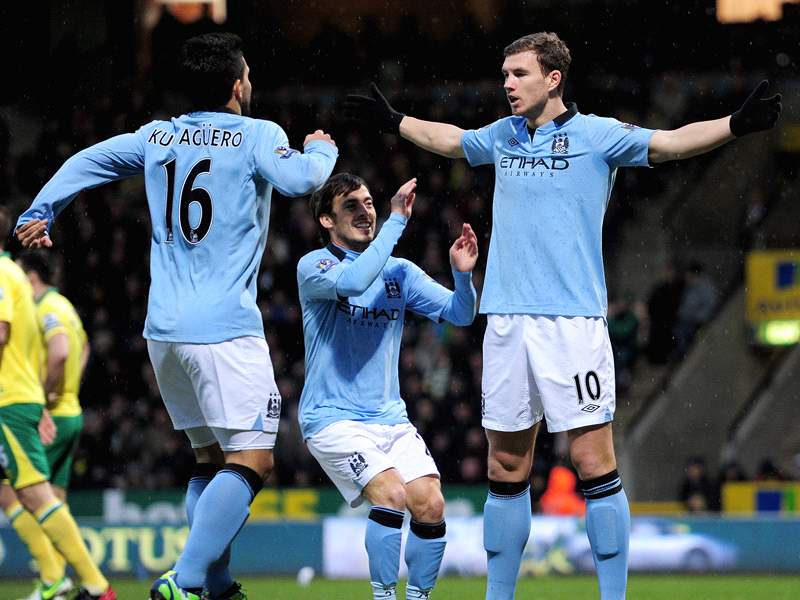 Manchester City is still confident of retaining the Premier League crown despite falling seven points behind Manchester United, according to striker Edin Dzeko.
Defeat against Sunderland coupled with United triumphing over Newcastle in a seven-goal thriller saw City lose ground on its bitter rival at the summit on Boxing Day.
However, after City's turbulent 4-3 win over Norwich on Saturday, Dzeko insisted that his side remains calm about its prospects of topping the league come May.
"It [the amount of points between them and United] looks a lot, of course, but nothing is finished. We will fight until the end," Dzeko said to reporters at Carrow Road. "It is still open. There are so many games to play. There is a chance [of winning the title again] and it is our main target, but as I said, it is too early to talk about the title.
"Last year we got five points back in two games. This is not a problem."
Roberto Mancini had rued his strikers' recent profligacy in the build-up to the trip to Norfolk, and Dzeko was delighted to have responded by scoring twice and claiming a third.
"I didn't hear exactly what he said, but I saw he said the strikers weren't in form and not scoring goals, but we scored today and that is good for us," he said. "Even the Sunderland game we deserved to win, but we didn't score goals and that was unlucky for us. But we came back today and it was a good performance.
"It's not the first time. He gave me the chance to play today and I think I paid him back. We will see what the future brings."