Italy waited until Sunday afternoon to announce its roster to face the United States in an international friendly scheduled for Wednesday in Genoa. Here's four thoughts on Cesare Prandelli's calls:
Discipline counts
When Prandelli took over from Marcello Lippi he made two immediate changes. First, he freshened up the player pool, dismissing many who had helped win the World Cup in 2006 (but underperformed in 2010) and calling in several who Lippi had overlooked. Second, he established a strict disciplinary code. Anyone unavailable to play for his club could not play for his country. Daniele De Rossi has already missed time because of an unruly challenge in Serie A.
"I want to arrive at the Euros with a prepared squad. I don't want a player, because of a reaction on the field of play, to leave my team down to 10 men," Prandelli said.
The latest to suffer from this are Mario Balotelli and Pablo Osvaldo. Balotelli recently returned from a four-game domestic ban with Manchester City. Roma striker Osvaldo was sent off against Atalanta this weekend.



"Balotelli and Osvaldo know my number. They are aware that I am at their disposal and I'll await their calls."






- Cesare Prandelli
Interestingly both Andrea Pirlo and De Rossi made the cut. The Roma midfielder sat in the stands against Atalanta, but apparently Prandelli did not feel the reason (showing up for a team meeting a few minutes late) damning enough to drop him. Pirlo elbowed Mark van Bommel in the 1-1 draw between AC Milan and Juventus. Either Prandelli is following the lead of the official, who did not stop play for the foul, or he sees physical assaults on van Bommel, a notoriously loathed opponent, as forgivable.
Gianluigi Buffon, who admitted he wouldn't have told the referee if Sulley Muntari's shot had crossed the line even if he'd been aware it had, will remain captain.
Filling the forward corps
Through Euro 2012 qualifying it became clear that two of the forward three positions belonged to Antonio Cassano and Giuseppe Rossi. When those two suffered season-ending injuries (each is a doubt to return before the Euros), Prandelli had to revise his plan. Balotelli is handily the next most gifted attacker, and Prandelli indicated that he's planning a Euro 2012 attack around him. His and Osvaldo's absence, along with Antonio Di Natale's lack of fitness, means the USA game offers forward minutes to any Italian able to run and shoot simultaneously.
Fabio Borini has taken advantage. He showed up as the less-heralded of Roma's scrawny 90s-baby forwards, but has scored double the amount of goals as Bojan Krkic. Borini now has eight in 11 starts (17 total appearances) in all competitions.
Sebastian Giovinco and Alessandro Matri also cashed in on positive form for call ups. Giampaolo Pazzini isn't starting for Inter, but, given that Inter has lost five in a row and hasn't won in eight straight, that isn't necessarily a bad thing.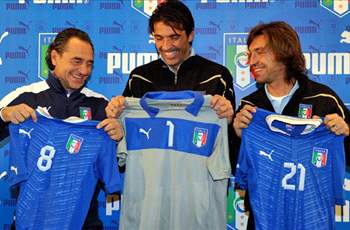 Old Lady defense
The Americans could conceivably try to score on a defense with Juventus players fill out four of five positions. More likely, however, only three will see the field at any given time, with the presence of two other left back options on the roster indicating Giorgio Chiellini will play in the middle.
With Juventus boasting the best defense in the league (only 15 goals conceded all year, with Milan next best on 22), it makes sense. Buffon should start and captain in goal. Chiellini will partner either Leo Bonucci or Andrea Barzagli. The 30-year-old's is a reaffirming story. Bought for 300,000 euros from the wilderness of Wolfsburg, he worked his way back into the Italy team after an absence of three years. He's started every game for Juventus – the only player to do so – and picked up his first booking of the season against Milan this weekend.
Each fullback position has two roughly equal options, but the central core of the Azzurri defense has a distinctly black and white color scheme.
Euro prep
Italy's first game in Euro 2012 is less than four months away: June 10 against Spain. Qualifying is finished, so all players have are a few more friendlies to claim roster positions. The Italians probably expect this game to instruct on how to play the Republic of Ireland, also drawn into Group C, though Jurgen Klinsmann surely talks a more expansive game than Giovanni Trapattoni.
Given the midseason timing and missing personnel, this won't hold the same gripping intensity of a non-friendly. However, despite the significant separation in ability, expect an earnest game. Klinsmann has quietly won three in a row. If he makes it four, those playing for Italy can expect backlash in the form of decreased chances of a ticket to Poland and Ukraine.
Full roster:

Name


Club
Goalkeepers
Gianluigi Buffon

Juventus

Morgan De Sanctis

Napoli
Salvatore Sirigu

PSG
Emiliano Viviano
Palermo
Defenders
Ignazio Abate

AC Milan

Davide Astori

Cagliari
Federico Balzaretti

Palermo
Andrea Barzagli

Juventus

Leonardo Bonucci

Juventus
Giorgio Chiellini

Juventus
Domenic Criscito

Zenit St Petersburg

Christian Maggio
Napoli
Angelo Ogbonna
Torino
Midfielders
Daniele De Rossi

Roma

Claudio Marchisio

Juventus
Riccardo Montolivo

Fiorentina
Thiago Motta

PSG
Antonio Nocerino

AC Milan

Andrea Pirlo

Juventus

Attackers
Fabio Borini

Roma
Sebastian Giovinco


Parma

Alessandro Matri

Juventus
Giampaolo Pazzini

Inter
Follow ZAC LEE RIGG on

or shoot him an email.