It's almost tragic, once you manage to stifle the chortles.
Ever Banega broke his tibia and fibula. How? Well, the Valencia midfielder forgot to engage the handbrake at the gas station on the way back from training. While filling up, his car rolled toward him, crushing his ankle against the curb.
The Argentine will miss six months. Valencia surely missed his tenacity in midfield, eventually ceding enough space for Barcelona to score five goals after Los Che had taken the lead in their La Liga matchup.
As Banega hobbles along the sidelines for the rest of the season, the 23-year-old can take heart that soccer players have been injuring themselves in preposterous and downright dumb ways for longer than he's been alive.
His isn't even the most stupid.
In 2003, Aston Villa striker Darius Vassell once tried to burst a blood blister under the nail of his big toe. With a power drill. He picked up an infection and lost half his nail instead of healing anything. "There are people on the staff readily available to have treated the problem," his coach, Graham Taylor, sighed.
Brazilian Ramalho spent three days in bed after swallowing a pill he had been prescribed for a dental infection. It was a suppository.
Milan Rapaic missed the start of the 1995-96 season for Hajduk Split. He jabbed his eye with a boarding pass at the airport. Norway defender Svein Grondalen ran into a moose jogging near his house. Bryan Robson lifted a bed Paul Gascoigne was in and dropped it on his toe, missing the 1990 World Cup with the subsequent injury.
Then again, soccer players don't need a low IQ to pick up injuries. Some manage it by doing absolutely nothing.
Leroy Lita missed a month in 2007 thanks to a pulled flexor muscle suffered stretching in bed. "It's a point of laughter but a serious business for him because he's going to be out for three or four weeks," his manager Steve Coppell said.
Rio Ferdinand had his feet up on the coffee table playing an extended session of Pro Evolution Soccer on the PlayStation in 2001 and somehow strained his knee tendon.
Dida suffered back spasms against Parma in 2008. He was sitting on the bench.
Even ordinary tasks can do in a professional athlete.
England's Alan Mullery missed a 1964 tour of South America with a back injury he collected while brushing his teeth.
Julio Arca went for a run on the beach and then jumped into the North Sea. A jellyfish stung him on the chest. "You certainly can't plan for this," Sunderland boss Mick McCarthy said.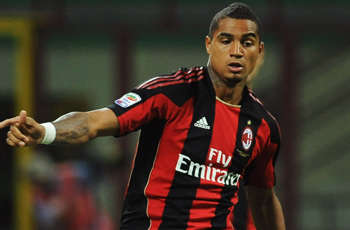 "The reason why he is always injured is because we have sex 7-10 times a week"
Kevin-Prince Boateng recently missed several weeks with a left thigh injury. Milan never confirmed how he suffered it, but his girlfriend, Melissa Satta, was chatty enough. "The reason why he is always injured is because we have sex seven - 10 times a week," she said.
Marco Borriello failed a drug test thanks to some cream Belen Rodriguez, his girlfriend, suggested to treat an infection she gave him. The Argentine model said: "I advised him to use the ointment but forgot it contained cortisone. Our sex session proved fatal." He was banned two months in 2007, which isn't the same as an injury, but merits inclusion because of the STD.
If they manage to navigate the sex unscathed, the resulting offspring has the ability to wound players as well.
Kevin Kyle was warming milk for his son when it spilled on his lap, scalding his testicles and inner thighs. David Batty's toddler ran over his previously-injured Achilles with a tricycle. Allan Nielsen's daughter poked him in the eye. Alan McLoughlin ruptured his right thumb picking up his daughter. Dave Robinson fell off a kid's slide.
Caring for a child seems a perfectly legitimate way to hurt oneself compared to walking, but even that gives some allegedly coordinated athletes trouble. Tripping has impaired plenty down the years, including Sean Flynn (on his son's toy cars), Lee Hodges (on a bar of soap), Liam Lawrence (on his dog and then down the stairs) and Darren Barnard (on dog pee on the kitchen floor).
Celebrating goals is another potential danger.
The most gruesome was when Servette midfielder Paulo Diogo jumped a metal fence into the the fans to celebrate setting up the third in a 4-1 win over Schaffhausen in the Swiss Super League. His ring got caught on the fence, taking off most of his third digit, which doctors failed to reattach.
He was booked for his excessive celebration.
Both Thierry Henry and Marco Tardelli injured themselves when the corner flag bounced back and hit their faces. Manchester City's Shaun Goater kicked an advertising board to celebrate a goal by Nicholas Anelka and hurt his foot. Arsenal reserve Perry Groves jumped up to celebrate a goal and knocked himself unconscious by hitting his head in the dugout.
Also with Arsenal, Steve Morrow broke his collarbone celebrating the 1993 League Cup. Tony Adams tried to lift the former FC Dallas coach on his shoulders but dropped him.
In 1997 Celestine Babayaro scored on his debut and celebrated with a backward flip, which broke his leg. It was still preseason.
The celebratory back flip also did in Real Salt Lake's Fabian Espindola. He stuck the landing against the LA Galaxy in 2008, spraining his ankle. After being subbed out, he reemerged on the sidelines with crutches and draped a towel over his head to hide tears from the cameras. "I'm embarrassed," said Espindola. "I'm never going to do that again." His 'goal' was ruled offside.
Aside from goal-scorers, goalkeepers also have a penchant for utterly inane injuries.
Perhaps the best-known is Santiago Canazarez, who dropped a bottle of aftershave on his foot, severing a tendon in his big toe. The injury ruled him out of the 2002 World Cup.
Twice-capped England goalkeeper Dave Beasant did pretty much the same thing, except with a bottle of mayo.
The bottle that undermined Gordon Banks ahead of a World Cup quarterfinal date with West Germany in 1970 contained some bad beer.
Michael Stensgaard will be forgiven for turning to the drink after his Liverpool career was ended by a dislocated shoulder. He was trying to erect an ironing board.
David James, Carlo Cudicini and David Seaman (and Robbie Keane) have all suffered reaching-for-the-remote-knack. On separate fishing trips, James and Seaman were both injured reeling in large catches. (Make your own surname or catching-ability pun.) Cudicini's obligatory animal-related injury came while walking his dog.
A sheepdog ended the career of Brentford goalkeeper Chic Brodie. In October 1970 he shattered a kneecap when he ran into the furry pitch-invader. "The dog might have been a small one, but it just happened to be a solid one," he said.
At least Brodie's nemesis was mobile. Everton net-minder Richard Wright twisted an ankle falling over a sign while preparing to play Chelsea in the FA Cup. The sign instructed players not to warm up in the goalmouth.
Trying to retrieve some balls from the goal, Roy Carroll once injured his knee after his foot got tangled in the net. But for Manchester United goalkeeper injuries, Alex Stepney wins any outlandish injury awards you're handing out. In 1975 he managed to dislocate his jaw from yelling at his defense too much.
Kasey Keller's mouth-related trauma involved knocking out his front teeth taking the golf clubs out of the car.
Oh, right, back to cars – another mortal enemy of soccer players the world over. Mark Statham missed a Stalybridge Celtic game in 1999 after trapping his head in a car door. Alan Wright was so short (5-foot-4) that he strained his knee reaching for the accelerator in his new Ferrari. He promptly traded it in for a Rover 416.
Anything with wheels, really, is a potential danger. Johnny Durnin dislocated an elbow in a golf cart crash. Arsenal's Charlie George lopped off a toe with a lawnmower.
So there you have it. All Banega needs to do to escape harm for the rest of his career is shun cars, lawnmowers, sex, children, goalkeepers, goal celebrations, walking, watching TV, fishing, dogs, golf, do-it-yourself surgery, and suppositories.
Follow ZAC LEE RIGG on

or shoot him an email.