Two weeks ago, FIFA awarded the 2022 World Cup to Qatar. Hard to believe isn't it? Though it seems like it's been much longer, the calendar doesn't lie: the decision was announced just 14 days ago. Perhaps the reason it seems like months instead of weeks is because about a year's worth of developments and scandal have transpired over the last fortnight. A sampling:
•
The Wall Street Journal
reported Qatar's Football Association made a $78.4 million payment to the Argentine Football Association, in no small part to curry favor with AFA President Julio Grondona, who is also a member of FIFA's executive committee.
•
The Daily Mail
reported that French executive committee member and UEFA president Michel Platini voted for Qatar after being told to do so by French president Nicolas Sarkozy, who had an eye on lucrative France-Qatar trade contracts in the future.
• FIFA hinted the 2022 World Cup could be held in the winter instead of the summer,
and
could have several games take place in Middle East countries other than Qatar. Neither of these modifications, incidentally, were mentioned until after Qatar was awarded the World Cup.
•
Newsweek
columnist Jonathan Alter reported that a "great source" told him that some members of FIFA's executive committee were bribed $10 million each for their votes. Alter has since revealed he is still investigating the lead.
This, as they say, is just the tip of the iceberg. Dealing with 12 more years of this stuff will undoubtedly turn our brains into a thick, chowder-like substance. I mean....12 years! There has to be a breaking point soon.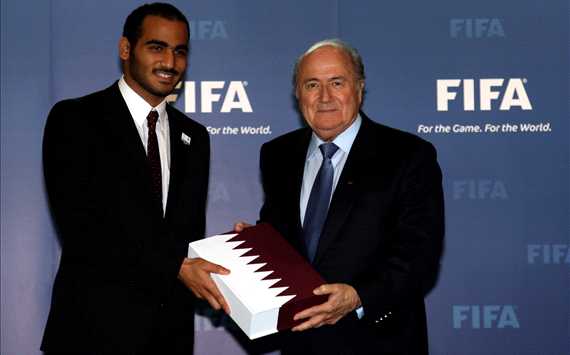 This whole mess needs to come to an end-point, and whatever that end-point is, it has to be conclusive. Scurrilous rumor-mongering makes the rounds for a couple days and dies out. Last month's BBC
Panorama
special led to FIFA denials and some vindictive voting that gifted Russia the World Cup in 2018, but the fallout already appears to have dissipated.
And so, it's time to call in the big guns. And by "the big guns," of course, I mean
Frontline
.
Frontline
is an
award-winning
documentary series broadcast on PBS. By most accounts, it is the most important, respected and effective investigative journalism program on television.
Newsday
called it "television's last fully serious bastion of journalism."
The Los Angeles Times
said "
Frontline
stands alone on television as a place inquiring minds can go for smart, tough documentaries that demystify hard news issues affecting the entire planet."
The Cleveland Plain Dealer
said it's "the most consistently important weekly hour on television."
We need
Frontline
to do an episode on FIFA.
In their research for this episode, the producers would have to be as thorough and exhaustive as possible. If it takes them a year to complete their investigation, so be it. They can make the broadcast as long as is necessary to reveal their findings (their recent episode, "God In America" was six hours long. That would be fantastic.).
The important thing is that strong, credible evidence is collected and presented. Not a little bit of evidence. A lot of evidence. FIFA are a tricky bunch: slippery, opaque and seemingly bulletproof at times. If the investigation uncovers shady dealings and illegal activity (and I'm confident it will), it needs to be overwhelming, irrefutable evidence.
Now, it's certainly tempting to have a "let's crucify these guys" sort of attitude towards an examination of FIFA, but that would be the wrong approach. The investigation needs to be fair and evenhanded, with a mindset of "innocent until proven guilty." Luckily, Frontline doesn't have any stake in soccer, so they are in a much more advantageous position in terms of objectivity than, say, any soccer journalist (sorry Andrew Jennings).
Like any good investigative journalism program,
Frontline
has a track record of producing results and inciting change. In 2003,
Frontline
produced "A Dangerous Business", an investigation into the cast iron pipe making industry and worker safety. The report prompted the federal Occupation Safety and Health Administration (OSHA) to announce an "enhanced enforcement policy." OSHA credited
Frontline
with sparking the new regulations.
In 2002, the state of North Carolina dropped all charges against Terence Garner, a 21-year-old serving a 34-to-43-year sentence for an armed robbery and shooting he insisted he didn't commit. Garner's release came less than one month after the
Frontline
report, "An Ordinary Crime," presented strong evidence of his innocence. There are more examples of
Frontline's
impact
here
.
So what could a
Frontline
investigation of FIFA potentially accomplish? We can be sure that FIFA would never punish itself, so throw that possibility out the window. There is no chain of command at FIFA- it's all maddeningly circular. Sepp Blatter is kept in power by his executive committee, who are essentially kept in power by Blatter. As long as everybody gets their bite of the apple, nobody dares offer a dissenting voice.
And so, my hope - my dream actually - would be for the International Criminal Police Organization, aka Interpol, to use this
Frontline
report as the tipping point to launch a full-scale criminal investigation into FIFA.
For Interpol, taking on FIFA-related business would not be without precedent. Last December, they formed a joint task force with FIFA to help combat illegal betting in world football. This May, FIFA general secretary Jérôme Valcke called upon Interpol to help investigate claims made by former FA chief Lord Triesman of a plot by Russia and Spain to bribe referees at the 2010 World Cup.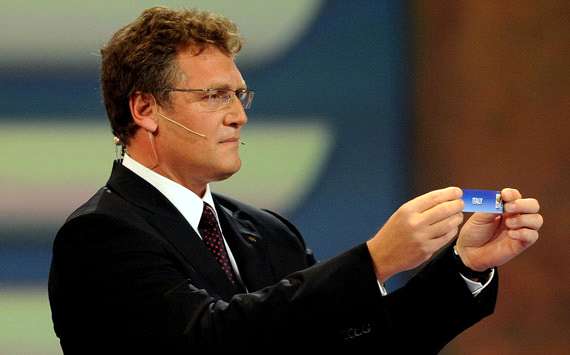 I'm not naïve enough to think that an Interpol ruling would be the end of this FIFA saga. It would, however, be a step forward in a process which has been moving in circles for far too long.
Now, if you'll excuse me, I'm going to go donate to PBS.
Seth Vertelney is an associate editor of Goal.com. Follow him on Twitter, you know you want to.