SHANGHAI – The Chinese do spacial awareness differently.
A stroll down a Shanghai sidewalk requires a headlong determination, trusting that minute gaps will open between overlapping pedestrians rather than using eye contact to indicate direction. Throngs push onto packed subways before anyone can exit. A common sight on street corners is a huddle of older men crammed into one square meter around a tiny board, gambling and smoking heavily.
At night, middle aged ladies congregate in town squares, performing intricate amateur synchronized dances, each standing a few feet apart in a grid, one-two stepping for aerobic exercise in the brown dusk air.
So it's no surprise that Nicolas Anelka, who signed for Shanghai Shenhua in January, still hasn't synched with his teammates. They see space and movement differently.
A frequent reaction after a pass goes awry or doesn't come is of Anelka screaming and pointing out what should have happened to the culprit. One assumes the gesturing helps since they can't understand his French.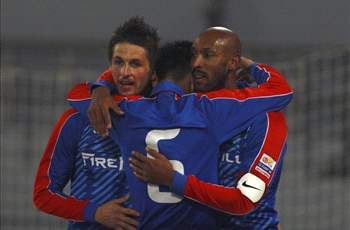 In nine games in the Chinese Super League the Frenchman has scored twice. Frequently he dips back into a playmaking position, funneling play forward with an elegant first touch and prescient vision only to watch teammates turn the ball over in good spots. He's even lined up as a defensive midfielder.
If his former Chelsea teammate Didier Drogba joins, which looks increasingly likely, Anelka knows it won't solve the talent gap.
"Even if Drogba comes, there will still be issues. There are a lot of problems with Shenhua's tactics at the moment," Anelka said recently. "Soccer is a game of 11 players. You can't change things with just one or two players.
"In my opinion, the most important area in soccer is the midfield. If Drogba comes and no one can pass to him, then that is no use."
Of course, any criticism of Shanghai's tactics only cycle back to Anelka. The 33-year-old has spent half the season as player-manager.
When several senior players (not including Anelka) complained about Jean Tigana's training methods, the former Fulham coach was sloppily sacked. Tigana's coaching staff was fired quickly and cleanly, but with his termination not yet completed, Tigana showed up to coach a game. He was seen hailing a cab outside the stadium before it started.
Instead, only a team official sat on the bench with the substitutes against Tianjin Teda, grinning sheepishly. Anelka tweeted that he had taken over as player-manager, but there was still some confusion when former D.R. Congo boss Jean-Florent Ikwange Ibenge was named interim manager and Anelka to the coaching staff.
It appears Ibenge is an old friend of Anelka's, using his coaching credentials to officially fill the role, with Anelka actually pulling the strings. Quite delightfully, former England and Tottenham goalkeeper Ian Walker joined the coaching staff as well.
Anelka wouldn't make very many lists of current players destined to become coaches. True, his time at Chelsea was tranquil enough, but his poor relationship with Raymond Domenech instigated France's team implosion in the 2010 World Cup and the nickname 'Le Sulk' still skulks about from his more petulant teenage years. But Anelka's image is slightly tweaked in the Far East. His new hipster black rims off the field give him a more learned, bookish demeanor, and his understated, modest soundbites appeal better to the Chinese.
It hasn't gone as awfully as it could have. He's won two games in seven, with a run of three draws in between. The team is no longer in the relegation zone, up to ninth. But owner Zhu Jun decided to hire a new coach anyway, signing former Argentina boss Sergio Batista this week.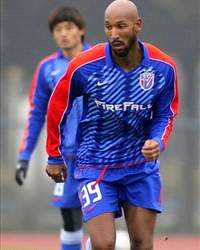 Anelka was not best pleased.
With rumors increasing that Batista would join last week, he sought out
Xinmin Evening News
and gave his first exclusive since moving to China. He complained frequently in the extensive interview that management ignored him on transfers. (Tigana also complained about a lack of sway on personnel decisions.) Anelka threatened to retire if the club continued to "play little tricks behind my back."
"I'm not sure I can [accept a new coach]," he said. "At least the club should have informed me at the time I was made manager."
He added: "I think they don't trust me."
At his next press conference, Anelka denied considering retirement, but still didn't sound excited for a coach who won Olympic Gold in 2008 to replace him.
"I don't know this coach," Anelka said of Batista. "If that is going to happen, there is a huge problem of communication between me and the club, because of the language barrier. I am not aware of anything that is happening."
Local media outlets report that the club fined Anelka $100,000 for his comments in the exclusive interview. Money is a language every soccer player speaks fluently.
In truth, owner Zhu Jun, who made his money in video games, has always controlled the club, with the coaches more as placeholders. The 40-something Jun played next to Anelka as a striker in a friendly as recently as Thursday, and once used a pseudonym to get on the field briefly in a preseason match against Liverpool.
In 10 years, Shenhua has made 15 managerial changes.
Batista's arrival means the game against Guizhou Renhe on Sunday could be Anelka's last as a manager, albeit a lame-duck manager. Because of yellow card accumulation, Anelka sat, suspended, in the director's box. Ibenge (and Walker) manned the bench. Periodically, Anelka, wearing a blue Shenhua tracksuit and his hipster frames, leaned forward from his reclining position, hands behind his head, to send a member of his posse down to pass along messages. In stoppage time, with Guizhou pushing for an equalizer, Anelka couldn't waste the time, so he called Ibene himself, trying to expedite a time-wasting substitution.
Shanghai won 2-1.
Follow ZAC LEE RIGG on

or shoot him an email.
It seems unlikely that Anelka moved to China to start his managerial career. According to him, it was "because of Shanghai."
"The lifestyle here really attracted me," he told
Xinmin Evening News
. "London, Madrid, Paris, such kind of international cities – it seemed Shanghai was of this ilk."
Money surely helped lure him as well. He makes a reported $300,000 a week. Joel Griffiths, the Australian striker on Shenhua who plays pingpong with Anelka, told
Eastday Sports
: "I'm not going to lie: I can earn a lot of money here."
Bathtubs full of yuan have helped entice other big names as well. World Cup-winning coach Marcello Lippi will be joined shortly by Lucas Barrios at Guangzhou Evergrande, which already tops the league. It's still unclear if the recent migration is a blip, destined for a quick ending like Paul Gascoigne's short stint with Gansu Tianma in 2003 or Carsten Jancker's seven games (zero goals) at Shenhua in 2006. Or, like Griffiths, who now speaks Mandarin, if this could be a quiet shift in the tide, a greater theme.
Anelka gave his exclusive interview on the Bund, a waterfront area in the middle of town. The skyline on the West side is crammed with classic European architecture, including old trading houses and a baroque revival club. Blink and you might forget you're not in Eastern Europe. Across the river is Pudong, marked by neo-Asian buildings, cold chrome edifices poking into the pollution above. The Oriental Pearl Tower, with its distinct pink bulb, stands out.
The Huangpu River flows effortlessly, languidly between the two banks, the two worlds. Anelka? Not so much.