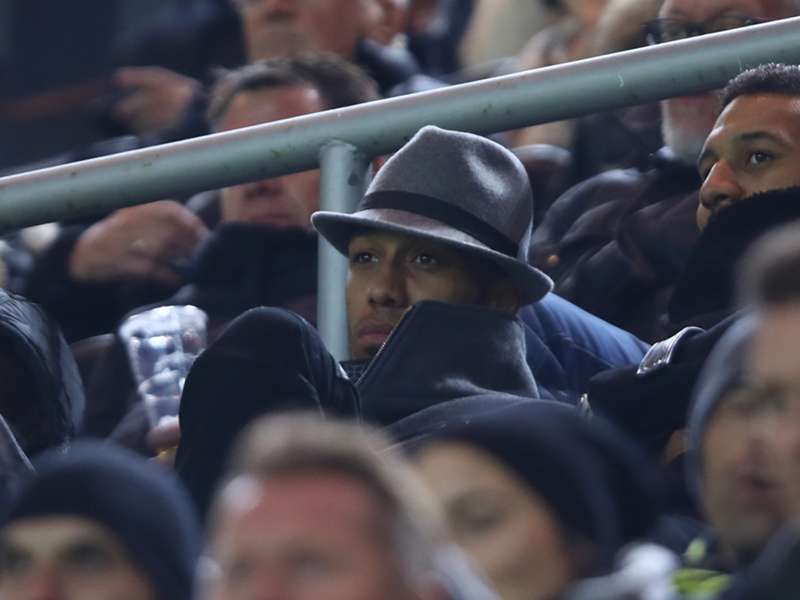 Speculation is rampant regarding why Pierre-Emerick Aubameyang was suspended from Borussia Dortmund's squad to face Sporting on Wednesday.
Five things we learned from the UCL this week
The forward, 27, was a jarring absentee from Thomas Tuchel's starting lineup and speculation was rife about why he wasn't even selected for the bench in BVB's Champions League Group F clash.
"He's left out because of internal reasons," Dortmund CEO Hans-Joachim Watzke told reporters before kickoff. "The coach has made a decision.
"You can ask three times. You guys live off speculation so go ahead and speculate."
An Instagram post from the striker's brother suggested Aubameyang was out for an Italian dinner just before kickoff.
His presence in the Signal Iduna Park stands was noted as the media clamoured to discover exactly why he'd been ignored by his head coach.
The Daily Mirror claims Tuchel left the reported Real Madrid and Manchester City transfer target out because on Monday he went to party with friends in Italy without permission.
However, Sky Germany claims that it was Aubameyang's complaints about Tuchel's rotation, coupled with looking bored and checking his mobile phone during a team meeting, that led to his internal suspension.
After the match, which Dortmund won 1-0 thanks to an early goal from Adrian Ramos, Tuchel refused to be drawn on exactly why Aubameyang had been banished to the stands.
"I had no choice," he told reporters. "The decision was made on Tuesday afternoon. In the next game, he will be back.
"But, internal reasons means internal. I do not account for speculation."
Aubameyang, who has a contract at BVB until 2020, has scored 10 goals in 13 games this season.
Dortmund is top of Group F after four games, two points clear of Real Madrid, which the club visits in the final group game after a home tie with Legia Warsaw.