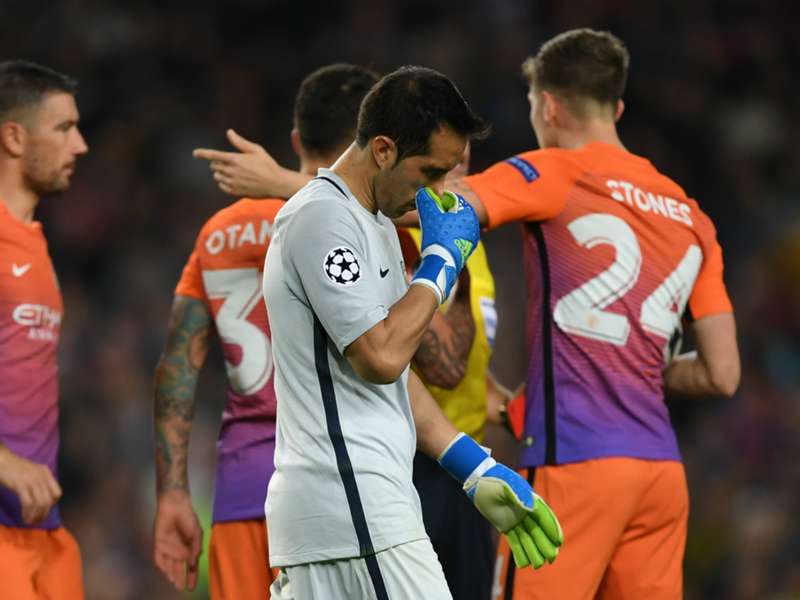 Nolito says that Manchester City "took the ball off Barcelona" for long spells at Camp Nou on Wednesday and that Claudio Bravo will be "pissed off" about his game-changing mistake.
'Are you crazy?' - Ronaldo angers Buddhists
City trailed Barca by one goal when Bravo was sent off for handling outside the box after presenting Luis Suarez with a clear sight of goal. Messi, who had scored the first, went on to bag a hat trick as Neymar added the fourth late on after he had already seen a penalty saved by Willy Caballero.
Nolito believes that the score line was harsh, however, and insists that City had been executing its gameplan well up until Bravo's red card.
"We think the result is a bit exaggerated," he told the press. "We weren't so bad. After the sending-off for Bravo... but that happens in football and we have to carry on. We have to carry on and be more united than ever.
Suarez: I want to retire at Barcelona
"In the first half, we tried to take the ball off them - we did that. [Barca keeper Marc-Andre] ter Stegen made two or three pretty good saves but that's football. We then had the bad luck to commit an individual error – and that can happen to anyone. We have to carry on."
Nolito, in his typically blunt way, also shed light on Bravo's state of mind after the match.
"I imagine that he will be pissed off because of the sending off," said the forward. "He'll feel better [on Thursday], we'll support him, but it's gone now. We have to keep growing and try to improve."
Despite being encouraged by City's performance, the Spaniard also gave Messi his dues after scoring his 37th career hat-trick.
"Messi decided the game with his three goals," he added. "Without Messi, it would have been a different game. Messi is Messi. He is the best in the world. He's unique. He doesn't need to produce 40 sprints a game; one is enough to score a goal or give an assist."