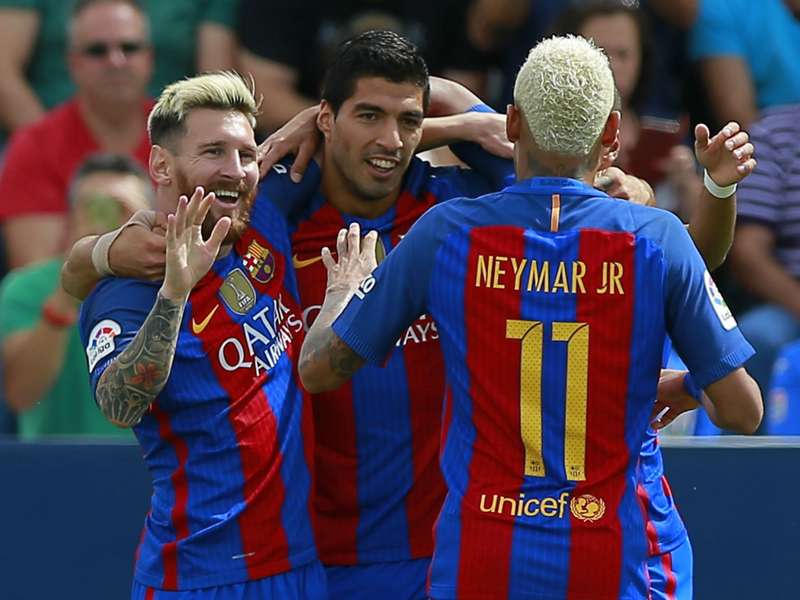 It may sound obvious or maybe even facile to some, but it is fair to say Manchester City wants Lionel Messi. Of course the club does.
Pep hits out over Messi & Neymar claims
Every club in the world does, and City knows as much as anybody - if not more so - that getting him from Barcelona would be incredibly difficult. But, unlike anybody else, City has long believed that Messi would want to join the side ahead of any other club in Europe.
Pep Guardiola was less than impressed with a recent report that he called Messi and Neymar directly this summer - but if an opportunity comes around, he would jump at the chance.
Pep: Barca always special for me
After all, there have been serious talks held about the possibility of Messi one day signing for City for years. The club's vast new training ground had barely been designed, let alone built, and the two Premier League titles had not yet been won when chairman Khaldoon Al Mubarak, acting on behalf of Sheikh Mansour, first pondered the idea of signing Messi.
Of course, the idea of having Guardiola in charge was just as much of a pipe dream back then. City has achieved much in recent years and Guardiola's arrival this summer only strengthened the belief that Messi will one day come. Senior officials also hope there are other Barca players who may be tempted to rejoin their old coach.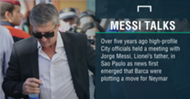 Messi is still very much a Barca player and, on Wednesday night, will have no doubt about his loyalties. But a lot of leg work has gone in to putting City at the front of the queue should he ever decide to leave. Over five years ago high-profile City officials held an informal meeting with Jorge Messi, Lionel's father, in Sao Paulo as news first emerged that Barca was plotting a move for Neymar. Messi's camp was initially concerned about the ramifications of Barca's decision to sign world football's next superstar, and City was keen to explore the lay of the land.
Pique: Guardiola's turning Man City into Barcelona
It was suggested at the time that City, rather mischievously, then launched its own move for Neymar, 12 months ahead of Barca's planned bid, in an effort to accelerate his move to Camp Nou, therefore thrusting the Brazilian and Messi into the same spotlight. If that was the plan then it backfired, however, as Neymar has been nothing but reverential to Messi since his arrival in 2012 and the two, along with Luis Suarez, have forged the most fearsome front line in football history.
City has never given up hope, though, and has always been ready to have conversations when Messi - not unlike Cristiano Ronaldo - dropped hints in the press that he was less than happy with life in Spain. One such occasion came ahead of Argentina's friendly with Portugal at Old Trafford in late 2014, when Messi trotted out the age old "things can change a lot in football" line, and added: "while I have always said I would like to stay there forever, sometimes things don't work out the way you would like."
City welcomed Argentina to its newly opened City Football Academy that week and went out of its way to ensure Messi was impressed. Twelve months later it was widely reported that Messi's representatives were putting the feelers out around Europe, trying to gauge the interest of the continent's biggest spenders, as his tax trial continued. So detailed and serious were City's advances around that time it is rumored that Paris Saint-Germain chairman Nasser Al Khelaifi abandoned his own interest in signing Messi after he had learned the extent of the competition from his counterpart Al Mubarak.
But City has known all along exactly how complex such a deal would be and that was reaffirmed when the controversial tax case against the Messis was resolved earlier this year. Barca was criticised for its supposed lack of support for the club's star man and it was reported throughout that Messi was far from pleased with his treatment. City would have hoped the proceedings would have made his exit somewhat easier, but still he remains at Camp Nou.
City continues to covet Messi, but the club would not turn its nose up at the chance to sign his attacking teammates.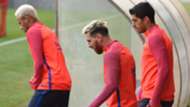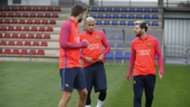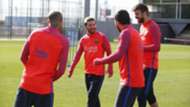 It was reported last week that City was among a number of clubs to have made advances to Neymar during the last few months. Mundo Deportivo claim that, while PSG offered the Brazilian 30 percent of the shares to a Paris hotel built in his name and United promised to beat any other offers, City simply made it known that money was no object. The Blues were unwilling to match Borussia Dortmund's asking price of 65 million pounds for Pierre-Emerick Aubameyang this summer but would seemingly have been happy to break the bank for Neymar.
Guardiola put his signing in place for Barca and, having left and decided to take over at Bayern, he called the Brazilian to try to sign him. Now he is signing a new deal at Camp Nou, though, the chances of him signing for City any time soon are slim. Guardiola's dream signing, however, is said to be Luis Suarez. The Catalan is of course in awe of Messi and has made no secret of the fact he considers the Argentine to be the best in history, but he is said to have a long-standing desire to work with Suarez.
Pepe: I want to retire at Madrid
Around the time City and Guardiola were hammering out the finer points of his three-year contract it was made clear that, should the opportunity present itself, the Blues should go for Suarez. City would not have been able to sign the Uruguayan even if the club wanted to when he left Liverpool in 2014, such was his dual desire to firstly leave England and secondly to sign for Barcelona.
His performances for the Catalans across the last two years have only made Guardiola more of a fan, however, and he may have let his admiration slip last week when discussing the increased defensive demands on Sergio Aguero.
Guardiola has continually said he wants to see Aguero pressing opposition defenders - Gabriel Jesus was signed partly to make Aguero work harder - and on Friday the City boss admitted there is a specific example he wants the Argentine to follow.
"Yeah, specific, yeah, of course specifically" he said. "Sergio knows that."
Many of the journalists present believe Guardiola was referring to Suarez, whose tireless running, allied to his deadly finishing, has been evident throughout his career.
Ronaldo turns provider as goals dry up
The Uruguayan is represented by Guardiola's brother, Pere, but at this stage he would be just as hard to sign as either Messi or Neymar. That is the reality of trying to sign the world's best players, particularly when they are already at one of Spain's two powerhouses - even Real Madrid has tried and failed to sign all three players, too.
City's power brokers hope Guardiola will make the club a serious player on the European scene over the course of his time at the Etihad, and perhaps he will eventually be able to call upon Messi, Neymar or Suarez. For now, though, he will have to work out how to stop all three of them from scoring against his side.