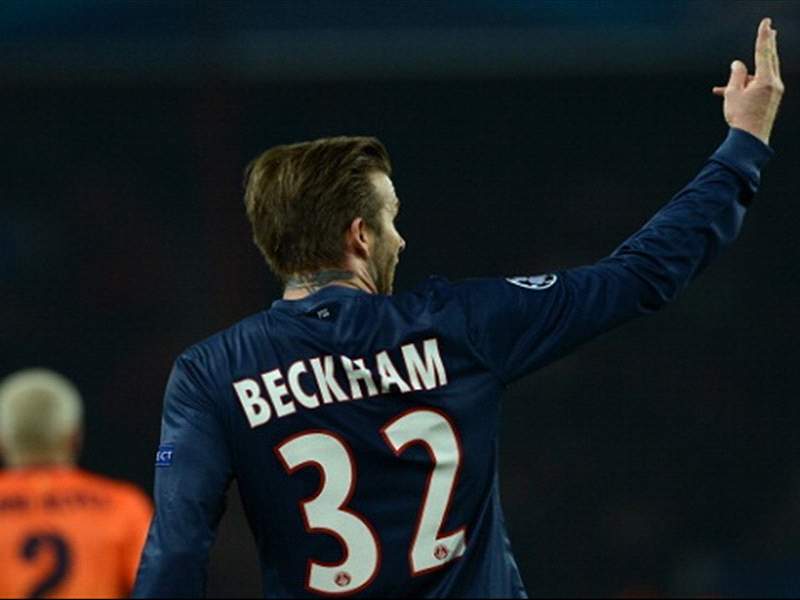 Zlatan Ibrahimovic scored one goal and assisted another against his former club. Thiago Silva put in an "immense" performance that even Joey Barton had to appreciate. Blaise Matuidi found enough energy to compensate for a 37-year-old midfield partner, compete with Barcelona and then score the equalizer with the last kick of the game.
Leonardo knew who his man of the match was.
"Carlo was amazing today, because he studied Barcelona extensively," the Paris Saint-Germain sporting director told
Canal+
. "If you look at the game, we had a nearly perfect strategy."
Carlo Ancelotti's PSG came of age in a 2-2 Champions League quarterfinal first leg draw with Barcelona on Tuesday. Less than two years after the Qatar Investment Authority bought the Parisian club, PSG showed it could hang with a team that has qualified for the Champions League semifinals five years running.
"I believe that after all we've been through the past few months, today is truly a wonderful thing," Leonardo said, "because it is not easy to build a team."
Seven points clear in the Ligue 1 table, PSG hasn't always looked like a team. Heavy investment from QIA lets Ancelotti lean on exceptional individual talent as his roster congeals into a unit. The maturity and discipline from the French side in the knockout rounds belies its absence from the Champions League since 2005.
"We showed that we can compete against Barça," Ancelotti told
Canal+
.
Recruiting European veterans like Ibrahimovic, Thiago Silva, Alex and former Barcelona fullback Maxwell helped. Leonardo argued that the decision to give David Beckham his first Champions League start in three years did as well.
The Englishman – the last left in the Champions League – made his third start for PSG since signing in January. The 37-year-old sat deeper than Matuidi, looking to ignite counterattacks. His average passing distance of 26 yards was the longest of any field player, even if he only completed 70 percent of them.
"It was only three years ago," since Beckham featured in Europe with AC Milan, he told
ITV
. "I'm pretty much at the same level."
(The former LA Galaxy midfielder, willfully denying his body's graceful decay, made way after 70 minutes.)
Beckham's loan stints with Milan overlapped with his current bosses: Ancelotti in 2009 and Leonardo in 2010.
"The manager's always shown a lot of confidence in me, especially in big moments," Beckham said.
This was as big as they come for PSG. This time last year it had already dropped out of the Europa League.
To give his side a chance to remain in Europe at least for another round, Ancelotti fashioned a pragmatic stance. Two lines of four sat in a deep block. Ezequiel Lavezzi bothered Sergio Busquets on the ball. Then, using the distribution of Beckham and Thiago Silva to unlock the pace of Lucas Moura and Lavezzi, PSG hit out on fierce counters that isolated Barcelona's defenders.
The earlier chances all went the host's way, including a Lavezzi shot (although it looked like Busquets took the ball off his foot) that struck the post. But Lionel Messi doesn't need more than the one opportunity. A pass from the outside of Dani Alves' cleat rainbowed over the PSG defense as it transitioned forward from defending a corner. Messi's turn and connection looked simple enough, but only a handful of humans in the world could have pulled it off. He now has 57 goals in 45 games this season.
"We conceded when we were at our best in the game," Leonardo told
Canal+
. "If you leave a few millimeters to Messi, this is what happens."
The next time Paris Saint-Germain hit the post, it also hit upon some luck. When Thiago Silva headed the ball off the upright, Ibrahimovic had strayed offside. Significantly. As Ibra cleaned up the rebound, the flag stayed at the linesman's side and the goal stood.
Ibra was mute for most of the game against a team he enjoys ripping in the press. But after a Xavi penalty gave Barca the edge in the 89th minute, the Swede again found a decisive touch.
PSG had only 32 percent of possession but won 79 percent of balls in the air. Ibrahimovic earned the last of his game-high four headers deep in injury time, cushioning a booted Christophe Jallet ball back to Matuidi. With the last kick of the game, the French midfielder volleyed the ball off the inside of Marc Bartra's leg. The equalizer left Victor Valdes bent back on himself, folded on the field helplessly.
The bloodied Messi (hamstring strain) and Javier Mascherano (right knee ligament damage, suspension) will likely miss the return leg. Another composed performance from Ancelotti's charges and one never knows.
Of course, Milan took a two-goal lead into the Camp Nou and escaped flayed and humiliated by a four-goal loss. So what does Paris think of the 2-2 result?
"It's better than it was at 2-1," Beckham said.
Follow ZAC LEE RIGG on

or shoot him an email