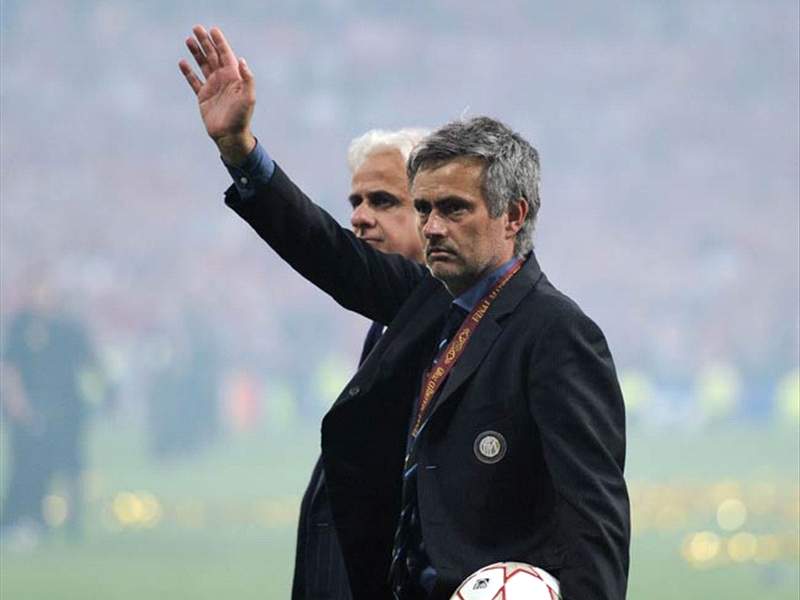 10) "Lo Monaco? Who?"
It didn't take long for Jose to get people's backs up, with Catania director Pietro Lo Monaco picking a fight after Mourinho's home debut in Serie A, saying the Portuguese "deserves a smack in the teeth". The Portuguese's fighting talk was predictably unpredictable: "Lo Monaco? I don't know him… I know of Tibetan Monaco [monks], I know Bayern Monaco [Munich], I know the Monaco Grand Prix… I don't know any others."
9) Unbeaten At Home
Not really a single moment, but this month's 4-3 win over Chievo ensured that he saw out his entire spell with the Nerazzurri without losing a home game in Serie A. His unbeaten run on home turf now stretches back to sometime around the year dot covering spells in three different countries.
8) "Zeru Tituli"
The phrase that now dons thousands of t-shirts around Milan. Back in March last year, Mourinho had just an Italian Super Cup to his name since arriving in the country. But he was confident enough in his side's ability to dominate on the peninsula that he felt free to goad his rival coaches' lack of silverware and slam what he called their "intellectual prostitution" in the media. His eight-minute rant is now a youtube favorite.
7) Using Milanese Dialect In His Opening Press Conference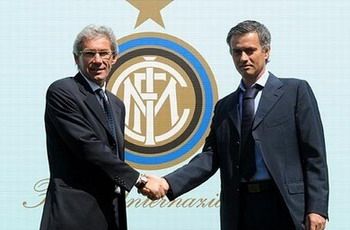 Opening day | With assistant Beppe Baresi
An instant winner with the Interisti. There were question marks as to whether his Italian would be up to scratch when he put pen to paper at Pinetina. But at his presentation he not only shown a capability with the national tongue, he also spouted a phrase or two in local dialect. It was love at first sight for many Nerazzurri.
6) Celebrating With The Inter Fans In The Camp Nou
Many Catalans might have you believe he was rubbing Barcelona's nose in it, but the truth is that Mourinho's heart on sleeve gestures to the traveling masses at Camp Nou last month confirmed to the world that he had found the kind of second home he never thought he'd have after Chelsea. The Inter fans have barely stopped singing his name in the past three weeks.
5) Signing Wesley Sneijder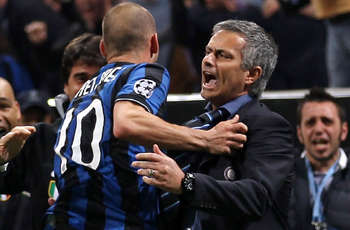 Sneijder | Mourinho's joker in the pack
Mourinho's summer moves in 2009 helped to stamp his authority on a squad which previously had a great deal of Roberto Mancini's DNA about it. The purchases of Samuel Eto'o, Thiago Motta and Diego Milito looked like great moves, but it was the addition of Sneijder in late August which gave them the look of European champions in the making.
4) A Winning Return To Stamford Bridge

There was all sorts of romantic media talk when Mourinho returned to Chelsea with a 2-1 first leg lead to defend. But his side did his talking for him, with an excellent counter-attacking performance accounting for the English champions. He didn't really celebrate the goal and he certainly didn't rub anybody's noses in it, but his side had built the platform from which they would achieve glory.
3) The 4-0 Demolition Of Milan
Depending on who you spoke to at the time this was supposed to be the moment in which Milan would raise their hands as early candidates for a title upset. But what happened was a complete dismantling of Leonardo's side, with Diego Milito, Maicon and debutant Wesley Sneijder particularly devastating.
2) The 3-1 Win Over Barcelona
Never during Pep Guardiola's reign in Catalunya had Barca looked so completely human. The Portuguese got almost everything right as his side blasted three past the then European champions to set them on their way to the final. The first 15 minutes after the break saw his side smash the Blaugrana's defense to smithereens as Mourinho's plan to attack the visitors' full-backs worked to perfection.
1) Champions League Win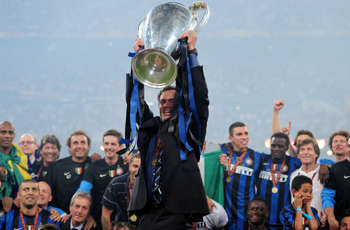 Glory night | His first silverware at the Bernabeu...
After 45 years of hurt, it was always going to take something special to end the Nerazzurri's European Cup drought, and last night at the Bernabeu he proved himself to be the Special One once and for all. After an opening five minutes in which Inter sent a few punches towards Bayern's glass jaw – their weak defensive line – Mourinho had his side bide their time until the opportunity to land the knockout blows came. A perfect game plan to end a near-perfect reign.

Keep up to date with all the latest Champions League news with Goal.com and join Goal.com USA's Facebook fan page!