Inter-Barcelona
referee Olegario Benquerenca caught the eye in the Nerazzurri's 3-1 win over the Culers, dishing out six yellow cards in an action-packed fixture at San Siro.
Most of his decisions were valid, bread-and-butter calls, but others have divided opinion across the world. Here we revisit some of the key incidents, and I'll offer my view on whether or not the ref got them right.
Decision 1: Milito's Offside Call


With just eight minutes on the clock, a wonderful ball over the top by Samuel Eto'o put Diego Milito clear on goal. The Argentine appeared almost level with Gerard Pique, but was whistled offside to prevent what could have been the first real chance of the game.
Macdonald's Verdict:
Benquerenca was on a hiding to nothing here: he had a poor angle and relied on his linesman's flag. When that flag went up he had little choice but to whistle for an offside. An incorrect decision, but one for which the assistant, not the man in the middle, must shoulder the vast bulk of the blame.
Decision 2: Milito's Goal


Inter were in full flight early in the second period, with Milito looking to be one of the best players on the pitch. It was no surprise, then, when he put the ball in the back of the net after Wesley Sneijder miscued a Thiago Motta cross in his direction. The flag stayed down and the goal stood, despite his placement.
Macdonald's Verdict:
Definitely offside, but not by much. Referee and linesman alike should have done better here: they were both well-placed and should have noticed Diego's early movement. Barcelona appealed for the offside but it wasn't given; Milito turned to look towards the flag before sprinting off celebrating, suggesting that even he knew it was borderline.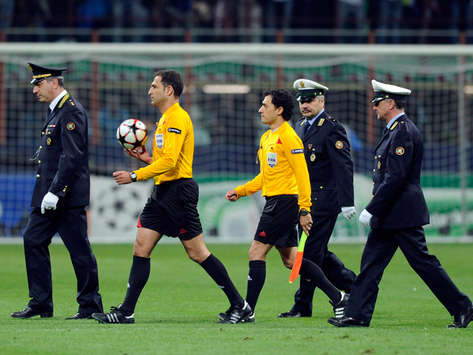 Respect My Authority - Benquerenca took a firm hold of proceedings
Decision 3: Alves' Yellow Card


During the Blaugrana's late period of pressure, the disappointing Dani Alves broke into the corner of the box ahead of Wesley Sneijder, who the Brazilian argues clipped him from behind. Referee Benquerenca immediately blew the whistle, but
against
the right-back, who ended up in his book for diving.
Macdonald's Verdict:
By far the hardest one to call - I don't envy any ref having to make this decision. Most people I've spoken to tonight feel this was a spot-kick; I personally think that it wasn't, and the referee made the right choice. Sneijder shouldn't even have raised the possibility, and he was clumsy, but I don't think contact was made from behind, and I thus don't feel that Alves was impeded. A yellow card was the correct decision.
Keep up to date with all the latest Champions League news with Goal.com and join Goal.com USA's Facebook fan page!