It's tempting to imagine them crossing paths in the sky. Zlatan Ibrahimovic, the weight of a massive price tag on his shoulders, winging his way towards Barcelona, quietly optimistic that the individual honors he so craves might be at last in reach; Samuel Eto'o heading in the opposite direction to Milan's Malpensa airport, perhaps glad to be away from a Camp Nou adventure that had grown stale, yet wistful and - above all - determined.
MORE

When the two were part-exchanged by their respective clubs last summer, both had cause to advertise to their fans a great transfer. For Barcelona, Zlatan was a center-forward more aerially poised, more apt to net wondergoals, and arguably more creative than the man he replaced. Inter, meanwhile, may have lost a star, but gained a significant sum of money, not to mention second in the the 'Pichichi' (top scorer) standings of Spain into the bargain. Eto'o brought with him an uncanny ability to be in the right place at the right time, a tendency to finish with confidence, and - increasingly - a work-rate that saw him just as able to create from out on the right wing as score in the center.
Castrol Rankings (as of March 2010)


Ibrahimovic:
9
(
11)
Eto'o:
146
(
66)
So far this season the duo have come face to face in the Champions League group stages. Neither player scored, but Ibra could at least celebrate the fact that his side won on home soil. And with Barcelona topping the table, too, he has every reason to be confident ahead of Tuesday night.
For Eto'o, things are tougher. His first season at San Siro has been fine, but fine has never been enough for an individual as driven as "Samu." Just two goals scored in Europe, despite his near-ever-present status, is discouraging, as is Inter's failure to secure top spot in the Scudetto race.
All of which brings us to Tuesday for a thrilling meeting between the two.
Who Starts, Who Scores?
Both Ibra and Eto'o are almost certain to line up in Milan as starters. Eto'o, of course, leads the line alongside Diego Milito - whose brother Gabi marshals the back line for Barcelona - while Ibra, being a banner summer signing, is a regular in the first eleven.
Eto'o's spot in the first team is all but guaranteed due to a lack of competition, but in any case his form more than justifies the inclusion. A barren spell after the Africa Cup of Nations - with rumors of injury abounding - was brought to a definitive end by his goal in London against Chelsea; since then he's found three goals in his last three games, including an opportunistic effort against hated rivals Juventus.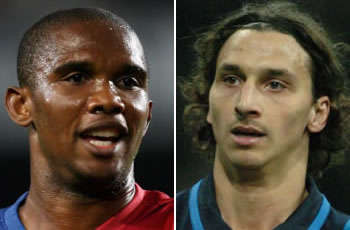 Changed Days |
The kits will be reversed on Tuesday
Ibra, meanwhile, was on an incredible run until recently. Scoring three in a row in the league was one thing; scoring twice at the Emirates to sword Arsenal was quite another. Then came injury, though, and one that only ended this weekend with his return. Still, it's hard to call an eight minute run-out in a dull draw with Espanyol a significant comeback.
Thus it's far from certain that Ibra will begin on Tuesday. Guardiola, always one to trust the youth, has the likes of Pedro in his arsenal, and may not wish to risk Ibra, particularly as the Swede is a form player.
Statshot
Goals in league play (CL play) 2009-10
Ibrahimovic: 15 (4)
Eto'o: 12 (2)

Minutes per goal in league play 2009/10
Ibrahimovic: 126
Eto'o: 180

Minutes per goal in CL play 2009/10
Ibrahimovic: 166
Eto'o: 439
Indeed, If one takes seasonal statistics as their only guide, Eto'o is in the worse shape of the pair. Yet that is to ignore both recent developments on the pitch and physical concerns off it. No doubt this will weigh heavily on Guardiola's mind.
Then again, there are other factors. Ibra, long since castigated as a "CL bottler," well and truly silenced his critics with that brace in London. And while he still no doubt holds much affection for Inter, the chance to show observers in Italy exactly what he's made of may be too much to resist.
Of course the same applies to Samuel. Despite managing very nearly a goal a game last campaign in La Liga, he left Barcelona under a cloud, having endured quite a horrible season off the pitch. It was Catalunya's worst-kept secret that he'd be on his way come summer; winning that unprecedented Treble, then, must have been quite the bittersweet experience.
MORE

Which brings us back to Tuesday. Barcelona won't manage a clean sweep of trophies this season - they're out of the Copa del Rey - but are 100 per cent serious about winning back-to-back Ligas and Champions League trophies. For Ibra, who was not around for last year's silverware glut, this takes on a whole new sense of urgency. And for Eto'o, it's all he can do to put a stop to it.

Expert Opinion
Paul Macdonald
Goal.com Int'l

"Ibra has something to prove. He missed an excellent chance in the group stage to put one over his old side, and given this could be a tight encounter, he can't afford to miss again. He is in form, but won't be fully fit yet from his injury, and so I believe he may struggle to make an impact."

Expert Opinion
Adam Scime
Goal.com Int'l
"Eto'o, usually deployed in a wide position by Mourinho, will look to take advantage of any space afforded by the full-backs. If he can link up with Milito his pace and movement can cause plenty of problems for any of the Barca defenders."

MORE...
It's an open question. Does recent form count more than a whole season of goals? What about the respective defenses? Will having something to prove truly be a factor? We'll find out on Tuesday, but for now we open the debate to you, the reader, via the comments system below.
Keep up to date with all the latest Champions League news with Goal.com and join Goal.com USA's Facebook fan page!