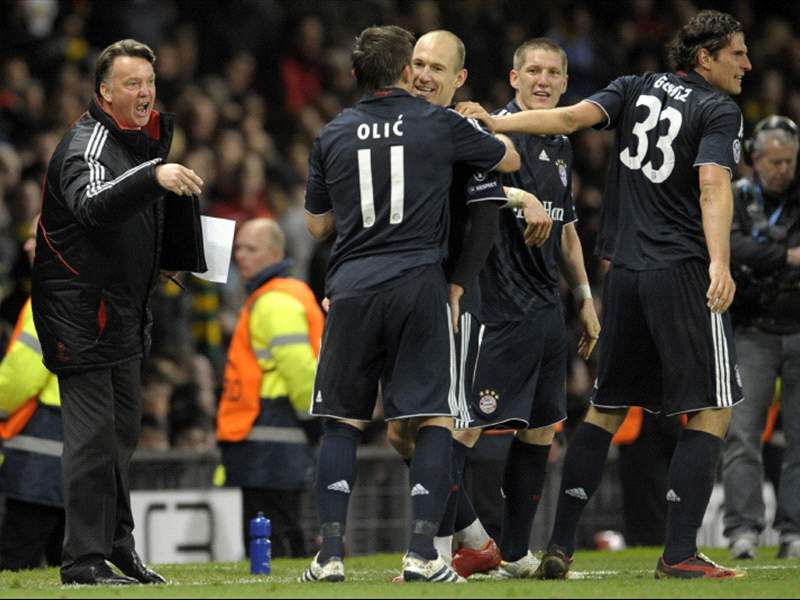 It was approximately 15 years ago, during the reign of coach Giovanni Trapattoni, that Bayern Munich earned the nickname
FC Hollywood
. At the time, the epithet was given in response to recurring appearances several Bayern players made in tabloids, and was only made more appropriate by
the antics of Trapattoni himself
. Over the years, these cameos became increasingly rare, and the nickname eventually wore off. Until the 2009-10 season, that is.
Enter Louis van Gaal, the master tactician whose successes are only surpassed by his ego. After the disaster known as the "Klinsmann Experiment," the former Ajax and Barcelona coach was brought in to polish the Bayern Munich image, both domestically and in Europe.
In the fall, things did not go as planned. Van Gaal's first few months in Munich could only be described as disastrous, and in late October, rumors suggested that he would be sacked if Bayern were unable to beat Eintracht Frankfurt. With four minutes left and the two teams level with a goal apiece, Van Gaal chose to do the unthinkable: substitute defender Martin Demichelis in place of Luca Toni. The home crowd of 69,000 fans expressed their disapproval in unison, but Van Gaal ignored them, sending center-half Daniel van Buyten to the front line to partner Mario Gomez. It was a gutsy move, but it worked: two minutes from full time, the Belgian defender nodded in Thomas Mueller's cross, and Bayern escaped with three points. Their defeat of Frankfurt was only the first of several season-defining moments for Van Gaal and Bayern.
Fast forward six weeks and Bayern were against the ropes once more: two losses to Bordeaux had left the four-time European champions on the verge of a group stage exit from the Champions League. There was only one way through to the knockout stage, and that was to beat Juventus in Turin. As had happened against Frankfurt, Bayern conceded the opener, which came following a foolish error from Demichelis. The German record champions were on the verge of imploding, when suddenly, everything changed. Goalkeeper Hans-Joerg Butt equalized from the penalty spot after 30 minutes, and Bayern pummeled the Old Lady for three more goals in the second half, en route to a 4-1 victory. Another pivotal fixture, another comeback victory. There was no stopping them as the side then embarked on a winning streak a mile long.
In early March, Fiorentina stood between Bayern and a trip to the Champions League quarterfinals. The Germans had controlled the ball well in the first leg, but were halted by their visitors' resolute defending, and only took a 2-1 victory after Klose's controversial headed goal was allowed to stand. In the second leg, Bayern found themselves behind early on, but this time their deficit was 2-0. And yet, Van Gaal's men did not look rushed. There was plenty of time remaining, and surely enough, Mark van Bommel pulled a goal back on 60 minutes. Even after Stevan Jovetic responded to make it 3-1 to Fiorentina, the visitors did not panic. They continued to play their smooth passing game and, on 65 minutes, Robben fired in a 30-yard blast that sent his side through to the quarter-finals. As if their comeback against Juventus was not quite dramatic enough,
FC Hollywood
made a bid for an academy award by advancing past Fiorentina under even more improbable circumstances.
Later in the same month, Bayern faced Schalke in the DFB Pokal semi-final. It was the first of a long stretch of tough fixtures for the Bavarians, and Van Gaal was keen to start the run with a positive result. Despite being forced to play a physical game on a pitch that was as poorly groomed as
Joaquin Phoenix
, Bayern controlled the ball well, kept a clean sheet, and won in extra time thanks to a brilliant effort from Robben.
A week later, it was back to Champions League play, where Bayern faced a Manchester United side that had not only skill, but luck to go with it. Within 12 seconds of open play, Demichelis committed a pair of howlers, and Bayern suddenly were a goal behind. And yet, there was no sense of panic from the home side, who played without Robben, Gomez, and Bastian Schweinsteiger. Eventually, Franck Ribery's deflected free kick leveled the score, and Ivica Olic won it at the death after dispossessing Patrice Evra. Yet again, a come-from-behind win for the men in red. This time, victory came with a touch of revenge as
FC Hollywood
did to their guests what United had done to them in 1999, scoring the winner in the final seconds of injury time.
Between the two legs of the Man Utd tie was last Saturday's clash with then Bundesliga leaders Schalke. Quickfire goals from Ribery and Mueller put Bayern ahead early on, but the situation looked bleak after Kevin Kuranyi pulled a goal back and Hamit Altintop was sent off. Bayern were forced to play with 10 men for 49 minutes, and were in the uncomfortable position of defending a lead. It was their most important domestic match of the season, and accordingly, Van Gaal's men managed to hold on for all three points.
That brings us to the meeting with United at Old Trafford. If their previous Champions League away matches were indicators, the script was set for Bayern to "one-up" themselves again and fall behind 3-0. Surely enough, Darron Gibson fired an early opener past the clueless Butt, and Nani notched a first half brace. Somehow, Bayern managed to keep their composure. Late in the half, Olic powered his way past Michael Carrrick, picked up a loose ball, and finished past Edwin Van der Sar. Bayern started the second half looking much brighter and, after Rafael was sent off in the 50th minute, proceeded to completely control the flow of the game. Viewers could feel a goal coming, and surely enough, that goal came on 74 minutes as Robben volleyed Ribery's corner in a way that recalls memories of Zinedine Zidane's famous strike in the 2002 Champions League final.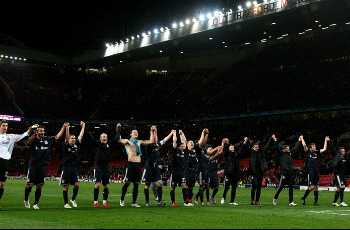 After the match, Schweinsteiger revealed just how different Van Gaal's Bayern is compared to that of 2008-09: "The start was a bit reminiscent of Barcelona a year ago," he said, alluding to the Bavarians' 4-0 defeat at the Camp Nou.
The difference is that this year, Bayern have the bravery, the audacity, to be 3-0 down and chase a game. As much as their tendency to start off poorly is a hindrance to their success, Bayern's blatant disregard for even the immediate past is what makes this team so uniquely successful. Forget the scoreline – so what if they're being pummeled?
FC Hollywood
will carry on, create their chances, and find ways to win matches: the more dramatic, the better.

Goal.com wants to know what you think about the revamped "FC Hollywood" in the comments below.

Get all the latest news and opinions from the Champions League with Goal.com's dedicated page.