By

Matthew Weiner | Arsenal Correspondent
As the tension builds for what could be one of the greatest
Champions League
clashes of all time, forget the backheels and reverse passes – it's the cold, hard numbers we're interested in. And they make intriguing reading.
The bookies have got
Barcelona
2/5 favourites to beat
Arsenal
and make it into the semi-finals, but the Gunners won't be beaten that easily. Arsene Wenger's side have shown the kind of impressive record in Europe this season that even Pep Guardiola's men would envy.
If the north London side can maintain these impressive stats over the next two legs then those willing to bet on the red could come up winners – just like Cesc Fabregas & Co.
5
– The number of assists by Andrey Arshavin in this year's Champions League – more than by any other player in the tournament.
18
– The number of goals scored by Arsenal in the Champions League so far this season. They are the tournament's joint top scorers
2.25
– The Gunners' average goals per game in Europe this season. More than any other side - including Barcelona, who have notched up only a measly average of 1.5 goals per game.
67
– The number of shots on target by the Gunners. That's more than any other Champions League club; Barcelona are third with 59.
32
– The age of Thierry Henry these days. Those tired old legs aren't quite as fast and full of energy as they once were.
226
– The number of goals Henry scored in his 369 games for the Gunners – a club record. The Frenchman may find it hard to be so ruthless against Arsenal, a club he clearly still cherishes.
49
– The minute in which Iniesta had to be substituted after picking up a hamstring strain at Real Mallorca on Saturday night. The Barcelona lynchpin has since been ruled out of the Champions League quarter-final first leg at Arsenal.
2
– The paltry number of goals Ibrahimovic has scored in the Champions League this year. Nicklas Bendtner has banged in four.
180
– The total number of minutes Chelsea kept Lionel Messi quiet during their tussle with Barcelona in last season's tournament – so it is possible.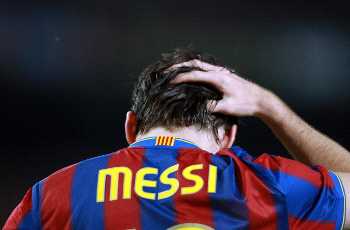 Another fine Messi | In-form star must be kept quiet
But here are some stats that show Barcelona can beat Arsenal...

48
– The astonishing average number of minutes per game that Barcelona have possession of the ball. That's more than any other team in the Champions League. Arsenal are next best with 35 minutes.
34
– The number of goals Messi has scored in all competitions this season, leading many to claim he is on course to be the greatest player of all time.
11
– Major club honours Messi has won since he and Fabregas were team-mates in the Barcelona youth set-up. Cesc has collected just one – Arsenal's 2005 FA Cup winners' medal.
3
– Consecutive number of games that Ibrahimovic has scored in, including the weekend's 1-0 victory at Real Mallorca.
80
- Per cent chance that William Gallas will not be fit for the first leg against Barcelona. The Gunners could do with his pace against the likes of Lionel Messi.
17
– Number of shots on target by Ibrahimovic – more than by any other player in this term's Champions League.
4
– The paltry number of goals scored against Barcelona so far this season in Europe - the second best record of any club. That's just 0.5 goals conceded per game.
2

–
To 1. The odds of Barcelona regaining their European title this season.
Become a fan of Goal.com USA's Facebook fan page for all the latest news and insight into everything related to the beautiful game