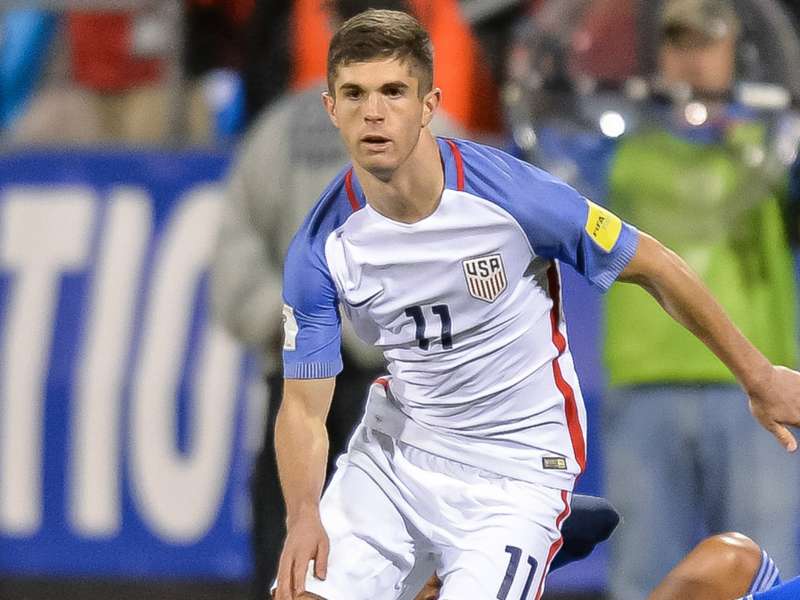 JACKSONVILLE, Fla. — On six previous occasions, Christian Pulisic took the field in the U.S. national team uniform and showed some promising glimpses. On occasion they would be good glimpses, but generally those bright moments were also met with reminders of just how young he still is. It took his seventh appearance for the U.S. for him to show off all the qualities that have him being considered a candidate for stardom, which has only accelerated the hysteria around a player who is still two weeks away from his 18th birthday.
Now, after Pulisic's two-goal, one-assist effort in Friday's 6-0 World Cup qualifying win against St. Vincent and the Grenadines, the teen sensation has arrived in northern Florida with a hurricane-like storm of buzz in his wake. All of a sudden, the talk isn't about the U.S. qualifying for the next round of World Cup qualifying, but rather it's about whether Pulisic's eighth international appearance will be as a starter.
There may be no soccer fans on Earth who are better at the desperate habit of prematurely anointing young national team saviors than U.S. supporters. Now take that habit and toss in a kid who just might actually be the one U.S. fans have been waiting for, and you can understand why one highlight-filled cameo against the 156th-ranked team in the world was enough to spark fresh calls to give Pulisic his first start.
To U.S. fans, Pulisic feels like "The One," and Friday's display only reinforced that growing feeling, so now we have a growing desire to throw tougher and tougher challenges at Pulisic, as quickly as possible, to confirm if Pulisic — like Neo in "The Matrix" — really is "The One."
Jurgen Klinsmann surely knew that was coming after seeing Pulisic torch St. Vincent and the Grenadines, and tried his best to put Pulisic's performance into perspective.
"Coming off the bench when the game is pretty much decided is nice," Klinsmann said Friday. "Ask every striker, that's the fun part, and maybe you can add one, and Sacha (Kljestan) and (Pulisic) did, but there's a big difference. There's a big difference to start a game, or to come off the bench.
"To start a game in World Cup qualifiers with things on the line is tricky," Klinsmann said when asked about handing Pulisic a start Tuesday against Trinidad and Tobago. "You think about who you want to start. Who grinds the first half, and maybe 60 minutes into the game who grinds the opponent, who gets the opponent tired, who makes the physical plays."
It wasn't tough to read between the lines and get the sense Klinsmann isn't about to rush Pulisic along. Why should he? There is no denying that Pulisic is a special talent, but his career is only just beginning and Klinsmann knows all too well how important it is to be patient and build the midfielder's confidence and comfort level with the national team with matches like Friday's.
Filling the super-sub roll on the team does just that, and Pulisic is perfect for it. Coming into matches in the 60th minute or so, when defenders are tired, gives Pulisic a chance to use his speed and skill to take advantage of opposing teams' fatigue.
"We bring him along, and when we feel like, 'OK, this is now a good opportunity,' then we will do it," Klinsmann said of when he will give Pulisic his first U.S. start. "But at the same time, he needs minutes in his club team as well.
"Starting him is also questioning then how long can he actually go, because we don't know. He just barely started preseason, he doesn't have any games. So we start him and then suddenly he cramps up after 60 minutes because his legs are not built yet, and you have only three subs. So these are kind of important things."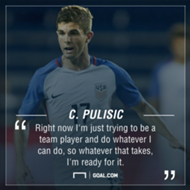 That's the easy thing to forget about Pulisic in the midst of the building hype. He hasn't started very many matches in his year-old pro career. He was used mostly off the bench by Borussia Dortmund last season, and is buried even deeper on the bench to start the new Bundesliga season.
At the same time, you can see why some might think Tuesday is the perfect opportunity to start him. Trinidad and Tobago has already clinched its place in the Hex, and isn't likely to put up much of a fight, and Tuesday might be the last chance Pulisic has to start a match for quite some time given the midfield logjam at Dortmund.
The reality is there are opportunities perfect for Pulisic's first start just weeks away, in October, when the U.S. plays friendlies against Cuba and New Zealand. Those are low-pressure situations against modest opponents. By then, Pulisic will have either fought his way into more minutes with Dortmund or been buried on the bench for so long that the calls for him to be a national team starter will have eased.
The dream scenario where Pulisic makes magic happen Tuesday, then does the soccer equivalent of dodging bullets like Neo by tearing up the likes of Mexico and Costa Rica as early as November, is what U.S. fans are desperate to see. The sooner he starts, the sooner he shows how incredibly special he is, so the logic goes. It's an understandable desire, but it ignores the fact that there is no real rush, even if the U.S. fan base's desperation to find a savior makes it feel like every match Pulisic doesn't start is an unnecessary delaying of a coronation.
Of course, even with all the talk of wanting to be patient, Klinsmann could still very well start Pulisic on Tuesday. It wouldn't be the first time the U.S. coach practiced a little misdirection, and in this instance his talk of patience could be more a case of trying to temper expectations, and not an attempt to eliminate them.
The good news is Pulisic is enjoying the ride, and as confident as he is that he can start already, he is trusting Klinsmann's approach.
"I think any kid wants to get on the field as much as he can," Pulisic said Friday. "But right now I'm just trying to be a team player and do whatever I can do, so whatever that takes, I'm ready for it."
Whether that first start comes Tuesday or in October, or even further down the line, Pulisic's time will come. And if Friday's impressive showing did anything, it's strengthen the belief that Pulisic's time will be worth the wait.