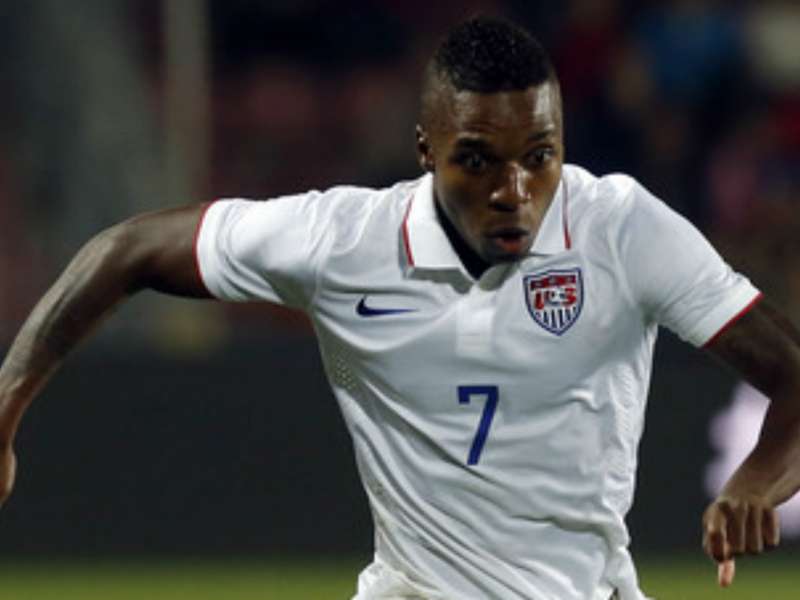 CAMBRIDGE, Mass. — On a field of talented young U.S. national team players at Tuesday's training session, several players stood out. Whether it was Mix Diskeud with his smoothness on the ball or DeAndre Yedlin with his pace and confidence down the wing or Greg Garza showing off quickness and penchant for making smart plays, there was plenty for Jurgen Klinsmann to enjoy.
One player who you couldn't help but keep your eyes on was Joe Gyau. Every time he touched the ball there was a sense that something exciting could happen. A speedy player who doesn't have an ounce of fear when facing a defender with the ball at his feet, Gyau buzzed around the field, connecting with teammates and taking on all comers. He is a player brimming with confidence these days, and it isn't difficult to understand why.
A year ago, Gyau's club didn't want him. TSG 1899 Hoffenheim, which brought Gyau to Germany at the age of 16, was ready to give up on the prospect once regarded as one of the most exciting teenagers to come out of the U.S. youth national team setup. That lack of faith might have shaken the resolve of some other players, but not Gyau.
//

U.S. SOCCER LATEST
"This past year's been a lot," Gyau told Goal USA. "I came back from St. Pauli and originally Hoffenheim had told me that they didn't want me anymore. So they told me, 'Joe can go find a new club. We're not really interested in him right now,' so I was playing that season with the second team. Then I started talking to David Wagner and (Borussia) Dortmund and suddenly Hoffenheim decided I wasn't for sale anymore."
Hoffenheim's U-turn included bringing Gyau up to the first team and handing him his Bundesliga debut, but that wasn't enough to convince a player it had already given up on to stay. Gyau left Hoffenheim and signed with Borussia Dortmund's second team, a move that was seen in some circles as a mistake given the level of competition in the Dortmund first team.
"In the beginning it was a decision for my development, because I know David Wagner, he used to coach at Hoffenheim before," Gyau told Goal USA. "I came in and executed what they told me to do, and a lot of injuries happened. In the preseason I was already up with (Jurgen) Klopp in the beginning so they knew me a little bit, and then I just went up and was able to execute and use my chances and they're happy with me so I'm just trying to move forward."
Gyau has capitalized on a rash of injuries that has left Dortmund short on first-team options, earning promotion from the second team. He has made the Dortmund bench five times this season and made his Bundesliga debut for the club in a 2-2 tie against Stuttgart on Sept. 24. His 16-minute performance was a solid one, and while the match wasn't his first appearance in the Bundesliga, Gyau still came away in awe of the experience.
"It was much different, because the club has much more tradition, it's a Champions League club, the stadium is one of the best in Europe," Gyau said. "They really live for the team, so it was a real experience playing that first game with the first team."
September was a special month for Gyau. Not only did he make that first appearance for Dortmund, and turn 22, Gyau also made his U.S. national team debut in the 1-0 friendly victory against the Czech Republic. Gyau earned the start in his debut and showed off the speed and willingness to go at defenders that are trademarks of his game.
Gyau received mostly positive reviews for his efforts against the Czechs and appears a good bet to start for the U.S. on Friday against Ecuador.
"Personally, my performance, I thought I was good," Gyau said of the Czech Republic friendly. "I was taking guys on. I was in the game, I was involved, and as the game went on guys were a little bit tired because we had played earlier in the week. We were able to hold on for the victory so that was good."
Klinsmann came away impressed with Gyau's efforts in his debut, but is hoping to see the young winger build on the wave of momentum he is currently enjoying.
"It's exciting to see a talent like Joe, that kind of made sometimes a step backwards, now he makes two steps forward over the last couple of weeks," Klinsmann said. "Hopefully he can confirm all these kind of good moments that he already had against Czech Republic, that he can confirm that also in the upcoming two games."
Gyau is part of a crop of young prospects with an opportunity to challenge for the handful of available roles on a U.S. team in transition. The player pool isn't exactly overflowing with dangerous flank players, and Gyau's characteristics could make him an ideal fit as a right forward in the 4-3-3 system Klinsmann's has shown a preference for.
"I like this system. It fits me perfectly because I am a wide guy, I like to take guys on, and I'm really good off the counter, pressing," Gyau said. "It's just the German style that we play in Dortmund, so it's nothing really new for me."
As for working with Klinsmann, Gyau has relished the opportunity, which has come around the same time he has had the good fortune of working with another Jurgen - Dortmund manager Jurgen Klopp.
"He's put a lot of emphasis on how much he really wants to see the young kids come out and perform," Gyau said of Klinsmann. "He's really given everybody a chance. He doesn't discourage, doesn't discriminate over anything. So all you have to do is come out every day and give your best and you're going to get a shot."