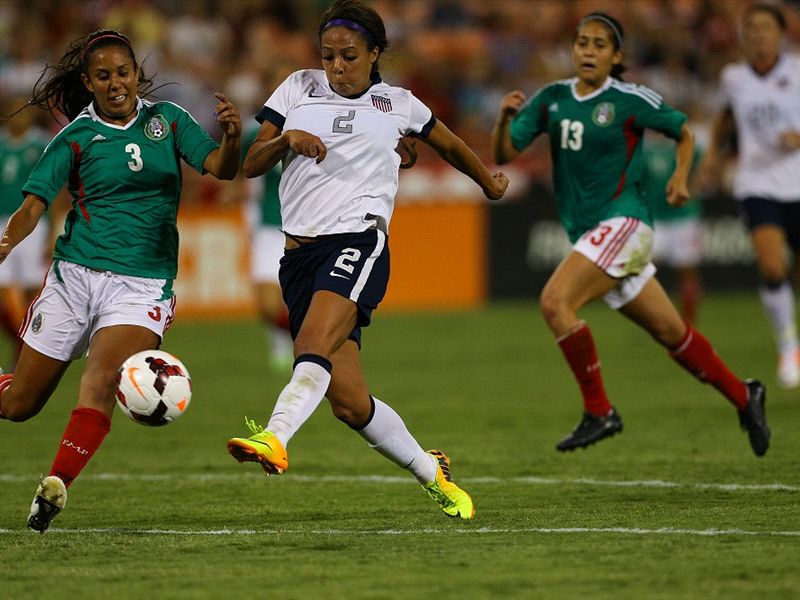 WASHINGTON – Sydney Leroux has drawn many comparisons in her burgeoning career, but Tuesday night likely brought about one never heard before.

"She's a bit like Didier Drogba," U.S. head coach Tom Sermanni said after Leroux scored four times in the first half of a dominating 7-0 win over Mexico.

"To play against her is a real problem as a defender," Sermanni added. "She's just nonstop. She's an amazing physical presence, she's always in there looking to score goals, she holds the ball up well, she's always involved in the game."

The 23-year-old striker was at her best Tuesday night, using her speed and strength to blow past defenders for one goal, her physicality to tower above a defender for another, and her instincts to latch on to rebounds for two more.

"You never think you're going to score four goals," Leroux said. "It ended up working out and I was in the right place at the right time."

Leroux and her teammates looked much sharper than Mexico during the route, and much of that could be chalked up to the NWSL, where almost the entirety of the U.S. roster plies their trade.

"I think for a lot of the players like Syd who've been – if you like – fringe national team players, they haven't played a lot of competitive matches over the last couple of years," Sermanni said.

"I think playing week in, week out in the league where your games and results are important, and where they're important players to the team has helped a lot of the players as well as Syd," Sermanni added.

Leroux scored 11 goals for the Boston Breakers in the inaugural season of the NWSL, good for second place on the league leaderboard.

"I think the NWSL was great for me," Leroux said. "Here [national team] you don't always get 90 minutes, and so in Boston I got to play a lot and I got to learn a lot and I was playing as much soccer as possible.

"To get a lot of goals in a season and to kind of figure my stuff out was very good for me."

The Portland Thorns won the inaugural NWSL crown last weekend, meaning the offseason now begins for almost all the American women. Unlike in previous years, however, Leroux and company will hit the ground running as they continue on with their national team.