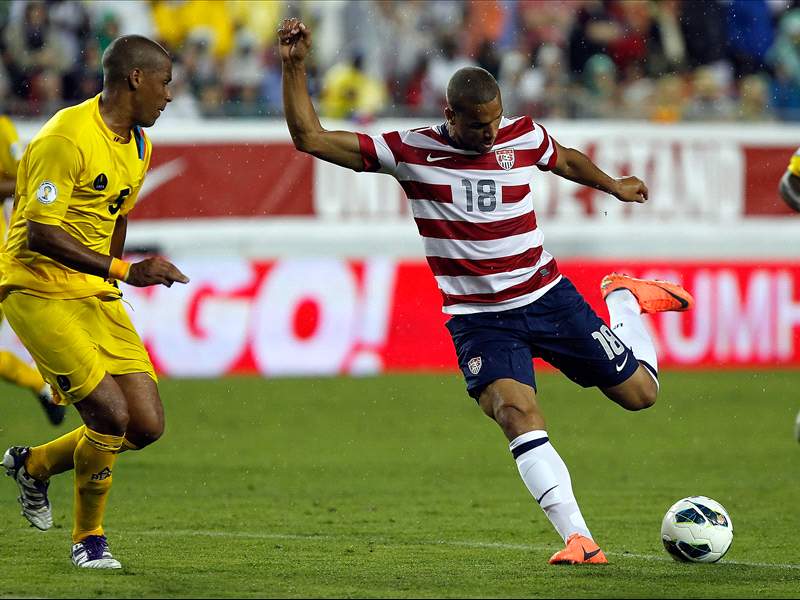 GUATEMALA CITY - He was born in Germany, spent one year in New York as an infant and
prior to this year's Olympic qualifying tournament, he
hadn't been in the U.S. since visiting Charlotte when he was eight years old.
Meet Terrence Boyd, the U.S. national team's newest striker.
The son of an American military man based in Germany, Boyd went from being a little-known prospect in the U.S. to featuring for the national team in a World Cup qualifying game in just a few short months. The talented, yet raw striker chose the Red, White and Blue over his native country, and he wouldn't have wanted it any other way.
"I want to play for the U.S., and there's no doubt," he told Goal.com.
Think of Boyd as the opposite of Timmy Chandler, who over the past year had become one of Jurgen Klinsmann's go-to players in friendlies only to snub the coach's recent invite in order to retain his German eligibility. Boyd has never viewed the U.S. as a back-up plan for the long-shot opportunity of becoming a regular for Germany, which is currently viewed as a favorite to win Euro 2012 .
"There was no second guessing before, and now that it's official I'm totally committed to the U.S." said the 21-year-old Boyd. "I just wanted to express my feeling that I'm quite glad that I've been given the opportunity to play for the U.S. It's a big honor."
Boyd officially became tied to the U.S. after making his debut in the senior team's victory over Antigua & Barbuda last Friday. It was only his fourth cap with the senior team. Earlier this year, prior to playing for the U-23 squad that missed out on the Olympics, he earned his first cap in a friendly at Italy.
"Back in Italy it was huge [getting my first cap]," said Boyd, who had also played on the U-20 team. "Two weeks before the match I was like, 'Oh, we'll see. We'll see.' I didn't really believe it that they'd actually call me for the national team. It was a dream come true."
And Boyd is hoping that the American dream only continues.
Despite only meeting his father's U.S.-based family once that he can remember – in Nashville prior to an Olympic qualifying match – Boyd feels an attachment to the States beyond soccer. He would like to someday make the U.S. his permanent home once his career allows it.
"I don't know what the future will bring in my career and normal life, but I can see myself spending the rest of my life in the States," he said. "For me, it's the best country."
Boyd even went as far as saying he'd like the opportunity to play in Major League Soccer, a league that he believes could reach the same level as the Dutch league in the near future. He points out that MLS is known well in Germany and that it could be more than just a "retirement league."
"I think more players would like the league more if players at a good age came to the MLS, but it's headed in a good direction," Boyd said. "I hope it will develop to a league that will be up to the standard that people who are 27 or 28 will go to MLS because the league is good."
"I was just thrilled when I heard of the offer that Vienna wanted me," Boyd said. "It's a championship club in Austria and the league itself can bring me further as a young player. Vienna is a big club and I just want to get my chance there and use it to keep working to develop and score goals."
And it helps that Klinsmann is also a fan of the move.
"It shows he was already being observed by European clubs over the last half a year," Klinsmann said. "We are happy that he makes his way to a club where he probably will see a lot of playing time. If he goes straight into a first-division Bundesliga team there might be a risk of if he's still going to be playing right away."