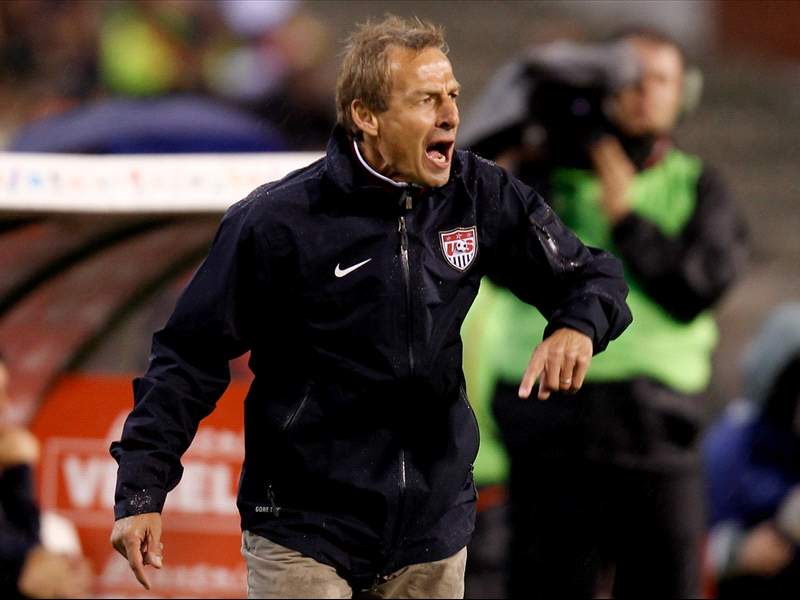 LANDOVER, Md. — By this point, Jurgen Klinsmann's intentions are clear.
The German coach wants his U.S. team to take the game to every opponent it plays, no matter how big or small. He wants his side to dominate the ball, and press like hell to win it back when it doesn't have possession.
Against Brazil, the U.S. got away from Klinsmann's vision. And he knew it.
"In the first 20 minutes, there was a little too much respect," Klinsmann said. "Which is understandable. We're playing Brazil."
Understandable, maybe. But acceptable? Not quite.
"We need to get an edge — more nastier," Klinsmann said. "Maybe we're a little bit still too naive. Maybe we don't want to hurt people. But that's what we've got to do."
Rather than attack from the off, the U.S. sat back and, as a result, was down 2-0 inside of 26 minutes. The Yanks conceded a penalty kick off an Oguchi Onyewu handball, then completely lost Thiago Silva on a corner kick to give up the second goal.
Klinsmann was especially perturbed by the referee's decision on Onyewu's handball that resulted in Brazil's penalty kick and the lack of an offside call on Brazil's fourth goal.
"You go down 1-0 with a very questionable penalty because (Onyewu) says it hit him in the stomach and plus it was outside the box," Klinsmann said.
"The fourth goal, my information is the guy was two yards offside," said Klinsmann. "So we're talking about a goal two yards offside, we're talking about a penalty kick that's not, so that kind of pisses me off to be honest. But it is what it is."
Team captain Carlos Bocanegra also bemoaned the call that led to Brazil's opener.
"I don't know any other country that's getting a penalty call on that 10 minutes into the game at home, anywhere in the world," the U.S. captain said. "Maybe if they don't call that goal, the penalty at the beginning, it's 1-1 going into halftime, it's a different game."
Klinsmann wasn't just upset at the referee's decisions, though. To him, the lack of a fiery response to those calls symbolized his team's failure to play with enough edge against the South Americans.
"You watch big teams in the world, what they do, and there's a call going against them — Barcelona is one of them — they come with 10 guys towards the referee," he said. "The referee is confused. He doesn't know even know who to show a yellow card."
The U.S. did respond in the second half, creating several clear-cut opportunities that were snuffed out by Brazil goalkeeper Rafael, and the crossbar on one occasion. But more lax defending extinguished any hopes of a result, as Marcelo and Pato scored to give the Selecao a comfortable margin of victory.
It was a harsh lesson for the team, after it put in arguably the most complete performance of the Klinsmann era in a 5-1 thrashing of Scotland last Saturday. Despite the loss, Klinsmann was happy his side got the chance to test itself against one of the world's best.
"We need to play this, big nations," he said. "We get a lot out of it. When you lose games, you have to try even harder."
Sunday evening at Canada is the team's last shot at redemption before World Cup qualification starts the following week. The U.S. boss will hope his side gets a bit more nasty, before a lack of snarl could really come back to bite it.
Follow SETH VERTELNEY on

or shoot him an

email.