The U.S. Olympic team suffered a massive letdown in Nashville, Tenn., failing to advance out of a four-team group featuring Cuba, Canada, and El Salvador. Let's examine what happened:
What went right
We'll save this section for the performance of some individual attacking players. First off, Joe Corona drifted out of games at times, but he also scored four goals in three matches, including what could have been the game-winner against El Salvador. He showcased a deft finishing touch and the ability to score in a variety of ways.
Brek Shea was dominant at times down the left flank, as his size/speed combination proved too much for any fullback he faced in Nashville. His service, which has been hit-and-miss with the full national team, was improved, particularly on crosses to Juan Agudelo for the USA's second goal against Cuba, and to Terrence Boyd for the USA's first against El Salvador.
Terrence Boyd didn't do much in a second-half substitute appearance against Canada but had a breakout performance against El Salvador, scoring two excellent goals and showcasing the ability that's got him on the fringe of the first-team at German flame-throwers Borussia Dortmund.
Lastly, Freddy Adu proved to be an able captain and put his teammates on his shoulders when they needed it the most in the second half against El Salvador. His goal against Cuba was a belter, and his performance against Canada was one of the few bright spots in an otherwise forgettable display by the Yanks.
Were it not for Sean Johnson's error, the overriding narrative of the El Salvador match would have been Adu's two-assist performance in the second half, bringing the team from 2-1 down to what looked like a dramatic 3-2 win. Which brings us to . . .
What went wrong
Let's start in the back, where the goalkeeping was nothing short of shambolic. Bill Hamid showed no command of his area, allowing both Canada goals on close-range headers, and another goal of the same variety to El Salvador. Sean Johnson entered against El Salvador for an ailing Hamid and made the kind of mistake that could stick with him his entire career, such was the scope of its awfulness in both timing and execution.
The back four hardly covered themselves in glory. At right back, neither Kofi Sarkodie nor Zarek Valentin were effective getting forward, and struggled in marking as well. At left back, Jorge Villafaña had some flashes against Canada, but was given a torrid time by the speedy Salvadoran forwards and wingers.
The center back partnership of Ike Opara and Perry Kitchen was ineffective. Opara in particular struggled positionally, and showed that being faster and stronger than your opponent can only take you so far. Kitchen has moved to center midfield for D.C. United and, on the evidence of this tournament, don't expect to see him at center back again for a while.
Finally, Caleb Porter was simply out-coached in the team's matches against Canada and El Salvador. Against Canada, he had no answer for his opponent's 4-3-2-1 "Christmas tree" formation that effectively clogged up the middle of the pitch, and seemed flummoxed by the lineup changes the Canucks made after their first match.
Against El Salvador, his team was caught off guard by the grittiness its opposition showed, and couldn't match its intensity until it was too late. Porter's decision to not use his two remaining subs until the 88th minute when his team was clearly gassed deserves questioning as well.
Some other assorted thoughts:
The USA lost this tournament against Canada
The El Salvador match will stick out the most because it was the last game and because of the gut-wrenching way that it ended, but that game wasn't the reason the U.S. won't be in London this summer.
"This one is probably going to be the main stinger, but against Canada that's where we really lost the tournament," Kitchen said after the El Salvador game, a message which was delivered to the players by none other than Jurgen Klinsmann himself.
"Klinsmann came into the locker room and told us we can be proud of ourselves the way we fought and he said too we lost the tournament when we lost to Canada," Boyd told reporters.
Canada was poor in a scoreless draw against El Salvador and even worse in an inexplicable 1-1 draw against Cuba in a game it needed to win to avoid Mexico in the semifinals. The Canucks were clearly a level below El Salvador in Group A, and if the USA had only managed a draw against them like it did against El Salvador, it would have advanced.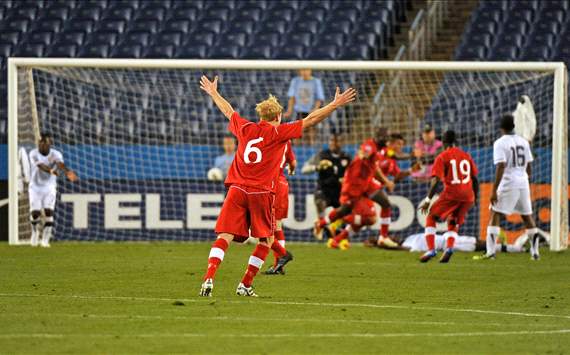 The USA was stunned 2-0 by Canada in its second group match
Looking back, the opening matches were the worst possible way to start
In hindsight, the U.S. was ill-served mentally by watching Canada draw El Salvador 0-0 in a drab affair, and then going out and smashing Cuba 6-0. How simple everything must have seemed to the Yanks after that first set of matches . . .
Was this outcome more predictable than it initially seemed?
Make no mistake, based on the quality it had, the U.S. had no business finishing third in a group with Cuba, Canada and El Salvador. However, it's also probably true that pre-tournament, many overrated the ease at which the Americans would cruise through Olympic qualifying.
This team was a work in progress. It was attempting to instate an all-new 4-3-3 formation, and to do so with a very makeshift center-back pairing. Ike Opara was coming off nearly a year out with injury, and Kitchen was playing out of position. Gale Agbossoumonde likely would have started at center back were it not for a toe injury that kept him off the roster.
The team was without several age-eligible players like Jozy Altidore, Timothy Chandler, Daniel Williams, Alfredo Morales, and Josh Gatt, all of whom were held behind by their clubs. Its depth was tested even further when Juan Agudelo was forced out with a torn meniscus after the Cuba match.
Should the team have qualified? Absolutely. However, with the benefit of hindsight, the path may not have been as straightforward as most initially thought.
There will not be major changes at U.S. Soccer
Many have used the U23 team's failure (along with the U20 team's failure to qualify for the 2011 World Cup) as fuel to call for a major overhaul at U.S. Soccer, up to and including the resignation of USSF president Sunil Gulati.
It's not happening.
Gulati hired Klinsmann as U.S. national team head coach and gave him unprecedented control over the federation in August 2011. Klinsmann's task was no less than a complete overhaul of the U.S. system, including instating a possession-based, attacking 4-3-3 style across all levels of the program.
Translation: This isn't going to happen overnight.
The federation knows that such a major overhaul takes time and there could be some casualties along the way. The U23 team, unfortunately, was one of those casualties.
Will the failure cost Porter his position? It's certainly possible, but it's also important to remember that this tournament represented the first competitive matches the U.S. program has faced since Klinsmann's system became the law of the land.
Gulati spent years chasing Klinsmann because he believes in his vision for U.S. Soccer. It would be beyond delusional to think he will leave before Klinsmann has even one competitive match at the helm of the full national side, especially with the team currently on a run of good results in friendlies.
World Cup qualification begins in June. If the U.S. struggles in qualifying, or if the unthinkable happens and it fails to make Brazil 2014, then serious questions about the future of Klinsmann and Gulati will be asked. Gulati is up for reelection in 2014 and if the U.S. doesn't qualify for the World Cup, then those hoping for his departure may finally get their wish. Until then, patience will be required.
Follow SETH VERTELNEY on

or shoot him an

email