NASHVILLE - For the past several offseasons, Caleb Porter has traveled overseas to pick the brains of Europe's best managers.
He has spent time with former Liverpool manager Rafael Benitez and former Chelsea manager Carlo Ancelotti, observing their training methods and managerial styles. Porter has also spent hours studying the disciplined attack employed by Louis van Gaal at Ajax in the mid-1990s and the high-pressing philosophy used by Marcelo Bielsa with the Argentina national team.
Of all his experiences, one from a FC Barcelona practice last spring had the biggest impact on the first-year coach of the U.S. under-23 national team.
"The session they ran was very simple, but for me it was an 'aha moment' because I saw a certain tweak on a possession game and it just opened my eyes to a whole new way of doing things," Porter said. "I think any time you go over there you take away something."
Though elements from each of the tacticians will be on display when Porter tries to lead the team to an Olympic gold medal in London, the 37-year old native of Kalamazoo, Mich. has created his own imprint – one dubbed "Caleb Porter soccer," by U-23 assistant coach John Trask. It's an attacking, entertaining brand that's favored by many players and is endearing to fans.
The team begins CONCACAF Olympic qualifying on Thursday with three Group A games over a five-day span in Nashville, Tenn. The top two teams from each group will advance to the semifinals on March 31 at LIVESTRONG Sporting Park in Kansas City, Kan. The two finalists will receive berths into the Olympics and will meet in the finals, also in Kansas City, on April 2.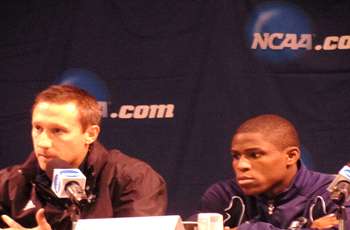 When the squad opens qualifying against Cuba on Thursday at LP Field (followed by games against Canada on March 24 and El Salvador on March 26), Porter will have four players from his high-octane 2010 national championship team at the University of Akron. Of the 20 players on the roster, 14 also compete on teams in Major League Soccer – most notably FC Dallas forward Brek Shea, the 2011 U.S. Young Male Athlete of the Year. The team also features three players who have scored goals for the national team, including playmaker Freddy Adu and forwards Juan Agudelo and Teal Bunbury.
Like Barcelona manager Pep Guardiola, Porter will operate a 4-3-3 formation, predicated on constant attacking, ball circulation and effective spacing. Porter may opt to play Adu on the right wing, as he did in a 2-0 win over Mexico on Feb. 29 in an international friendly in Dallas. Adu, the team captain, often tucked inside in the offensive third, with defender Kofi Sarkodie making overlapping runs on the outside.
"It's a great system for everyone involved," San Jose defender Ike Opara said. "For the backs it's great because when you get the ball you have so many options – you can go long, short, back, across. It's almost unlimited."
From a young age, Porter dreamed of playing professional soccer. Posters of Ruud Gullit, Peter Beardsley, Tab Ramos and Robert Baggio adorned the walls of his bedroom. He religiously watched footage of Gullit leading the Netherlands to the 1988 European Championship in the highlight video "Tour," narrated by Sean Connery. Porter swears he memorized every word uttered by Connery in the film.
He developed into a tenacious man-marker and a field general at Indiana for former Hoosiers coach Jerry Yeagley. The summer before Porter's senior season in 1997, he suffered a knee injury at the World University Games in Sicily, Italy. Halfway through the college season, doctors advised Porter to undergo surgery on his knee. Ever the competitor, Porter delayed the operation until after the season. He still managed to earn runner-up honors for the Hermann Trophy, given to the nation's most outstanding college player.
"It just showed how much I wanted to win," Porter said.
After an eight month recovery, Porter spent two seasons with the San Jose Clash of MLS in 1998, before playing for the Tampa Bay Mutiny the following season. Plagued by constant knee problems, Porter underwent three additional knee surgeries within a two-year span. For two years, he was unable to walk down stairs and for three he was unable to run. In 2000 at 25, Porter retired from professional soccer.
He quickly caught on as an assistant coach at Indiana under Yeagley, when Trask left to become an assistant with the Miami Fusion later in the year. The move proved to be fortuitous for Porter's career as his mentor taught him small but important details on coaching, such as how to manage a staff and how to motivate players.
"Honestly, if I was healthy I probably would have retired just a couple years ago," Porter said. "This was my destiny to be a coach. I'm more driven to be successful because I didn't have a pro career. Sometimes when players have pro careers there's not that motivation to prove themselves."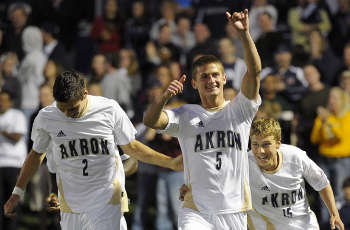 Porter's passion for the game is exhibited on the practice field when he saunters from player to player to provide helpful tips – a leadership skill he learned from Jose Mourinho. It's heard when he describes the intensity of current U-23 defender Perry Kitchen, who has received the nickname "Perry Porter" for emulating his coach's style as a player. It's seen off the pitch when he often meets with Adu to encourage him to attack freely and ensure that he's comfortable within the system.
During training, Porter used an analogy to emphasis the value of competing as a cohesive unit for a disparate group of players spread across the world during their club seasons.
"He said to them 'what's a river without a bank? It's a puddle,'" Trask said. "We have to have some purpose to us. We can't have some guys playing FC Dallas soccer, some guys playing Philadelphia soccer. We have to get back to playing Under-23 U.S. men's national team soccer. It resonated really well with the players."
Think you've got the talent and hunger to train like an elite athlete? Prove your skills, show your side in action and get people talking about your game. Getting noticed starts here. Stand Up, Stand Out.