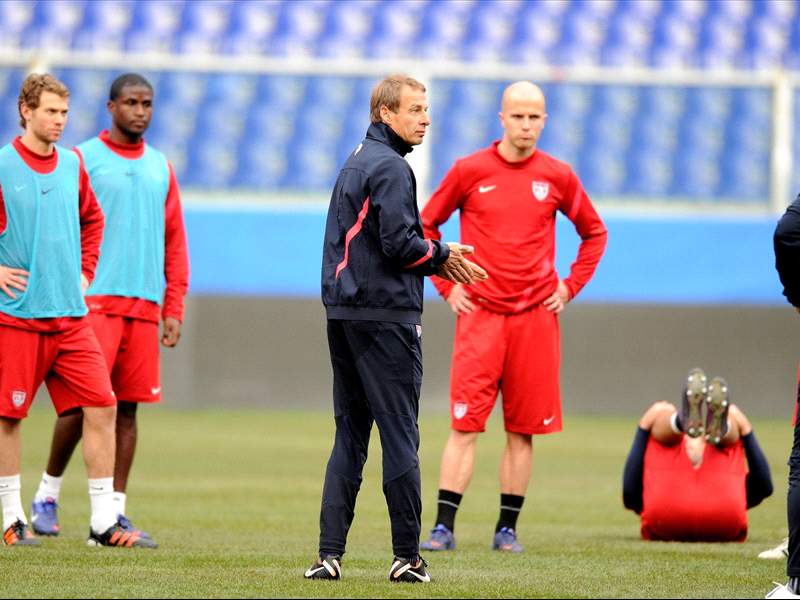 If Jurgen Klinsmann's experience as a youth player -- described in the first part of this series -- sounds familiar, it should. The way he developed by playing on the streets and working his way through youth and pro academy systems is common in most parts of the world.
In the United States, not so much. But with the U.S. Soccer Development Academy and youth clubs now offering professional coaching, the right steps are being taken.
"There's a lot going in the right direction with academies being developed and giving enhanced emphasis to youth development and coaching, and getting the players out there more often and in good training and competitive environments," Klinsmann told Goal.com. "But, at the same time, we need to speak with more people in the alternative structures of soccer and maybe look into structures that have not yet been used for soccer in the USA."
Klinsmann is quick to point out an example of a solid youth foundation in the U.S.
"For instance, the Hispanic soccer community organizes their own leagues and offer options that are far less expensive than the commitment needed to play in many other youth clubs," he said. "We need to learn from these alternative structures as well as to have better access to players in these environments for opportunities with state, regional, and national youth teams."
Klinsmann recognizes it will not be easy tapping into every nook and cranny of the large country's talent pool, but he's excited and optimistic about the opportunities that are out there.
"That's definitely a huge challenge but it's more than worth it," he said. "It's worth it to look around wherever you can for talent whether they are part of an academy or part of a more local team. There is so much talent out there in soccer in this country. And, hopefully, we are going to continue to find additional ways to identify talented players wherever they play and give them opportunities to further develop."
Klinsmann also looks to changes in the scouting systems of other countries as possible examples for what the USA could be headed for.
"We aren't the first country to re-evaluate how many talented players our system is capturing," he points out. "Look at what happened in France in the '90s. They were looking at all the kinds of neighborhoods and French-related ethnic groups to see if they could identify kids. They went in there and they found quite a lot.
"For instance, there are parts of Marseille where there are very difficult areas and French soccer started to nurture the youth players in their own environments to develop these kids. And they built a nation-wide scouting network with hundreds and hundreds of coaches to dig deeper into identifying and developing the players.
"By 1998, France won the FIFA World Cup with a very diverse team, with players with heritages from Guadeloupe, Martinique, Algeria, Argentina, Senegal, Poland, and Ghana as well as France."
Having been in the United States since 1998, Klinsmann has already started to see positive changes.
"The whole academy system is going in the right direction, and it is a plus that MLS teams are starting to cover the costs of their academy youth players," he said. "If we can figure out on a broad scale how to encourage talented youth players regardless of their ability to pay for opportunities, we will take another huge step forward."
Check back next week for Klinsmann's thoughts about how the pay-to-play structure affects the mindset of the player, coach and parents and what role the parent and coach should play.