Alex Morgan is hot.
In fact, she's been on fire to start 2012. The U.S. women's team forward found the next several times in CONCACAF Olympic Qualifying in January and last Saturday she made her reality television debut on ABC's The Big Time, a show that helps young adults fulfill their athletic dreams.
Speaking to Goal.com on behalf of the show's sponsor Budweiser, the 22-year-old gave her insights on the Olympic qualification process, the future of WPS and, of course, her turn as a reality star.
(Responses were edited for length purposes)
Goal.com: Talk a little bit about your role on the Big Time.
Alex Morgan:
My episode came out on Saturday. Lauren Cheney and Megan Rapinoe were also on. I was really excited to see the complete episode.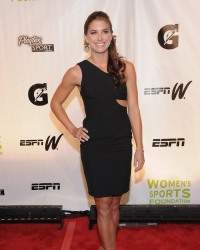 Were there a lot of retakes?

No, it was very real. No retakes. It was a real competition. These guys [in the Goalkeeping competition] were battling for their shot to be able to play for professional soccer. So it's more about those guys and me mentoring them through it. There's definitely not retakes involved.

How has the Olympic qualifying process been so far and what are your expectations for the U.S. in the upcoming Olympics?
Olympic qualifying has been good so far. [Coach] Pia [Sundhage] has stressed preparation and our job has been to just stay focused throughout. We're really looking forward for the Olympics. We've been waiting for this for a couple of months now. We're really excited to get this next game going [against Canada in the Olympic qualifying final].
The national team had a big result against rival Mexico. What were your thoughts?
Our last two meetings against Mexico haven't been our best games. We were really confident heading into the game and we knew their strengths and weaknesses. Scoring early always helps.
The WPS has had a rocky few years. Talk about what your expectations are for the league moving forward. Are you concerned about its future?
Yeah, I'm always concerned about the future of the WPS. I think the WPS will help me improve as a player and it will help a lot of players get recognized for the national team. It keeps us playing throughout the year.
It's always a rocky start when professional leagues start. Doesn't matter if its women's soccer or men's soccer. A league never starts off well in its first few years. You have to take your losses. So hopefully we can get through this next year and things will turn around for us.

Is there anything that WPS could have done differently in your opinion?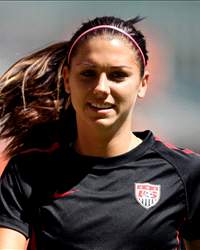 More TV rights, more advertising. Letting the U.S. know that we have a women's soccer league. We have one of the best leagues in the world. We want to show people that we are playing games in their backyards. You don't really hear about it in the news or anything. I don't know how you can change that but hopefully the CEO of the league and owners can recognize it and work to change it.
Are you surprised considering the amount of Twitter followers (Morgan has 350,000 plus followers) that you guys have, that the league isn't more popular?
I am a bit surprised, but again I don't think this league has promoted itself to where people knew about it. Now that the league has struggled a bit to even survive, people have really turned their heads. It's frustrating. You would think after the World Cup, you would want to continue watching those players. Here we are playing in your backyards asking for your support, begging for it and it doesn't seem like we're getting that.
Will success or failure in Olympics determine the future of the league?
No, I don't think it will completely control it. I think it will definitely help seeing us work so hard and hopefully do well. Maybe it will tell people to get out of the house and get into the WPS and our games and support the players that they love to watch. Watching them consistently, not just in World Cups and Olympics. I think it takes a lot more than just the World Cup and the Olympics to make the WPS survive.

Do you see your long-term future with WPS? Would you explore a move to another league?
You know, if the WPS is unstable, my future is uncertain. I have no idea what is in store for me but I know if there is a WPS and it is treating the players well, I will continue to support a professional league in the U.S. and play in it.

Alex Morgan's appearance on The Big Time can be viewed here.