Michael Bradley walked slowly, almost deliberately through the thick fog and toward the U.S. bench. His job, on a damp cold November night in Slovenia, was done.
In just his second start since his father Bob Bradley was sacked as head coach, Michael Bradley had contributed an assist and much needed leadership in the United States' 3-2 win over Slovenia on Tuesday. It was only the second win under Jürgen Klinsmann and the team's first win on European soil in three years. (If Gen. Patton had failed this much abroad Americans would be speaking German today.)
Klinsmann, who had given Bradley the surprise start, shook hands with the young midfielder when Bradley crossed the touch line in injury time. It seemed only fitting that Bradley played such a significant role in Klinsmann's best moment as U.S. coach.
"We know that Michael has tremendous qualities in terms of his commitment," Klinsmann said afterward. "He covers so much ground, stays calm and is very experienced."
Klinsmann used a more conventional 4-4-2 formation against Slovenia which included Bradley playing a holding midfield position. The U.S. erupted for three first half goals and went ahead 2-1 when Clint Dempsey headed home Bradley's corner kick.
"It was a great ball in from Michael," said Dempsey. "I tried to get away from my man and make sure that I put it on frame because I had a chance earlier in the game where I put it a little bit wide."
It was an important result for the United States and a bittersweet moment for Bradley, whose adjustment to a new coach and system is justifiably awkward. It's never easy playing for your father on any level, especially for the national team. It's even harder when your father is fired.
Bob Bradley had a good run with the national team: finalist in the 2009 Confederations Cup followed by winning the group at the 2010 World Cup in South Africa. In the group stage, the U.S. was minutes away from losing to Slovenia before Michael rescued the team with a late goal. It wasn't as memorable as Landon Donovan's injury time goal against Algeria but was just as important.
But within 14 months, Bradley would be gone as coach while his son was back to trying to prove that he belongs on the national team.
"Anytime you have a new club, anytime you're in a new team, everyone is trying to prove themselves," Bradley said. "Guys are trying to get a feel for how the coach wants to do things - the way they want to play, the way they want to train, the way they want to run things off the field. On the flip side, coaches are trying to get a feel for players and guys they want to count on and the group they want to have together as you move to more important games."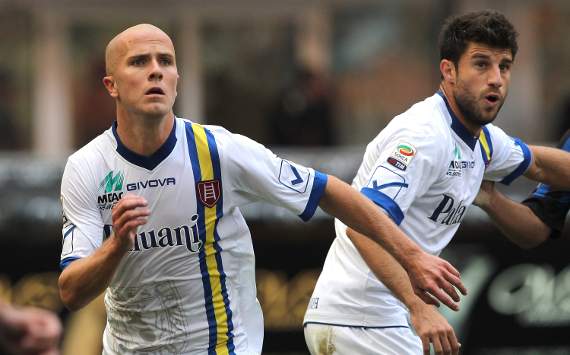 Last season was a tumultuous one for the 24-year-old Bradley. In February, Bradley was loaned to Aston Villa from his German club, Borussia Mönchengladbach. He expected to sign permanently with the English Premier League club but a coaching change nixed the move. Meanwhile, Mönchengladbach told Bradley he had lost his spot on the team.
It turned out to be a blessing for Bradley who instead signed with Chievo Verona on Aug. 31. He's become a regular starter for the Italian Serie A club, a move that Klinsmann feels in crucial for Bradley's development.
"Going to Italy, for him, as a midfielder, in an environment where they are tactic fanatics, the Italians, will teach him a lot," said Klinsmann, who played three years in Italy with Inter. "It will help him a lot to read the game better, to anticipate the game better to know exactly when to go into certain spaces and when not to go in certain spaces. So I was very pleased."
Klinsmann is still experimenting with different lineups and trying out different players. But when World Cup qualifiers begin next summer there's a good chance Bradley will be on the squad. Klinsmann will need him just as much as Bob Bradley did.
Follow FRANK ISOLA on