In Jurgen Klinsmann's five matches as coach, the U.S. national team has scored exactly two goals, conceded four and managed to win just once.
In these circumstances, one couldn't blame the man in charge for growing discouraged, or at the very least allowing himself to show some semblance of frustration, perhaps in a momentary display of weakness.
But this is Jurgen Klinsmann, and in the world of Klinsi, the forecast is always sunny, with a 100 percent chance of optimism and nary a hint of a storm cloud on the horizon.
For a follower of the U.S. national team, the change from Bob Bradley to Coach Sunshine has been arresting, mainly because their attitudes and approaches are diametrically opposed: Bradley the steel-eyed pragmatist, Klinsmann the eternal optimist.
The avalanche of positive vibes has yet to yield tangible results on the scoreboard, but instead can be detected in flashes - a lightning-quick attack here or a silky passing sequence there.
Naturally, in his brief tenure, Coach Sunshine has preferred to focus more on the latter moments, as opposed to the three losses and one draw in five games.
"I told the guys in the locker room that from performance point of view it was very, very positive," Klinsmann said of his team's 1-0 home defeat to Costa Rica last month – his first loss with the national team.
Following a 1-0 defeat in Belgium a few days after the Costa Rica match, Klinsmann was similarly enthused, insisting that "We take a lot away from this game. Overall some very, very good points and an interesting game I think for everybody."
It isn't really a stunning development that a new coach is expressing optimism in the wake of narrow defeats in exhibition matches, but it's Klinsmann's apparent unwillingness to even venture into the realm of negativity that is most noteworthy.
Take Tuesday night's friendly with Ecuador for example.
The match as a whole was a note-perfect representation of Klinsmann's tenure as manager thus far. His team turned in a reasonably good performance, but again failed to convert offensively. In the end, one defensive error (in this case, Tim Ream's ball-watching to allow his marker to slip by him to head home) cost the U.S. the game.
"This is very good experience for us," Coach Sunshine remarked after the match. "It's important for these players to understand that one little thing can change a game."
That "one little thing" he spoke about, of course, was Ream's momentary lapse that sealed the 1-0 result. And really, the case of Ream will be a decent litmus test of the effectiveness of Klinsi's policy of everlasting optimism.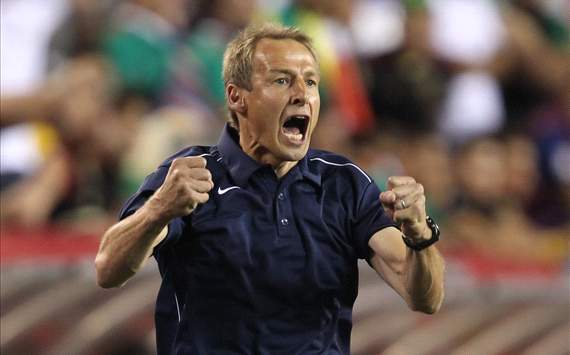 It's no secret that Ream has endured a difficult season. After a celebrated rookie MLS campaign, he's regressed in 2011, with a crucial penalty kick conceded against Panama in the Gold Cup and club teammate Rafa Marquez calling the 24-year-old out in the media among the low points.
For his part, Klinsmann refused to speak ill of his young defender, instead calling the play "a learning moment" and adding, "Tim needs these moments and he needs these minutes on this level in order to learn. There's nothing bad about it. . . . Those are the experiences he needs, and I think he's on a very good path."
How Ream responds to the positive reinforcement will be a development worth watching, and especially interesting will be whether he's called into the team for next month's friendlies in Europe (assuming the New York Red Bulls don't make the MLS Cup).
Klinsmann has shown in the past that he will stick with much-maligned players in order to demonstrate his confidence in them, like Edgar Castillo and Michael Orozco Fiscal, so fans shouldn't be surprised if Ream gets a call-up again, despite his aforementioned sub-par performances.
Eventually, all of the sunshine and smiles won't mean anything if the U.S. starts to lose meaningful matches. Klinsmann certainly knows that, but he also knows that he has the luxury of an extended period of evaluative matches in which his carefree and idealistic attitude can permeate through the squad.
"He's been like the Pied Piper," goalkeeper Tim Howard said about his coach.
Coach Sunshine has to be pleased at this designation. It shows his approach is starting to take hold with his team. If it starts to actually yield results on the field, then he won't be the only person affiliated with the U.S. national team with a kooky smile permanently glued to his face.
Follow SETH VERTELNEY on

or shoot him an email